HG350 is an electric mini heat gun for a versatile application produced by SEEKONE. In this SEEKONE HG350 review, I will describe its main features and analyze the strong and weak sides of the product.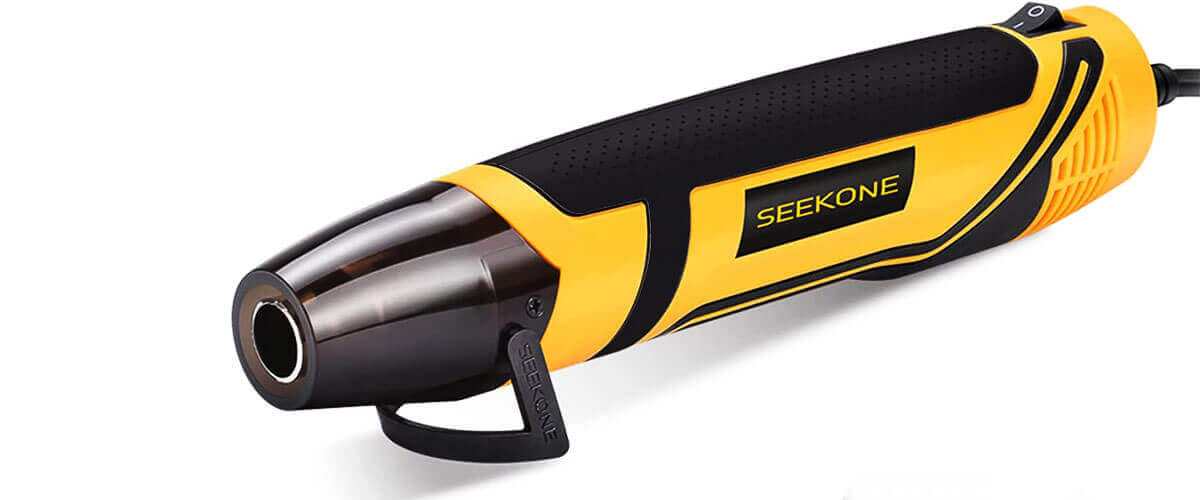 Features and specs
The SEEKONE heat gun is suitable for such spheres of application as soldering, air bubble removing, shrink wrapping, candle making, electronics repairing, defrosting, paint removing, etc. HG350 features a 3.0 Amp motor that allows the tool to reach the maximum temperature of 662℉ (350℃) within seconds. It is the only temperature setting of this heat gun.
One of the tool's advantages is an ultra-long 4.9-ft cable that is necessary for crafting in large areas or away from the socket. I will also note that due to multiple heat vents, the heat will be efficiently dissipated to avoid overheating and extend the product's life. Thanks to a retractable bracket made of plastic, you will also have a hands-free option with this 300-watts heat gun. This part of the tool folds up easily if some pressure is applied.
Design and materials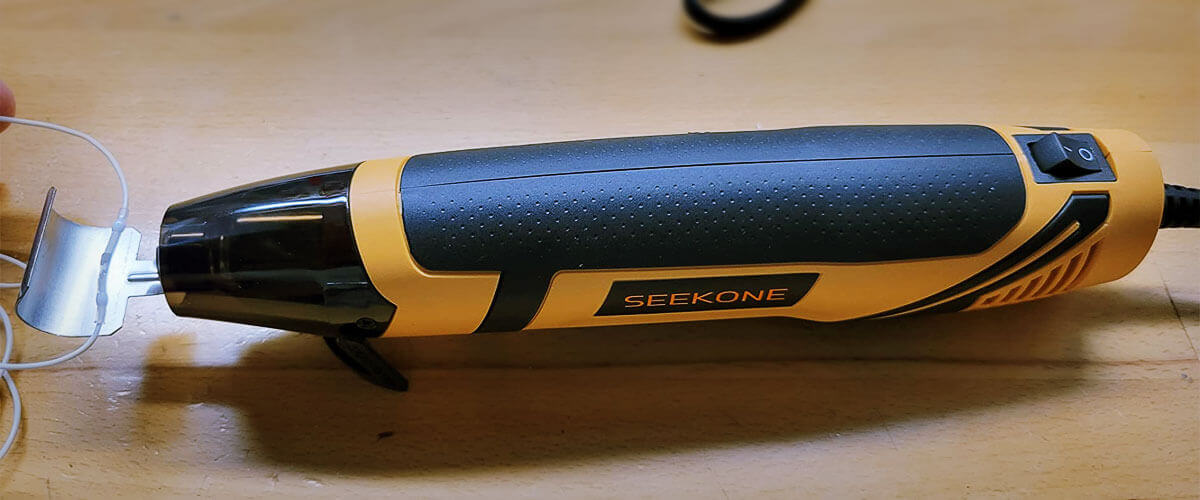 HG350 has a compact pencil-like shape and anti-slip handle for convenient application. Owing to its light weight of 13.7 ounces, the gun is convenient to carry everywhere and will not cause hand fatigue. The body of the heat gun is produced of top-notch impact-resistant PA6+30GF and is equipped with a nozzle safety shield for burn protection.
Accessories
The kit includes the gun, a reflector nozzle, and a user manual.
Conclusion
In general, the SEEKONE HG350 heat gun is a powerful tool with an ergonomic design that is ideal for use in hard-to-reach places. Even though it has only one temperature setting, the gun is quite universal for completing most DIY projects. I wouldn't say I liked the built-in plastic stand, which seemed to me not convenient enough. However, this small disadvantage (moreover, quite subjective) did not spoil the overall positive impression of this model.
Key specs
Watts: 350.
Temperature settings: 662°F/350°C.
Cord length, ft/cm: 4.9/149.
Weight, lbs/g: 0.7/326.