Creating embossing projects is engaging if you have the proper tools to create a real masterpiece. Any handmade card will look masterful when you add texture using an embossing powder and a heat tool. However, only the best embossing heat guns will allow you to create a truly accurate, high-quality project. A good heat gun offers adjustable temperatures that allow precise control over the process and ensures even heat distribution for crisp, expressive images. But how do you choose the right embossing tool? In this review, I have tested the most popular models of heat guns, and I will help you pick an optimal instrument for your needs.
Our pick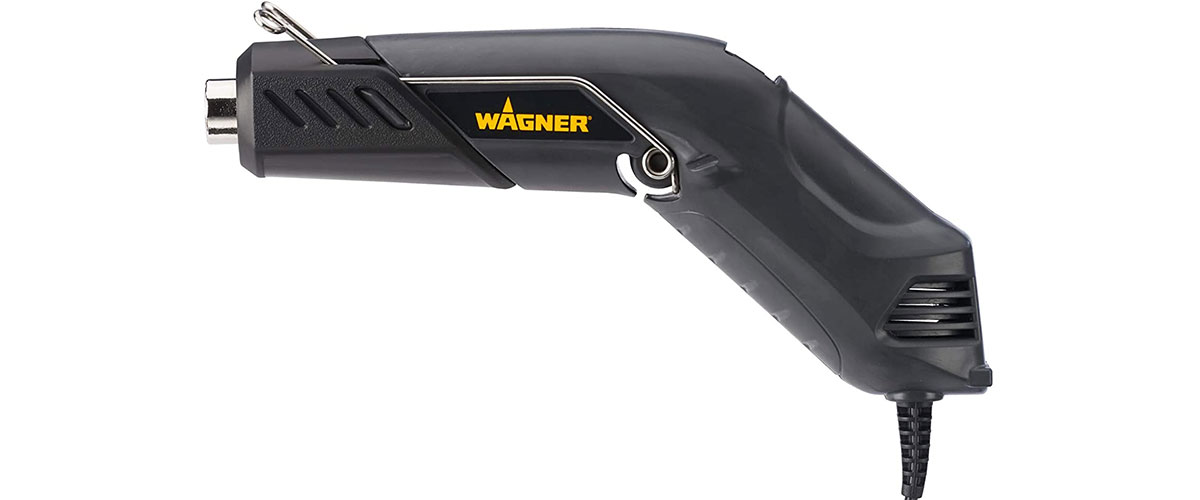 Wagner HT400
Best embossing heat gun
The HT400 heat tool is a durable, versatile heat gun for home, workshop, craft, and hobby projects. It can apply heat shrink tubing around a wire, emboss cards and crafting projects, and more.
Read the full review.
Do I really need an embossing tool?
Initially, crafters have tried various methods to create embossing projects – ovens, hairdryers, etc. None of them is meant for such accurate crafting, so the results were not satisfying.
Thus, an oven is an appliance for cooking, not for embossing, and it does not allow you to regulate the temperature. So, in the end, you may get a burnt card instead of a nice embossing project.
When it comes to hairdryers, their main function is to dry hair. It produces air movement that's too forceful and may scatter the embossing powder, making it difficult to achieve precise, well-defined designs. Hence, the embossing powder will likely be blown away from your workpiece.
In contrast, an embossing heat gun offers distinct advantages. Firstly, it provides direct, concentrated heat that's ideal for the delicate task of embossing. It also offers a gentler airflow that won't disturb the embossing powder, ensuring your designs stay exactly where you want them. Let's learn more about its advantages in the following section and try to find the best embossing heat gun for your needs.
Advantages of embossing gun for DIY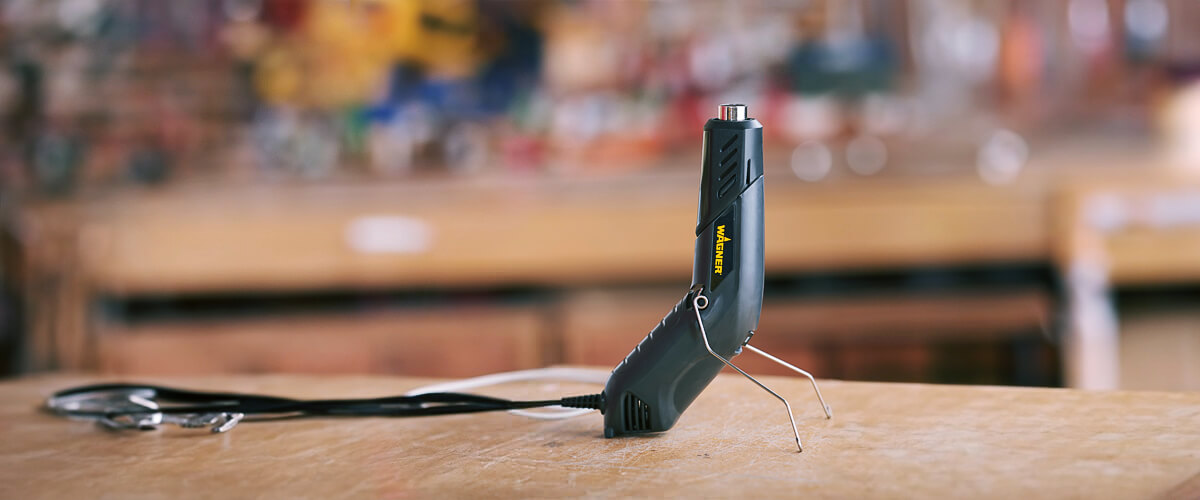 A heat gun for embossing was manufactured to make your projects look professional. As a result, they feature many advantages compared to old-fashioned ways of creating embossing cards.
You can control the heat rate so that your card is not burnt.
An embossing gun is designed for accurate work owing to a closely focused heat plume.
The airflow in a heat gun is low. Therefore, it will not blow the powder from the card.
The shape of a heat tool is usually compact, so you can comfortably hold it in one hand.
You can switch an embossing gun on and off while working on your project.
Using embossing guns are generally safer than alternative heating methods. Most models are designed to stand upright when not in use, reducing the risk of accidental contact burns or causing a fire.
These heat tools can also be used for various other craft applications, such as heat-shrinking plastic, quick-drying paints, or applying heat transfer vinyl.
Embossing heat gun comparison table
Name
Watts
Temperature settings
Cord length, ft/cm
Weight, lbs/g
Review
Wagner HT400

best overall

170-350
450-680°F/230-360°C
6/183
0.7/326
Review
Chandler Tool

also a great choice

150-300
392-572°F/200-300°C
6/183
0.7/326
Review
Homidic HJ7

budget pick

300
392°F/200°C
6.5/200
0.7/326
Review
Best embossing heat gun reviews
When it comes to heat guns designed for embossing, the Wagner HT400 stands above the competition. It offers a rare combination of versatility, efficiency, and affordability that sets it apart from other models on the market. Wagner HT400 is a compact multipurpose heat gun produced by Wagner Spraytech – a company with a long history and good reputation.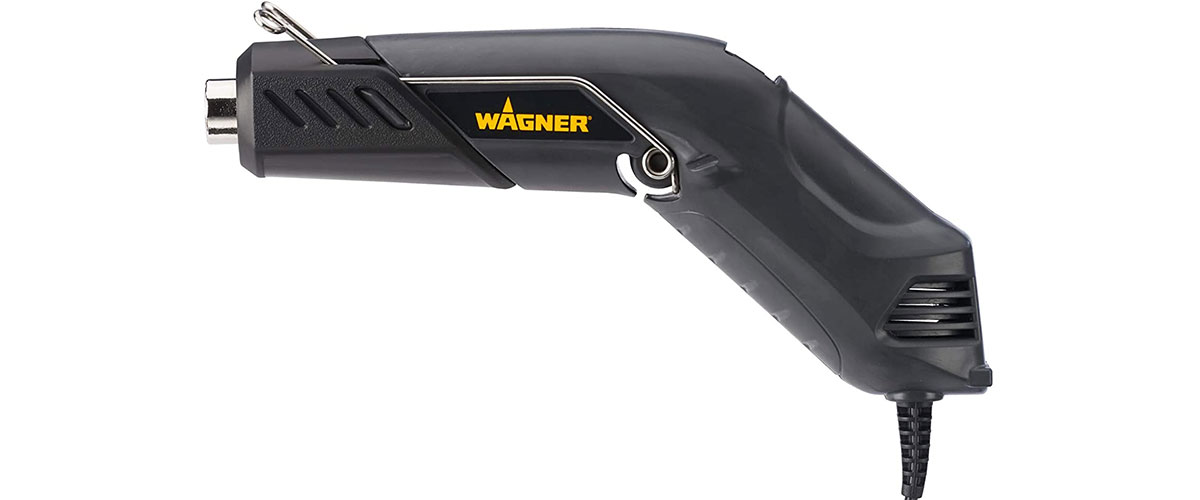 Features and specs
The manufacturer of this heat gun claims that the product can be used for home, workshop, craft, and hobby projects. Such versatility is achieved owing to the dual temperature settings with the low 450°F and high 680°F options. Thus, the low-temperature setting is perfect for embossing cards and other crafting projects, while the high-temperature option is ideal for shrinking electrical tubes or strip paint. The maximum wattage on a high setting is 350 Watts.
One of the product's peculiarities is its angled shape that offers 3 different operating positions. The pencil grip gives you better control and precision for detailed projects. The palm grip is ideal for heavy-duty tasks. The installed, retractable stand turns out to be helpful for hands-free operation.
The heat gun comes with a six-foot cable that gives you enough space to comfortably operate the tool. The voltage of the plug is 110V.
Design and materials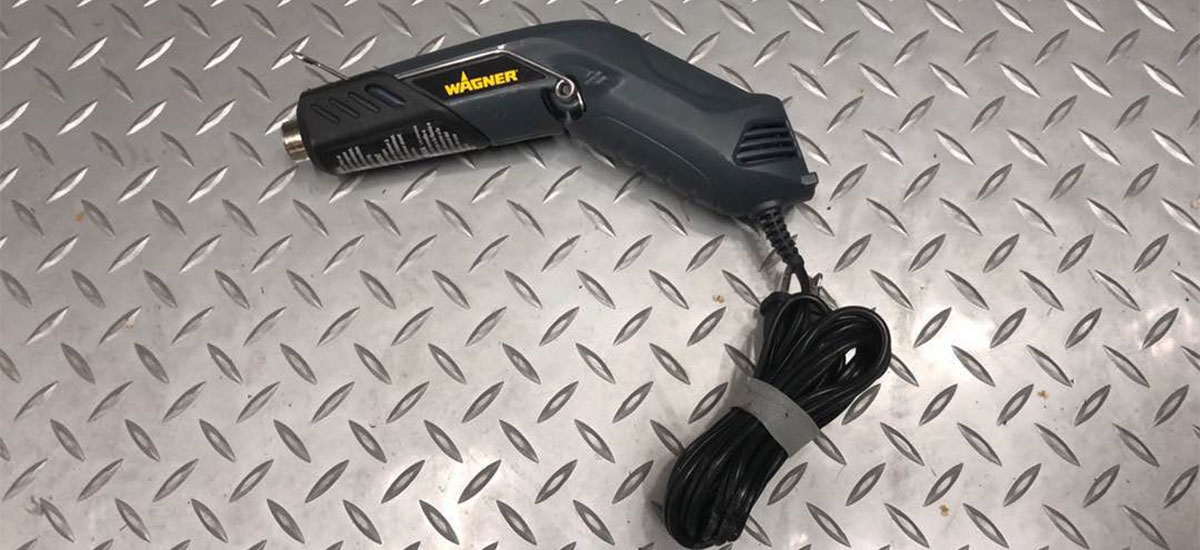 One of the advantages of this heat gun is its compact size and light weight of 0.9 lbs.
Owing to the angled design of the product, this tool can be used to reach hardly accessible areas, unlike heat guns with standard design. You will appreciate cool-touch sidebars whenever you use the pencil grip for your projects.
Accessories
The Wagner HT400 heat gun does not include any additional nozzles and does not come with a kit for safekeeping and transportation.
Conclusion
In personal use, the Wagner HT400 leaves an impression of a real high-quality tool. Thanks to its unique design, compact size, and hands-free feature, this heat gun will become one of your favorite tools that you will use for versatile purposes. The various grip options make this model adapt to any task at hand, providing an incredibly versatile crafting tool. But keep in mind that this product is unsuitable for large areas.
Key specs
Watts settings: 170-350.
Temperature settings: 450-680°F/230-360°C.
Cord length, ft/cm: 6/183.
Weight, lbs/kg: 0.7/0.32.
Chandler Tool – also a great choice
Chandler Tool is a mini heat gun that can be used for versatile purposes owing to its dual temperature mode. In this Chandler Tool review, we will try to discover the main characteristics and functions of the product.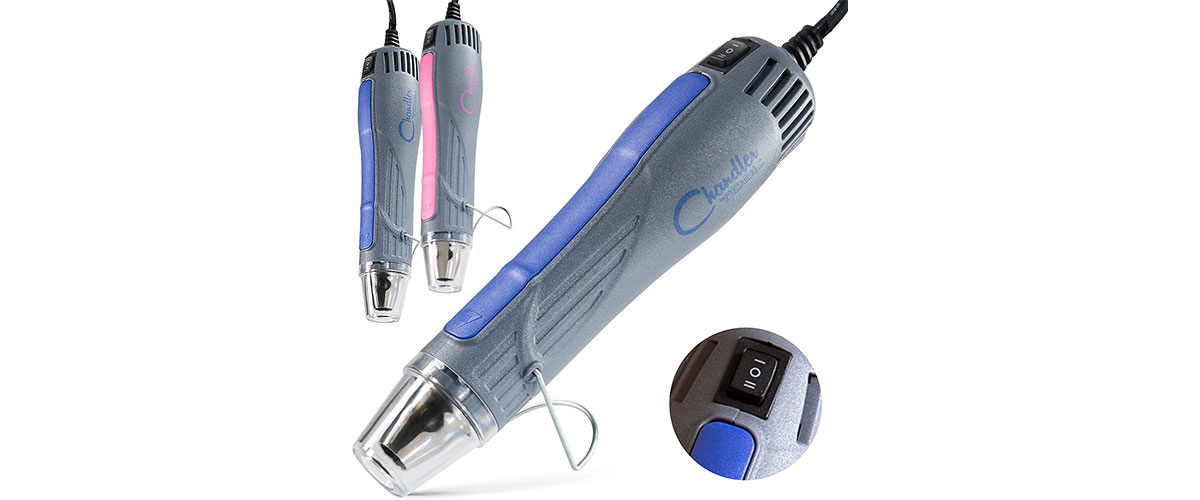 Features and specs
One of the main Chandler Tool features is that it offers a low-temperature mode of 392 F which is appropriate for delicate projects and a high-temperature mode of 572 F which is ideal for heavy-duty jobs. The item will be your great helper if you are a fan of crafts, shrink wrapping, phone repairs, candle making, embossing powders, jewelry making, etc.
The maximum power of this tool is 300 Watts. While using the instrument you can adjust the temperature and speed according to your needs. Chandler tool can be used continuously for 1-2 hours before it requires a forced break.
The item is flexible, ergonomic, and quiet; it requires just a couple of minutes to heat up. Owing to its tiny size, this electric portable heat gun can be used effortlessly even in tight spaces.
Design and materials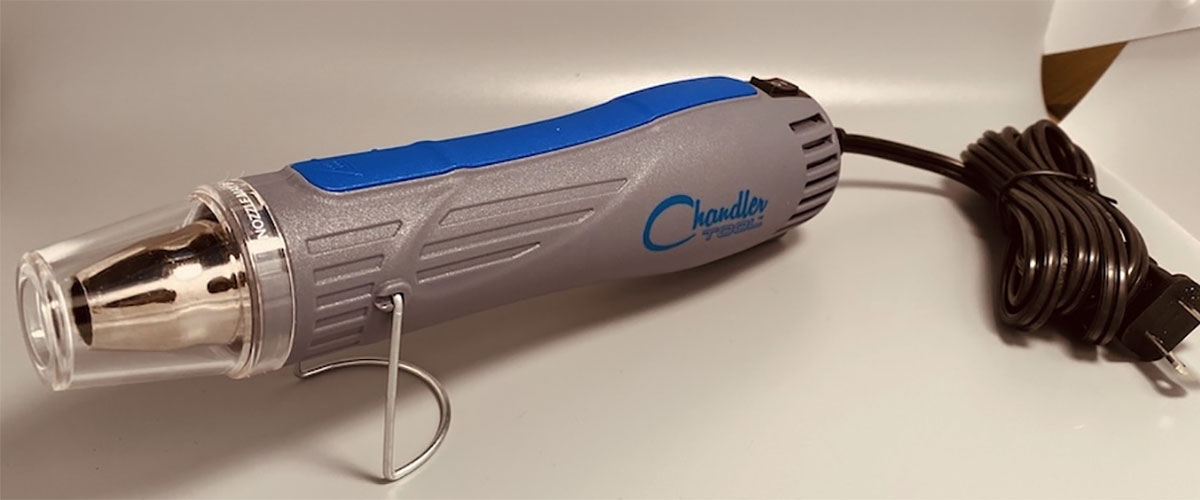 Since Chandler Tool is a mini heat gun, it weighs only 13.1 ounces. Thanks to the insulated plastic body of the item and a plastic nozzle protector, your hands will not suffer, when the instrument is heated during active use.
Accessories
The item includes a protective nozzle so that you do not have any chances to burn your hands, a kickstand for additional comfort, and a 5-feet cord to let you use it away from the socket.
Conclusion
In general, Chandler Tool is a great instrument that you can use for numerous reasons. By buying this heat gun you get two products in one owing to the low and high-temperature settings that you can switch at any time.
Key specs
Watts settings: 150-300.
Temperature settings: 392-572°F/200-300°C.
Cord length, ft/cm: 6/183.
Weight, lbs/g: 0.7/326.
Homidic HJ7 – budget pick
The heat gun Homidic HJ7 is a compact portable tool for various accurate DIY projects. In this Homidic HJ7 review, you will learn about the peculiarities of this instrument and its application.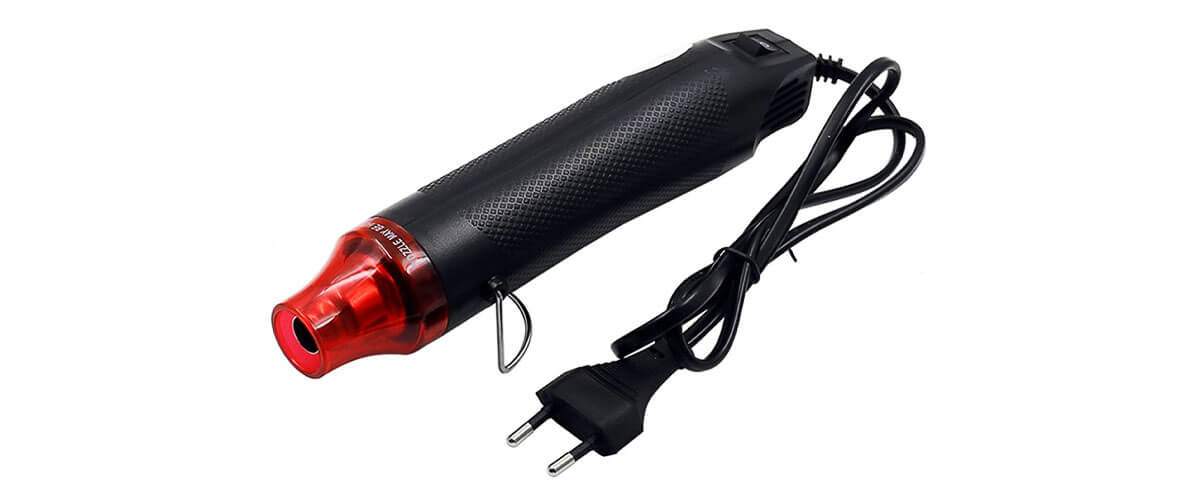 Features and specs
The 300W Homidic heat tool is suitable for shrink wrapping, drying paint, rubber stamping, candle making, heating embossed powder, etc. It comes with a long 6.56 ft cable that makes the tool appropriate for crafting, even when the work desk is far from the power source.
You should note that Homidic HJ7 features only one temperature setting of 392 degrees, thus, you cannot regulate the temperature. You can just turn it on and off but cannot control the speed and flow. The temperature of the nozzle reaches 200 degrees within seconds. So be sure to take this peculiarity into account when planning your work.
Owing to the built-in stand, you have an opportunity for hands-free application. Together with professional vents, it prevents overheating for long-life use.
Design and materials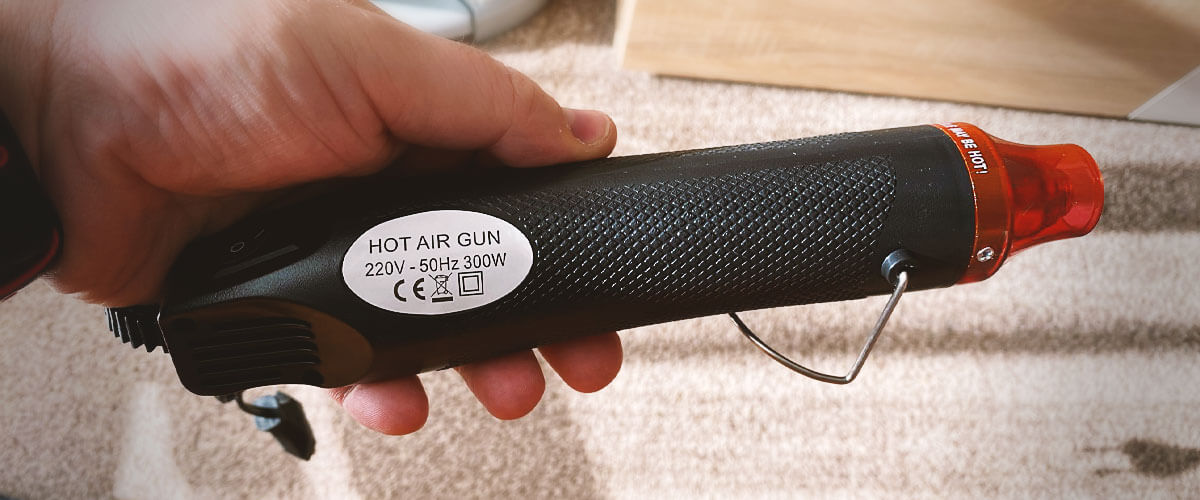 I was pleased with the mini dimensions (9.44 to 1.97 inches) and the light weight of the tool (11.6 ounces). This heat gun is made of first-rate stainless steel inside and ABS plastic outside. It is easy to hold owing to the simple design and anti-slip handle cover.
Accessories
The Homidic HJ7 heat gun does not include any additional nozzle applications and comes without any special kit.
Conclusion
All in all, Homidic HJ7 is a decent heat gun for the money. It is ideal for precise and intricate jobs but will not cope with bigger projects. Keep in mind that you will have to stop every 5-10 minutes to prevent overheating.
Key specs
Watts: 300.
Temperature settings: 392°F/200°C.
Cord length, ft/cm: 6.5/200.
Weight, lbs/g: 0.7/326.
SEEKONE HG350
HG350 is an electric mini heat gun for a versatile application produced by SEEKONE. In this SEEKONE HG350 review, I will describe its main features and analyze the strong and weak sides of the product.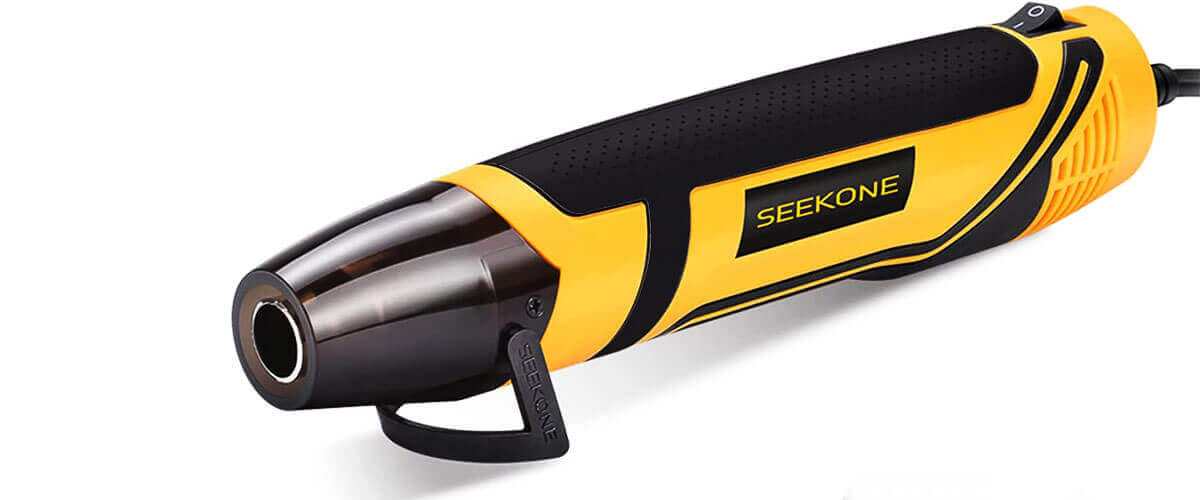 Features and specs
The SEEKONE heat gun is suitable for such spheres of application as soldering, air bubble removing, shrink wrapping, candle making, electronics repairing, defrosting, paint removing, etc. HG350 features a 3.0 Amp motor that allows the tool to reach the maximum temperature of 662℉ (350℃) within seconds. It is the only temperature setting of this heat gun.
One of the tool's advantages is an ultra-long 4.9-ft cable that is necessary for crafting in large areas or away from the socket. I will also note that due to multiple heat vents, the heat will be efficiently dissipated to avoid overheating and extend the product's life. Thanks to a retractable bracket made of plastic, you will also have a hands-free option with this 300-watts heat gun. This part of the tool folds up easily if some pressure is applied.
Design and materials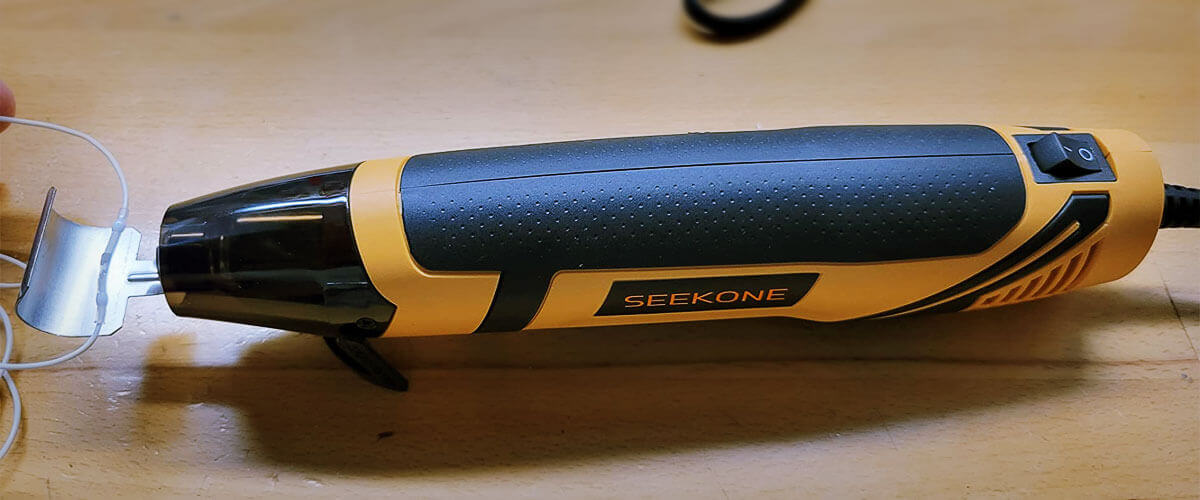 HG350 has a compact pencil-like shape and anti-slip handle for convenient application. Owing to its light weight of 13.7 ounces, the gun is convenient to carry everywhere and will not cause hand fatigue. The body of the heat gun is produced of top-notch impact-resistant PA6+30GF and is equipped with a nozzle safety shield for burn protection.
Accessories
The kit includes the gun, a reflector nozzle, and a user manual.
Conclusion
In general, the SEEKONE HG350 heat gun is a powerful tool with an ergonomic design that is ideal for use in hard-to-reach places. Even though it has only one temperature setting, the gun is quite universal for completing most DIY projects. I wouldn't say I liked the built-in plastic stand, which seemed to me not convenient enough. However, this small disadvantage (moreover, quite subjective) did not spoil the overall positive impression of this model.
Key specs
Watts: 350.
Temperature settings: 662°F/350°C.
Cord length, ft/cm: 4.9/149.
Weight, lbs/g: 0.7/326.
Master Appliance EC-MINI
Master Appliance EC-MINI is a universal portable heat gun for crafts that will become your reliable helper for completing various projects. In this Master Appliance EC-MINI review, I will analyze the key characteristics of the heat tool and the peculiarities of working with it.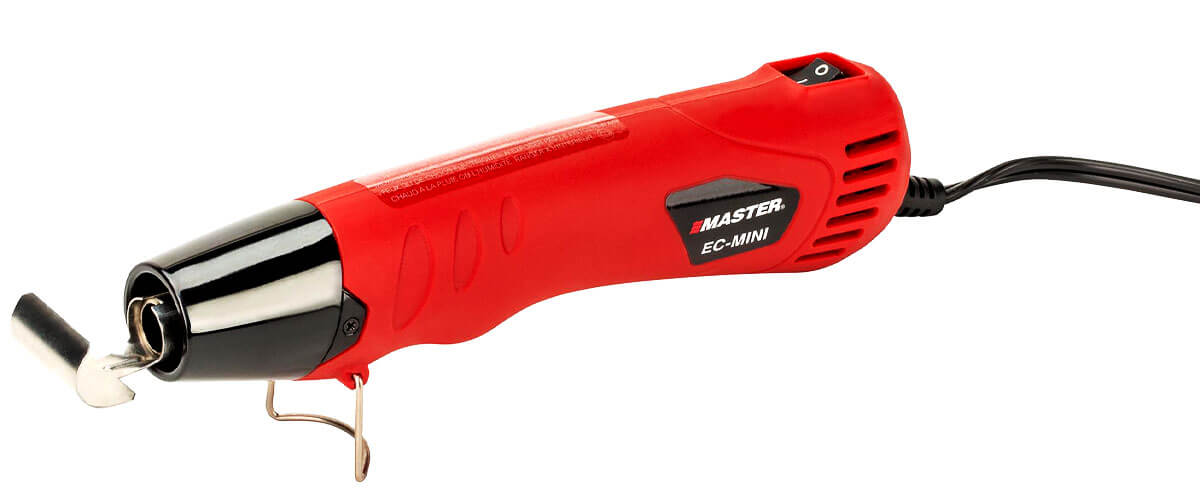 Features and specs
The manufacturer states that EC-MINI is ideal for candle making, embossing, heat-shrinking electrical connectors and terminals, vinyl wrap, decal removal, etc. This shows the wide possibilities of its application and versatility.
This 350 watts tool reaches its maximum temperature of 640F within seconds. The heat gun has a simple on-off rocker switch. Besides, EC-MINI features a 9.9 CFM airflow to help you get work done efficiently. But if you need to adjust the temperature, you should know that this model hasn't got such an option.
The Master Appliance heat gun comes with a built-in wire stand for hands-free operation. It allows focusing on precise work and keeps the heat end off the countertop to provide safe cooling of the tool. In addition, the 6.5-foot power cord is long enough to give you maneuverability at the working desk.
Design and materials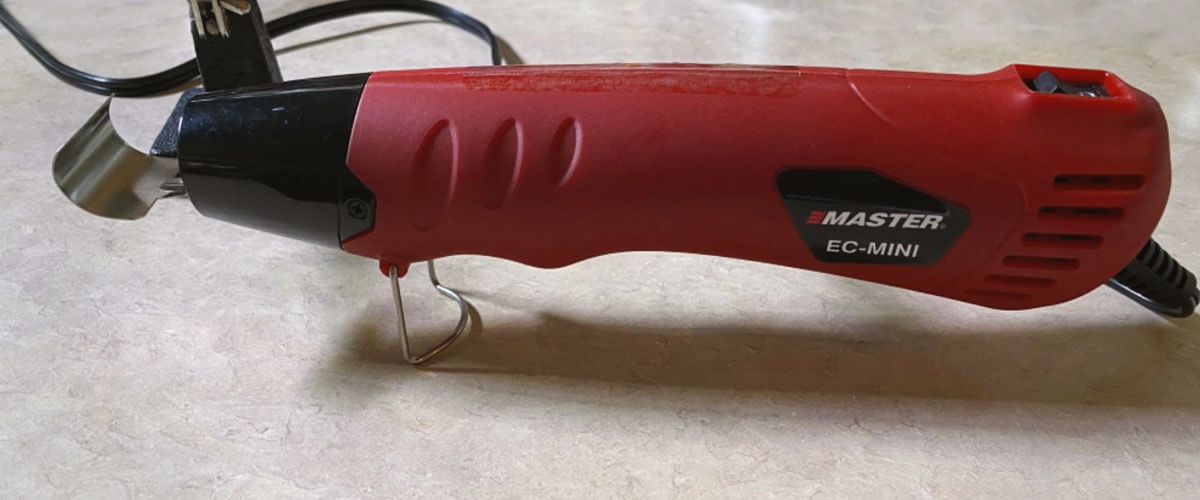 The main body of the Master Appliance heat gun is made of solid impact-resistant plastic. The tool has a textured, slightly rough finish with ergonomic shaping for a secure, comfortable grip, which is important for a hot air gun. Owing to its light weight of 15.2 ounces, you can hold it like a pen without any hand fatigue.
Accessories
The Master Appliance EC-MINI heat gun includes a heat shrink tube reflector for sealing/shrinking plastic.
Conclusion
In general, Master Appliance EC-MINI is a simple, inexpensive heat gun that runs smoothly and quietly. It's light and powerful enough to do those jobs for which you may not want to drag out the bigger gun. It doesn't seem as solidly built as some of the more prominent brands, but believe me, it is a reliable helper for small jobs.
Key specs
Watts: 350.
Temperature settings: 640°F/337°C.
Cord length, ft/cm: 6.5/200.
Weight, lbs/g: 0.8/321.
You may need
Wow! Embossing Powders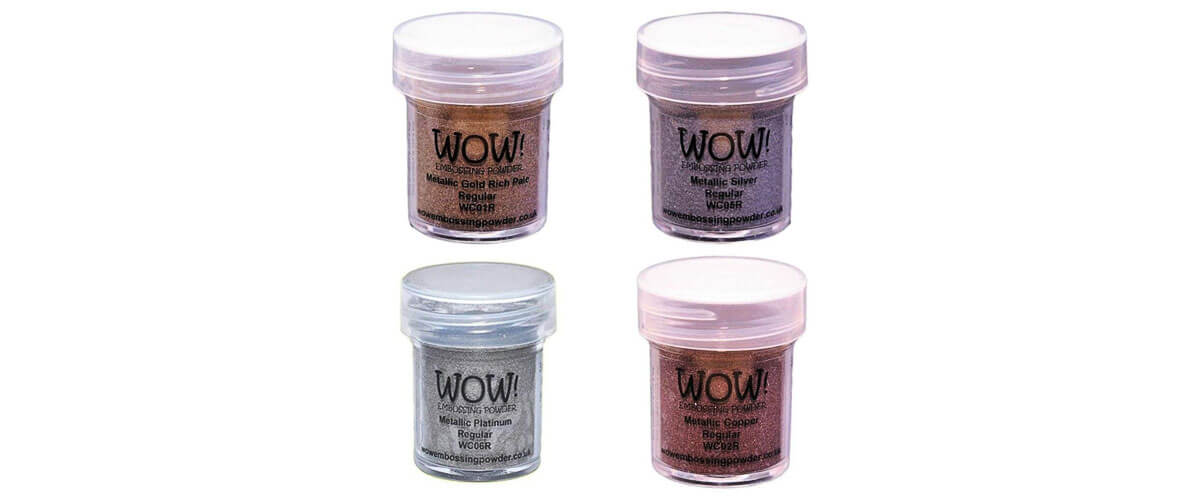 Embossing gun buying guide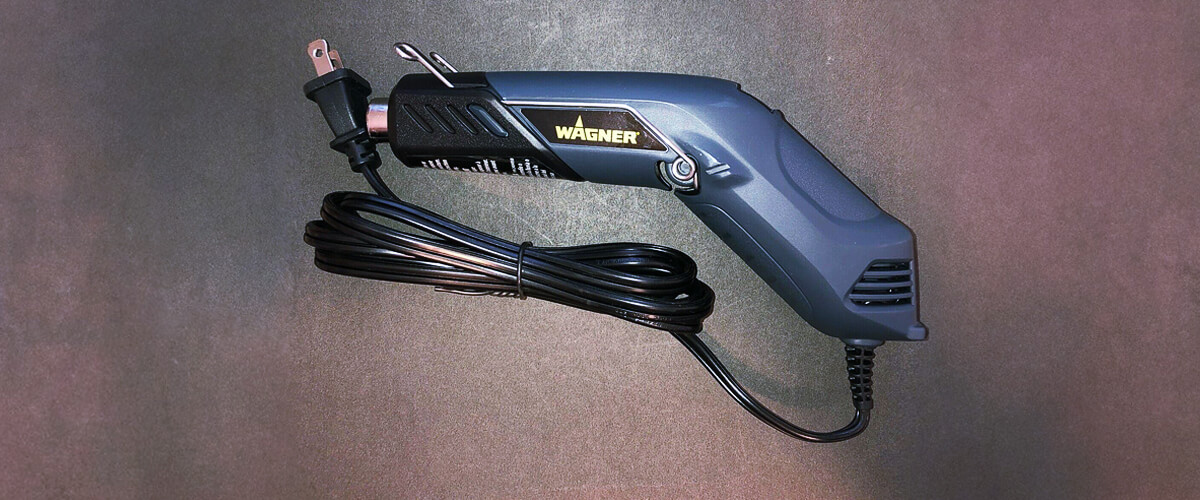 There are several factors to consider when you choose the best embossing heat tool.
Pay attention to the length of the cable so that it is neither too short nor too long. The optimal option would be a cable of a standard length. Yet, the choice should be individual, considering the distance from your working desk to the nearest socket.
Even though heat guns are typically compact, their weight may differ. For example, a lightweight tool will not cause hand fatigue fast if you intend to create many embossing projects in a row. At the same time, a heavier instrument is easier to handle, giving you more control for precise jobs.
Dual temperature settings turn out to be beneficial if you deal with embossing projects of different sizes. Thus, you can use a low setting for small, accurate cards, and you might need a higher temperature to complete a large poster.
Ideally, the heat tool should be able to reach the optimal temperature within seconds. It would allow you to save time, especially when you need to create several cards and your time is limited.
FAQ
Can you use a hair dryer as a heat gun for embossing?
It's not recommended to use a hair dryer as a substitute for a heat gun in embossing. Heat guns designed specifically for embossing produce a more focused, controlled heat, and they often come with variable temperature settings that are essential for successful embossing. Hair dryers also tend to produce a stronger airflow that can blow away your embossing powder.
What do I need to start embossing?
To start embossing, you will need a few key items: embossing powder, a heat gun, an embossing ink pad, and a rubber stamp with your desired design. You'll also need the material you wish to emboss on, such as paper, cardstock, or certain fabric types.
Can you emboss on wood?
Yes, it is possible to emboss on wood. However, the process may be slightly more complex than embossing on paper or fabric. It's important to use a good-quality embossing powder and a heat gun that allows you to control the temperature.
What materials can be embossed?
A variety of materials can be embossed, including paper, cardstock, certain types of fabric, and even some types of light wood. However, the suitability of a material for embossing will depend on its heat tolerance and the specific characteristics of the embossing powder you're using.
Difference between embossed and debossed
Embossing
is the process of creating a relief image on a
surface
. When embossing, you create a die with a raised image and press it into the desired material. The material is then heated to cause it to expand, pushing the raised image out from the surface. Debossing is the opposite process of embossing.
How does an embossing heat tool differ from a regular heat gun?
An embossing heat tool is specifically designed for craft applications such as embossing, where focused, controlled heat is required. It often comes with variable temperature settings for precise heat control and has a low airflow to prevent embossing powder from being blown away. In contrast, regular heat guns generate higher temperatures and stronger airflow, which are suited for heavier tasks like paint stripping or shrink-wrapping.
Can I use an embossing heat tool for other crafting purposes besides embossing?
Yes, embossing heat tools can be used for a range of crafting tasks beyond embossing. They can be used for drying paint or ink, shrinking plastic, or even molding and shaping lightweight materials.
What are the typical temperature settings for embossing with a heat tool?
Typical temperature settings for embossing with a heat tool can range from around 200 to 300 degrees Fahrenheit. However, the exact temperature may vary depending on the specific heat tool, the material you're embossing, and the type of embossing powder you use.