Whether you need to strip paint once in a while or you do it regularly, you know how tricky and laborious this task is, especially if you do not have the right tools. The best heat guns for paint removal are those instruments that will allow you to complete the task effortlessly and quickly. By emitting a stream of hot air, these tools soften and peel away layers of paint, facilitating the renovation process. After all, the most important and challenging mission is to find a top-notch heat gun that will not cost you a fortune and will be extremely durable at the same time.
When you go to any market or shop online, you will find dozens of tools that look pretty similar and have identical options. Lucky for you, I have made a review of the most popular models to help you choose the best heat gun for paint stripping.
Our pick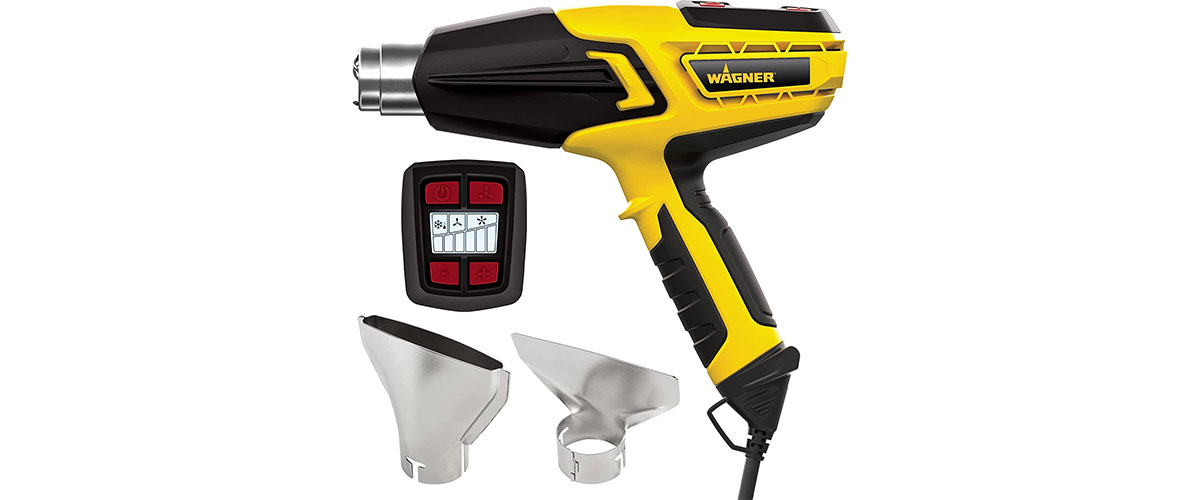 Wagner FURNO 500
Best heat gun for removing paint
This professionally rated electronic heat gun has a graphic LED display which illuminates the 12 temperature settings from 60°C to 600°C for a wide range of applications.
Read the full review.
Heat gun for removing paint comparison table
Name
Watts
Low heat setting
High heat setting
Review
Wagner FURNO 500

best overall

1500W
66℃/150°F
649℃/1200°F
Review
Makita HG6530VK

also a great choice

2000W
50°C/122°F
650°C/1202°F
Review
Wagner HT400

budget

170W/350W
230°C/450°F
360°C/680°F
Review
Best heat gun for removing paint reviews
Wagner FURNO 500 – best overall
Furno 500 is a "new generation" heat gun developed by Wagner. The heat gun's construction is created according to all German quality standards. That's why I included this model in my review and ranked it so high. And now, we will take a closer look at its capabilities.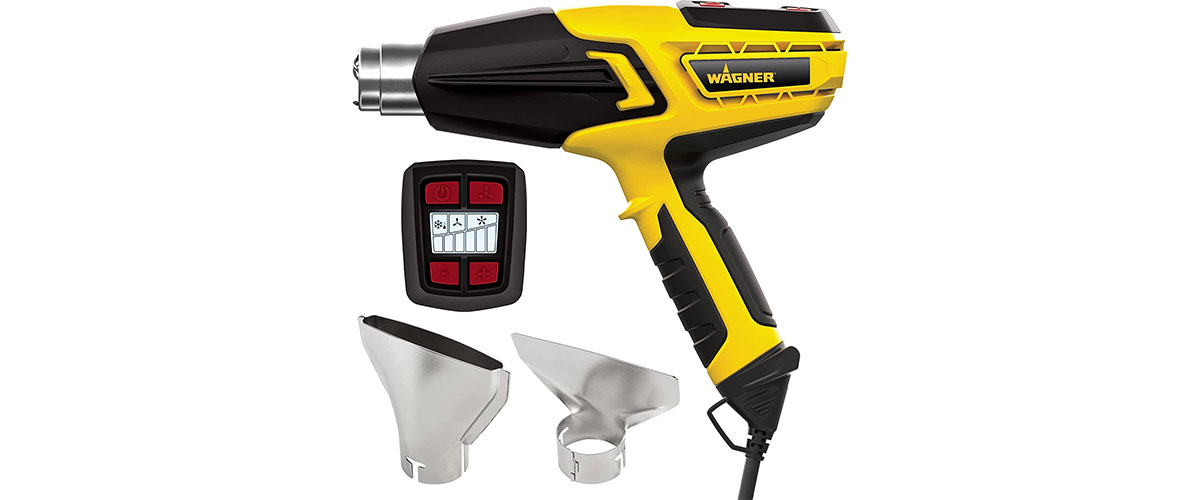 Features and specs
Furno 500 has earned its popularity among users due to numerous advantages.
Firstly, the tool has smooth temperature control, allowing you to adjust the heat gun to work with different materials. At the right temperature, it can work with glue, tiles, paints, copper pipes, etc.
A powerful motor is capable of increasing the heated air volume. Moreover, the cool-down function and two fan operation modes provide longer preservation of the heating elements.
Secondly, it's really easy to use as the heat gun is designed with user-friendly features, including an ergonomic handle for comfortable use and an LED screen to monitor. The developers' commitment to creating the device as safe as possible deserves to be mentioned. The Wagner Furno 500 heat gun is equipped with a special thermal sensor whose main function is to regulate thermal radiation. Due to this, the body of the heat gun is protected from overheating.
Design and materials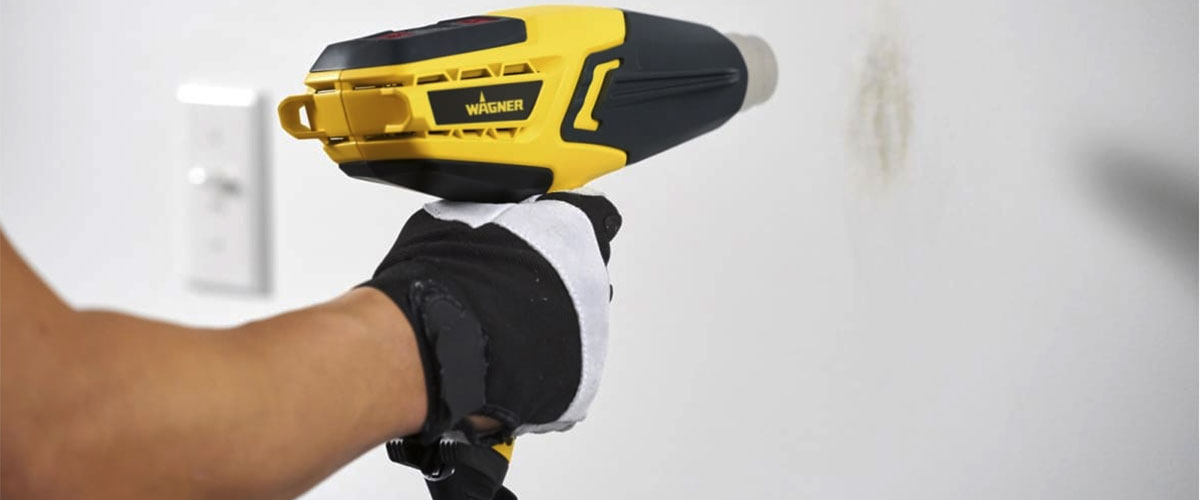 This heat gun is presented in two branded colors: yellow and black. There is a protruding detail on the black part of the tool, which prevents the hot nozzle from touching surfaces when the heat gun is put on its side. The shape of the device is symmetrical and designed in a futuristic style, that's why the tool has a stylish and attractive look. A soft-grip handle offers ease of use and provides a perfect balance.
Accessories
The heat gun is also equipped with two interchangeable nozzles — the glass protector and the flare nozzle. They can help you to avoid accidental damage to materials and make your work safe.
Conclusion
After testing this heat gun, which can also be referred to as a paint remover gun, I noticed that it was easy to set it up quickly. The second main advantage of the device is its wide range of operating temperatures. And, after all, the high quality of assembly and materials are one of the main preferences of this tool. The minor negative points include a long auto-off and a few nozzles.
Key specs
Watts: 1500.
Low heat setting: 150°F/66°C.
High heat setting: 1200°F/649°C.
Airflow, CFM: 17.
Cord length, ft/cm: 6/183.
Weight, lbs/kg: 1.63/0.8.
Makita HG6530VK – also a great choice
Makita HG6530VK is a versatile heat gun for industrial use that turns out to be a neat tool for many handicraftsmen. In this Makita HG6530VK review, we will try to show you the main advantages of this product.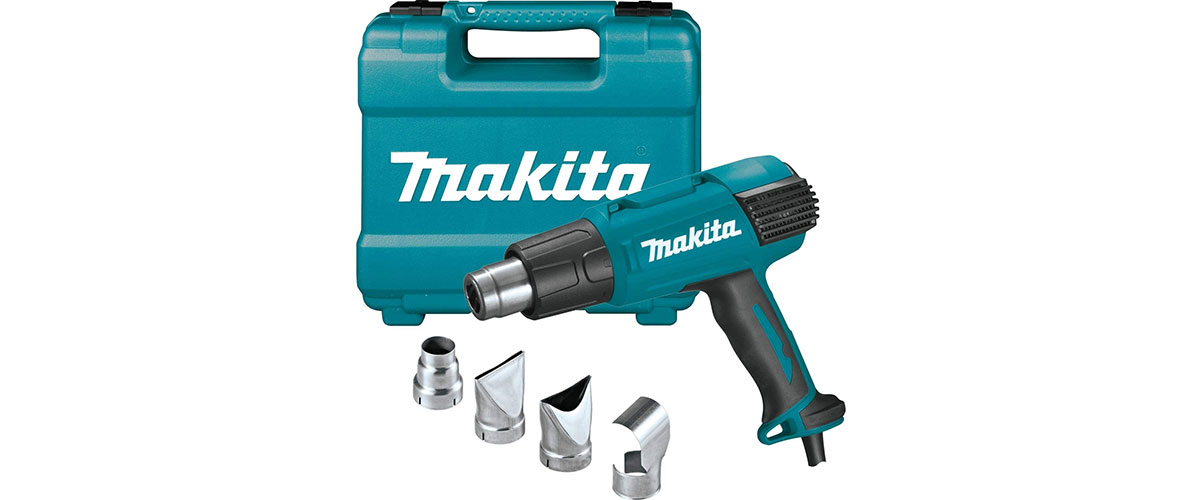 Features and spec
This compact 2000W instrument can be used for waxing, removing stickers, thawing frozen pipes, stripping paint and lacquer, vehicle tinting, etc. Such versatility of the heat gun is achieved owing to variable temperatures that you can set between 122º and 1022º F. Moreover, you can change the airflow settings from 7 CFM to 14 CFM. You can also adjust fan speeds right on the handle slide switch and choose low, high, and cooling options.
One of the features that you will definitely appreciate is an LCD screen on the rear end of the instrument with two buttons (+ and -) that allows you to change the temperature and see the changes right on the screen. Thanks to a 6.6 ft. cord you will have additional mobility and enough space for creative work. A built-in tether notch is another characteristic of the tool that you might enjoy, but keep in mind that the tether is sold separately.
Design and materials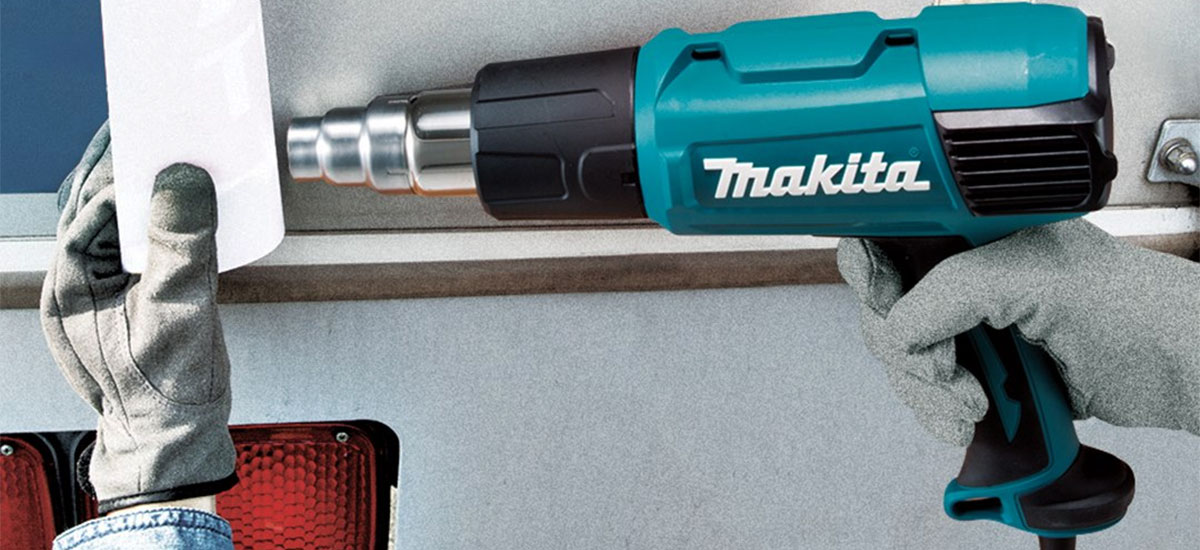 Lightweight tools are always more pleasant to use as they do not cause hand fatigue. The Makita tool weighs only 1.6 pounds, and you can always put it on a flattened rear end whenever you need a break. A rubberized molded handle secures a convenient non-slip grip.
Accessories
Makita HG6530VK heat gun comes in a solid kit for comfortable safekeeping and transportation as well as enhanced protection of the product. The tool case also includes four 1-3/8″ nozzles – a wide slot, a reflector, a glass protector, and a reflector nozzle.
Conclusion
All in all, the Makita heat gun proves to be an efficient robust tool of a small size that will serve you for years and complete a wide range of tasks. It is quite an expensive instrument that is ideal for industrial applications rather than for amateur crafts.
Key specs
Watts (low/high) settings: 2000W.
Low heat setting: 50°C/122°F.
High heat setting: 650°C/1202°F.
Airflow, CFM: 10/16.
Cord length, ft/cm: 6/183.
Weight, lbs/kg: 2/0.9.
DEWALT DCE530P1 – cordless
DEWALT DCE530P1 is a high-quality cordless heat gun designed for diverse applications. In this DEWALT DCE530P1 review we want to analyze some functions and characteristics of the tool.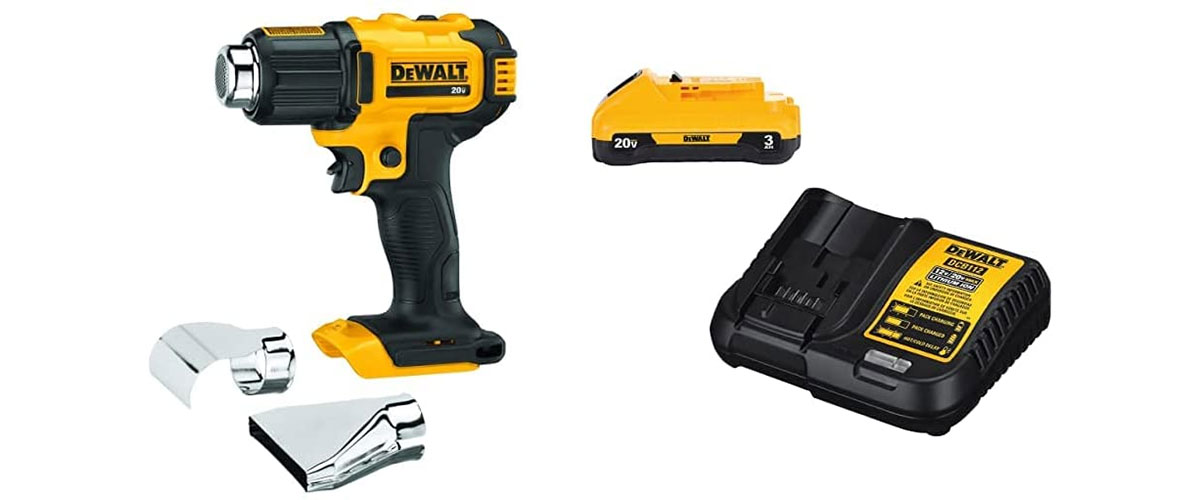 Features and specs
In case you need to strip paint, bend the plastic, solder pipes, or shrink PVC, the DEWALT heat gun will cope with the above-mentioned tasks effortlessly. In addition, the tool is ideal for welding, drying, and thawing purposes owing to its dual temperature settings.
You can choose between a low 500° F and a high 990° F temperature setting depending on your needs. The product heats up within seconds, but the maximum output temperature is reached only after 340 seconds. The manufacturer promises up to 42 minutes of runtime per charge using the tool on low-temperature settings; in case you work on high-temperature settings, the battery will die in 17 minutes of permanent application.
Owing to the 3-LED fuel gauge system you will be aware of the battery level. Handsfree manual operation is possible due to a lock-off trigger and lock-on button.
Design and materials
This heat gun is considered to be small and compact for a cordless tool. It weighs only 1.17 pounds without a battery and can be used in those hard-to-reach areas, where you have limited access to a plug. The non-slip rubber handle of the product provides enhanced grip.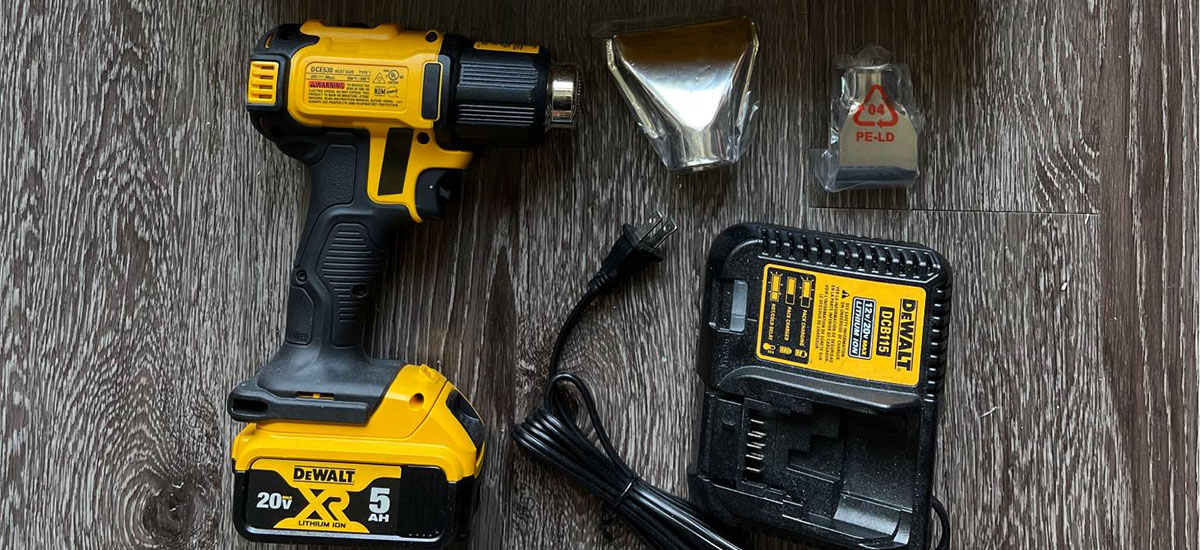 Accessories
The cordless heat gun DCE530P1 includes 2 nozzle attachments - a flat nozzle and a hook nozzle for versatile application needs. You can purchase a powerful 3.0Ah or 5.0Ahl lithium-ion battery and a charger. The item does not include any special case or kit for safekeeping and transportation.
Conclusion
To sum up, DEWALT cordless heat gun is a universal tool for a huge variety of projects that should be done both indoors and outdoors. Even though it is an expensive item, you will not regret spending your money on such a marvelous durable instrument.
Key specs
Voltage: 20V.
Battery Capacity: 3.0 Ah.
Max. output temperature: 532 °C/990 °F.
Airflow, CFM: 6.7.
Weight, lbs/kg: 3/1.3.
Wagner HT400 – budget
Wagner HT400 is a compact multipurpose heat gun with all the necessary basic functions and, at the same time, an acceptable price for many people. Yes, this model may not be able to surpass the capabilities of more expensive and premium options, but for many people, it will be a great assistant.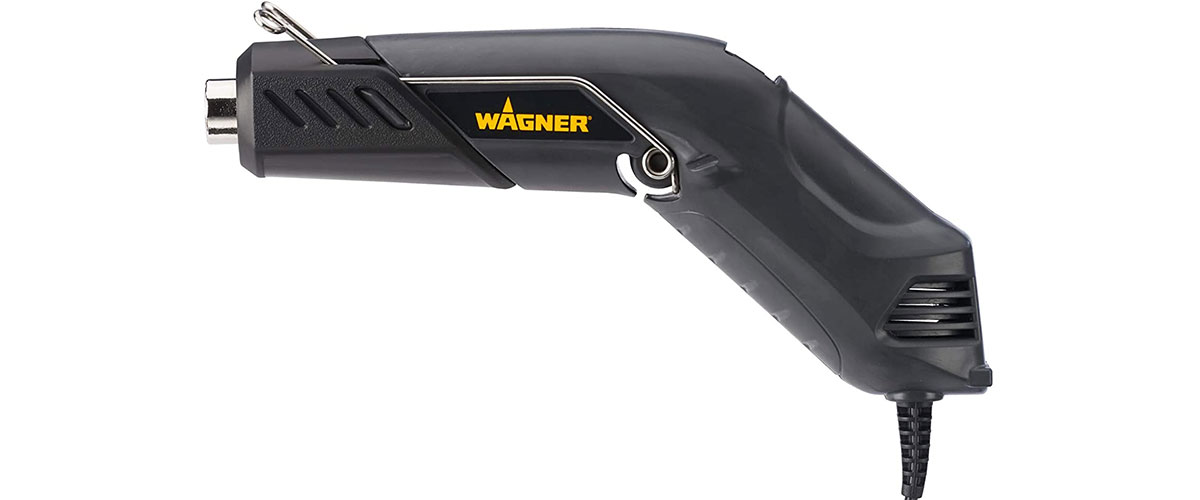 Features and specs
The manufacturer of this heat gun claims that the product can be used for home, workshop, craft, and hobby projects. Such versatility is achieved owing to the dual temperature settings with the low 450°F and high 680°F options. Thus, the low-temperature setting is perfect for embossing cards and other crafting projects, while the high-temperature option is ideal for shrinking electrical tubes or strip paint. The maximum wattage on a high setting is 350 Watts.
One of the peculiarities of the product is its angled shape that offers 3 different operating positions. The pencil grip gives you better control and precision for detailed projects. The palm grip is ideal for heavy-duty tasks. The installed, retractable stand turns out to be helpful for hand-free operation.
The heat gun comes with a six-foot cable that gives you enough space to comfortably operate the tool. The voltage of the plug is 110V.
Design and materials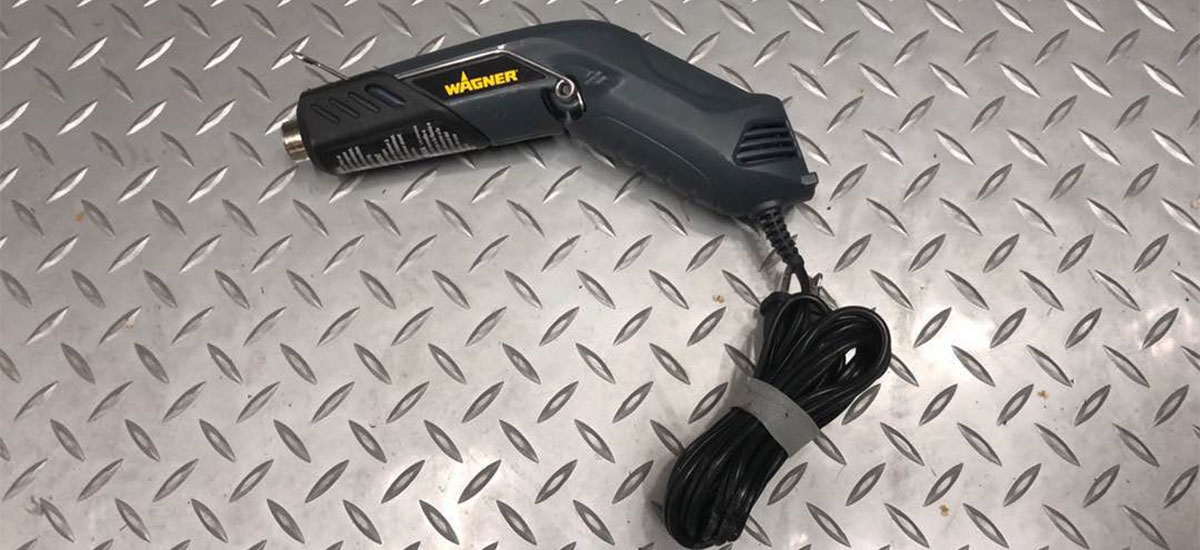 One of the advantages of this heat gun is its compact size and lightweight of 0.9 lbs.
Owing to the angled design of the product, this tool can be used to reach hardly accessible areas, unlike heat guns with standard design. You will appreciate cool-touch sidebars whenever you use the pencil grip for your projects.
Accessories
The Wagner HT400 heat gun does not include any additional nozzles and does not come with a kit for safekeeping and transportation.
Conclusion
Thanks to its unique design, compact size, and hands-free feature, this heat gun will become one of your favorite tools that you will use for versatile purposes. But keep in mind that this product is unsuitable for large areas.
Key specs
Watts settings: 170-350.
Temperature settings: 450-680°F/230-360°C.
Cord length, ft/cm: 6/183.
Weight, lbs/kg: 0.7/0.32.
PORTER CABLE PC1500HG
PORTER CABLE is a wired heat gun with a dual-fan speed selector. In this PORTER CABLE PC1500HG review, we will try to discover the key features and scope of the application of the tool.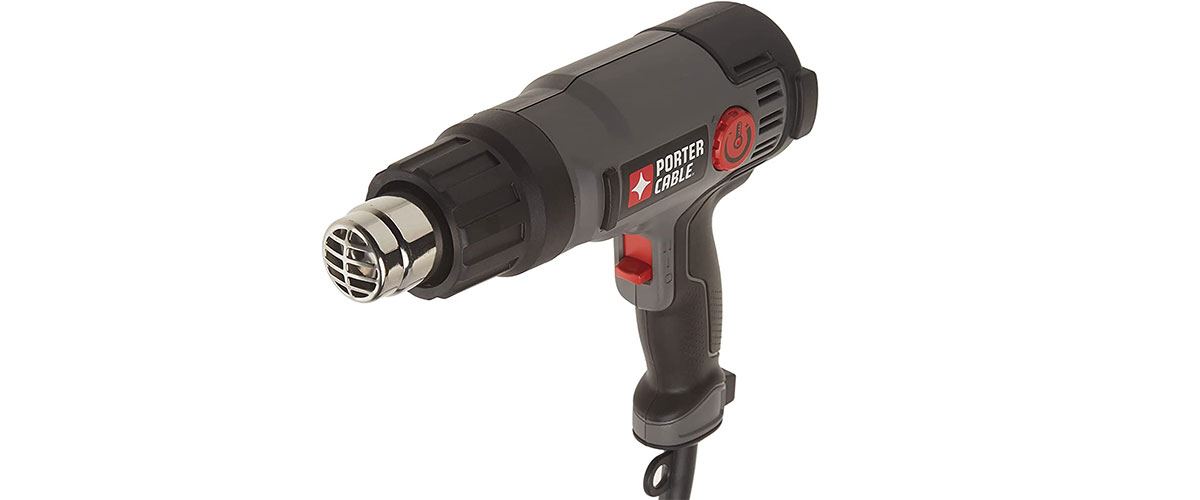 Features and specs
If you need a heat gun that will be ideal for welding plastics, bending pipes, removing adhesive tiles, shrinking plastic tubing, removing paint, or melting plastic, PORTER CABLE will meet your expectations. Such versatility of the tool is achieved owing to a low (120°F to 900°F) and high (130°F to 1150°F) fan speed settings.
This 1500-watt tool is equipped with a variable temperature dial, so you can adjust the temperatures effortlessly. One of my favorite features is the integrated support stand that allows setting the gun with the hot end pointing up in order not to burn the table you are working at and proving hands-free application. Furthermore, the heat gun comes with a 6 ft. first-rate cord that provides improved flexibility during cold utilization.
Design and materials
The tool is compact and quite small as it weighs only 1 pound, so you will not experience any hand fatigue whenever you used the heat gun. This product comes with an integrated hanging hook for convenient storage.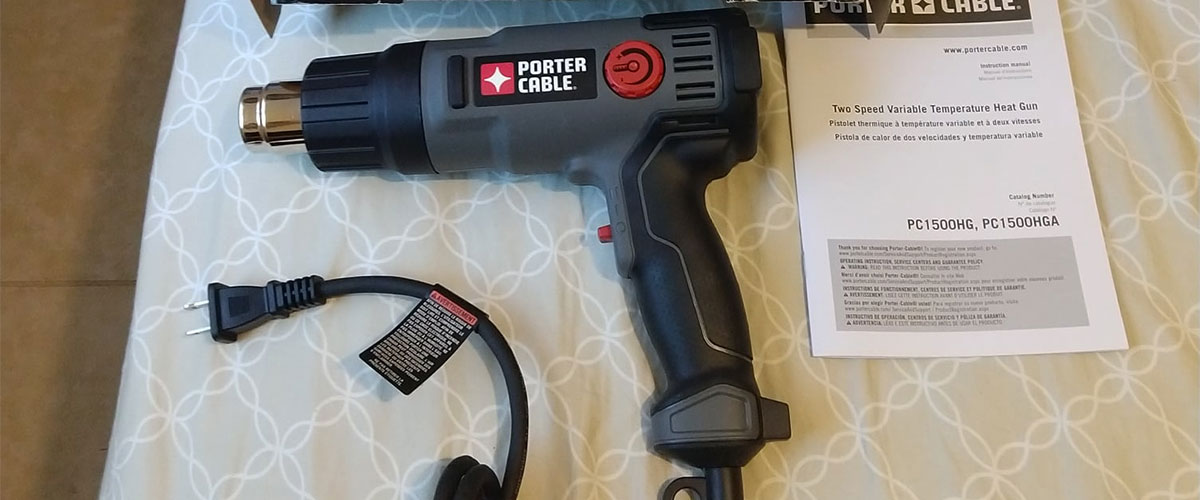 Accessories
There are no accessories included in the box, just a heat gun and a manual. A hard case for travel and storage, as well as several nozzle attachments, are sold separately.
Conclusion
All in all, PORTER CABLE heat gun is quite a cheap yet powerful and lightweight tool that is ideal for various DIY projects. It has a relatively soft output of air and can maintain a specific but consistent level of heat which makes it adaptable for different needs.
Key specs
Watts: 1500W.
Low heat setting: 41℃/105°F.
High heat setting: 585℃/1085°F.
Airflow, CFM: 19.
Cord length, ft/cm: 6/183.
Weight, lbs/kg: 1/0.45.
How to strip paint with a heat gun?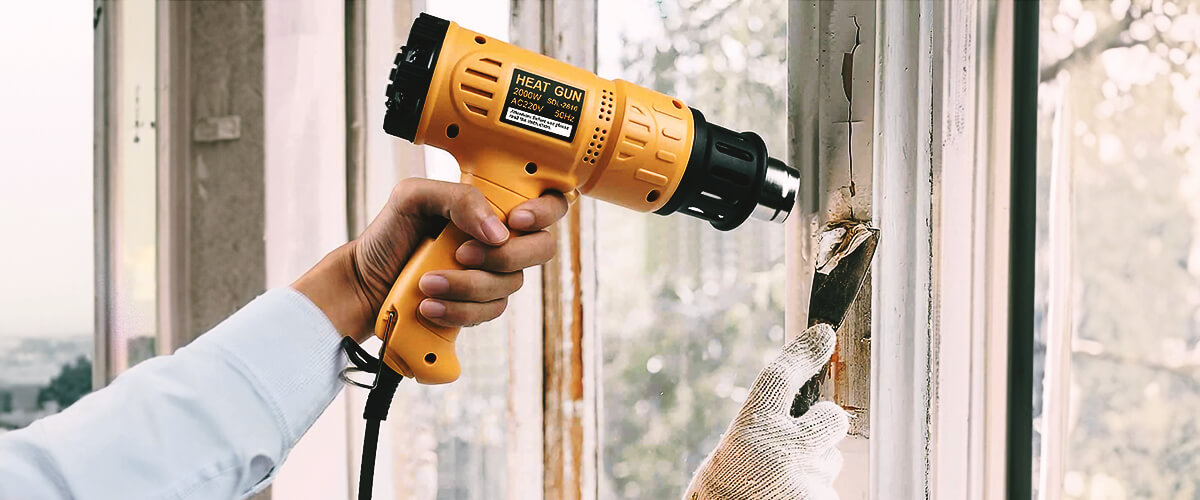 Using a heat gun is probably the easiest way to scrape the paint. Before you start the job, it is necessary to follow the simplest safety standards to avoid unwanted burns on the skin or even a fire. If possible, wear a long-sleeved shirt and protective glasses.
Stripping paint may look like magic when you do everything right. You need to set the heat gun at the right temperature so that it is enough to soften the paint, but not too much to burn the wood beneath the paint. It is necessary to move the heat gun around with one hand and strip the paint with the other hand as soon as you see bubbles which means that the paint is already soft enough. Hold the heat gun one or two inches away from the surface and use an angled paint scraper to achieve the desired result. Keep a trash bin next to you so that you could sweep away the debris each minute or two.
Paint heat gun buying guide
The next parameters should be taken into consideration whenever you choose the best heat gun for removing paint – temperature range, weight, heating power, accessories, etc.
Temperature settings
The majority of first-rate paint heat guns usually have two temperature settings – the low one and the high one. That might be enough for you if you do not need to adjust the temperature, but just use one of the above-mentioned settings. Ideally, a modern tool should allow you to set any desired temperature depending on the paint that you need to scrape.
Typically, the temperature ranges from 100°F to 1400°F, and you might need to start the job with the lowest temperature and gradually increase it until you notice that the paint melts. When a heat gun is equipped with an LCD screen, you will know for sure which temperature you are applying. The average temperature needed to soften the paint is 750°F, but it may vary depending on the number of layers of paint as well as its quality and the material that was painted.
Heating gun power
The heat gun power is also one of the features to consider whenever you try to choose the right tool for your needs. If you require a powerful instrument, select a paint stripper heat gun that has more than 1000 watts of power. Such an item will cope with the majority of tasks you may need to complete.
Cordless or wired options
You can pick either a corded or a cordless heat gun to strip the old paint. A wired instrument should come with a cable that is at least 6 feet long to give you enough space for mobility. You need to have a plug close to your working place, and you will not be able to use the heat gun outside. The tool may overheat after some time of use, so it is necessary to make pauses.
When it comes to a cordless heat gun, it usually works on batteries that you will have to charge in time. A cordless heat gun will allow you to strip paint even outside because you will not depend on electricity, but keep in mind that any battery will get dead sooner or later, typically within 15-45 minutes of continuous work. The time of use depends on the chosen temperature.
Additional features
It is nice when your tool possesses some additional features that will make the application of the item even more comfortable. An LCD is one of those features that make the tool cost more, but at the same time allows you to know the exact temperature you are using.
You will definitely enjoy a heat gun with a thermal cut-off because it will save your tool from overheating. The instrument will simply turn off each time it gets too hot.
A built-in stand is another superb quality of a heat gun that allows hand-free operation and provides additional safety.
FAQ
Can a heat gun remove old paint?
Heat guns can be used to remove paint, but it is important to be careful when doing so. It is possible to damage the surface beneath the paint if the heat gun is not used correctly. If you are not careful, you could also end up breathing in fumes from the paint, which can be dangerous.
What temperature should it be to strip paint with a heat gun?
The temperature of the heat gun will depend on the type of paint you are trying to remove. For most paints, a temperature between 500 and 700 degrees Fahrenheit will work. However, some high-quality paints may require a higher temperature to be removed.
Will a heat gun remove gloss paint?
A heat gun can remove gloss paint, but it is a more difficult process than removing paint with a chemical stripper.
What is the fastest way to remove paint from wood?
There is no single answer to this question, as the optimal method for removing paint from wood will depend on the type of paint and the condition of the wood. However, some methods for removing paint from wood include using a heat gun, chemical stripper, or sanding.
Will a heat gun remove paint from metal?
Yes, a heat gun can be used to remove paint from metal. The heat gun will soften the paint, making it easier to scrape off. Be sure to use caution when using a heat gun, as the heat can damage the metal surface.
Can you use a heat gun on lead paint?
You should not use a heat gun on lead paint, as the heat can cause the lead to vaporize and be inhaled. This can be extremely dangerous, so it's more advisable to avoid using a heat gun on any surface that may contain lead paint.
Which is better, a paint stripper or heat gun?
There is no clear answer as to which is better, as
each method
has its own advantages and disadvantages. Paint strippers are typically more effective at removing paint, but they can also be more dangerous to use. Heat guns are less likely to damage the surface beneath the paint, but they can be more difficult to control. Ultimately, the most suitable choice will depend on the specific project.