DEWALT DCE530P1 is a high-quality cordless heat gun designed for diverse applications. In this DEWALT DCE530P1 review we want to analyze some functions and characteristics of the tool.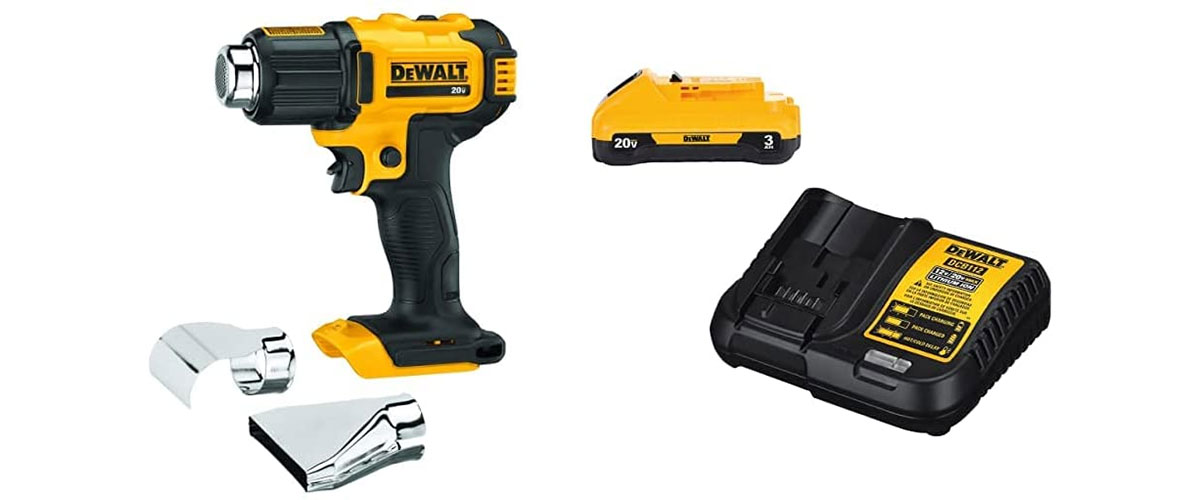 Features and specs
In case you need to strip paint, bend the plastic, solder pipes, or shrink PVC, the DEWALT heat gun will cope with the above-mentioned tasks effortlessly. In addition, the tool is ideal for welding, drying, and thawing purposes owing to its dual temperature settings.
You can choose between a low 500° F and a high 990° F temperature setting depending on your needs. The product heats up within seconds, but the maximum output temperature is reached only after 340 seconds. The manufacturer promises up to 42 minutes of runtime per charge using the tool on low-temperature settings; in case you work on high-temperature settings, the battery will die in 17 minutes of permanent application.
Owing to the 3-LED fuel gauge system you will be aware of the battery level. Handsfree manual operation is possible due to a lock-off trigger and lock-on button.
Design and materials
This heat gun is considered to be small and compact for a cordless tool. It weighs only 1.17 pounds without a battery and can be used in those hard-to-reach areas, where you have limited access to a plug. The non-slip rubber handle of the product provides enhanced grip.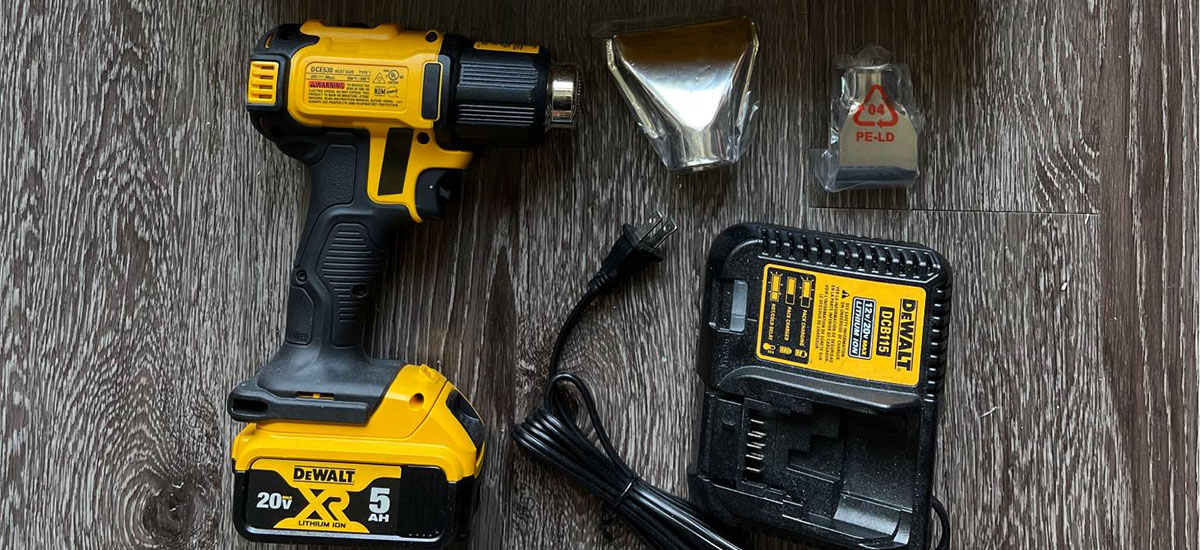 Accessories
The cordless heat gun DCE530P1 includes 2 nozzle attachments – a flat nozzle and a hook nozzle for versatile application needs. You can purchase a powerful 3.0Ah or 5.0Ahl lithium-ion battery and a charger. The item does not include any special case or kit for safekeeping and transportation.
Conclusion
To sum up, DEWALT cordless heat gun is a universal tool for a huge variety of projects that should be done both indoors and outdoors. Even though it is an expensive item, you will not regret spending your money on such a marvelous durable instrument.
Key specs
Voltage: 20V.
Battery Capacity: 3.0 Ah.
Max. output temperature: 532 °C/990 °F.
Airflow, CFM: 6.7.
Weight, lbs/kg: 3/1.3.