So, you would like to use vinyl film to customize your car. Wow! That's a great upgrade to the car's look. But there are other ways you might want to use a vinyl wrap. For example, to adorn walls or create a mobile billboard.
Anyway, if you are reading this paper, this means you are looking for the best heat gun for vinyl wrap.
A vinyl heat gun provides a strong stream of heat that helps get rid of wrinkles and bubbles when applying the film and allows sealing the edges of the wrap. Use the heat gun for the post-heat process or remove the vinyl wrap.
But how to choose the optimal one? There are so many heat guns for vinyl wrapping out there that you may feel absolutely confused. I will answer this and other important questions in detail here.
Our pick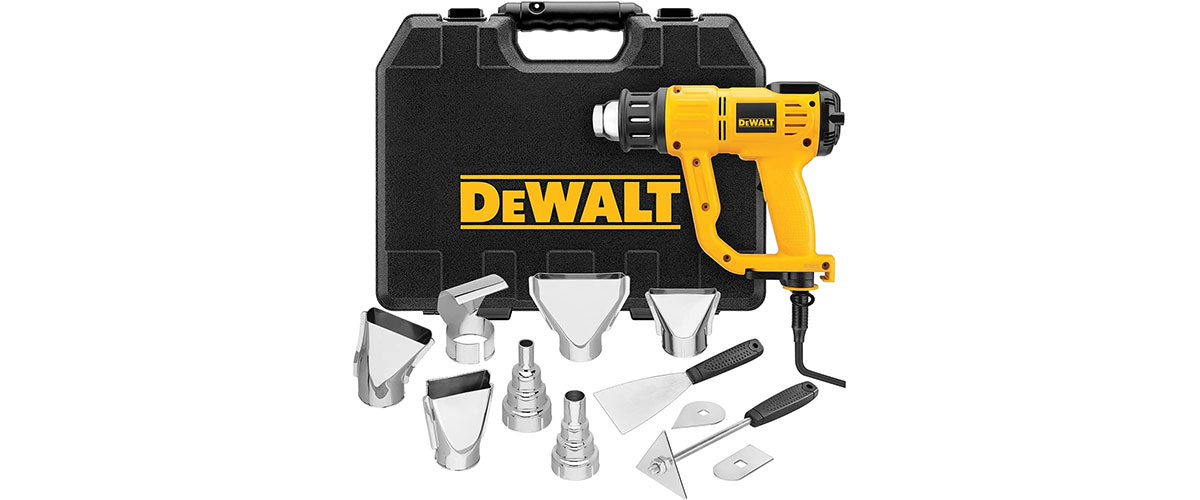 DEWALT D26960K
Best corded heat gun
The DEWALT heat gun allows users to adjust the temperature within 50-degree increments and features an innovative kickstand for great stability and a lightweight, compact design.
Read the full review
.
Our pick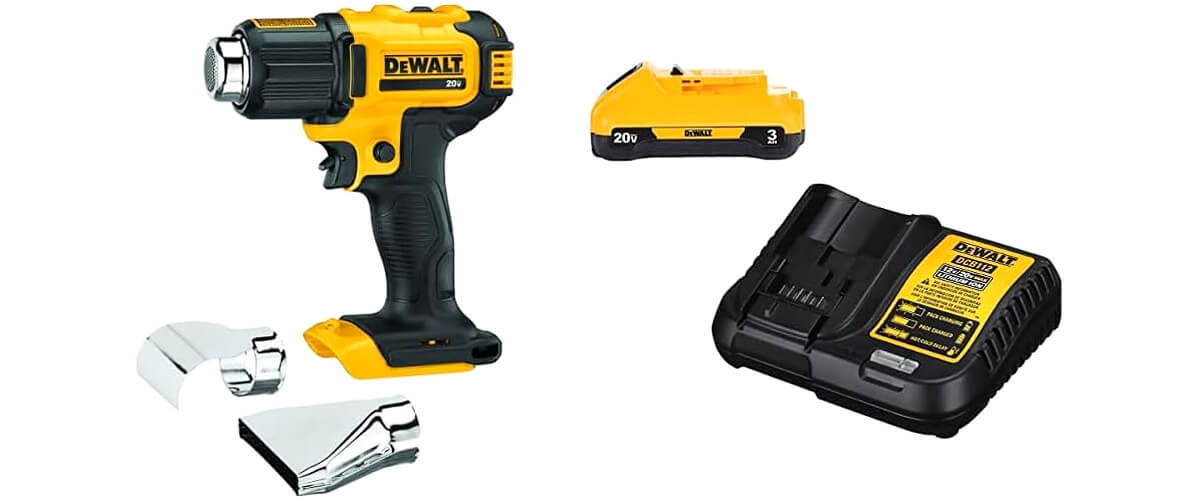 DEWALT DCE530B
Best cordless heat gun
The DEWALT MAX cordless heat gun with a 20V battery pack has up to 990F/532C degrees max output temperature, and a 3-LED fuel gauge system allows immediate feedback on the state of charge.
Read the full review
.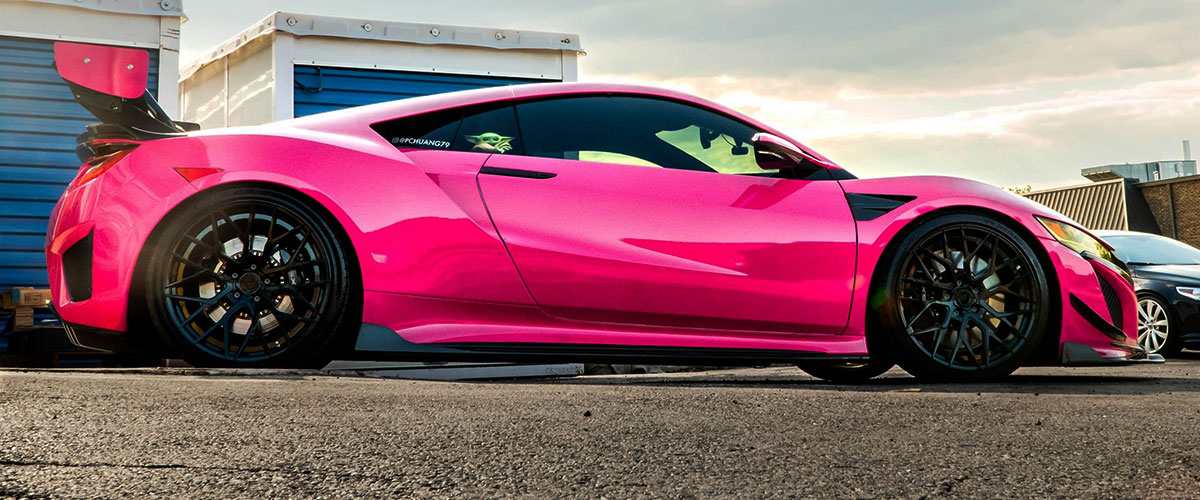 Heat guns for wrapping comparison table
Heat gun
Type
Watts
Max. output temperature
Airflow, CFM
Review
DEWALT D26960K

best corded heat gun

corded
1550
150-1150°F/66-621°C
17.7
Review
PORTER CABLE PC1500HG

budget corded

corded
1500
105-1085°F/41-585°C
19
Review
DEWALT DCE530B

best cordless heat gun

cordless
400
990°F/532°C
6.7
Review
PRULDE NHG0140

budget cordless

cordless
N/A
1022°F/550°C
N/A
Review
Types of heat guns for vinyl wrap
There are cordless and corded heat guns out there. Just as the name implies, corded devices are attached to the energy source (usually a plug) with a cord. The length of the cord is a critical parameter to consider, as it may limit your range of motion if it is too short.
Cordless devices are equipped with a battery, frequently a rechargeable one, and operate without a cord. The battery capacity defines how long you will be able to use the tool on a single charge. It is more convenient as you do not get tangled in the cord and can use it wherever you want.
However, you can find more heat gun for shrink wrap types of heat guns on the market. Let me briefly describe each of them.
Gas – relies on propane and butane gas to emit heat
Electric – works from an electric source of energy
Infrared – uses infrared heat to produce a stream of heat.
Best heat guns for wrapping reviews
Best corded heat guns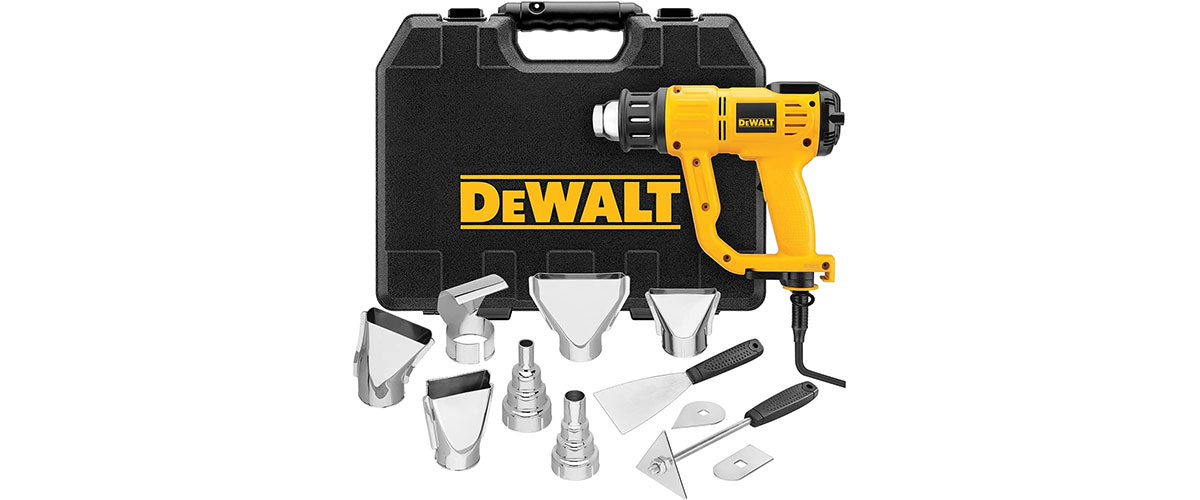 Do you believe that it's high time to equip yourself with a professional heat gun? You are lucky to find this DEWALT D26960K.
Being lightweight and compact (only 2.3 lbs), this device is a superior option for numerous activities, including vinyl wrapping. It provides up to 1100 F of max temperature output to ensure you can perform any action without issues. The tool has built-in overload protection shuts, which prevent the chance of burning up. The cord is 10 ft long to ensure you can get as far as you want and reach any place without any trouble. Besides, the cable is covered with a special protective layer to prevent it from any damage or impact. An LCD screen shows the set parameters and allows you to regulate the temperature within 50-degree increments.
Compared to the cordless model of this brand (DEWALT DCE530P1), this heat gun is much more powerful – 1550 W. It also comes in a box for storage convenience and includes more than 10 accessories to help you perform different tasks.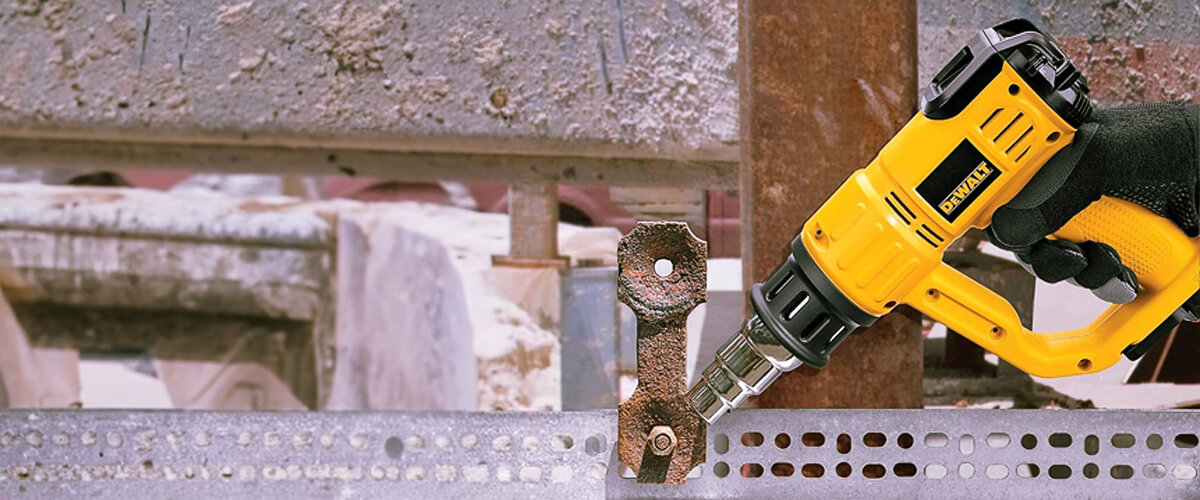 This heat gun comfortably rests in hand. I used it for several hours, and my hand didn't hurt. The LCD is very helpful when regulating the temperature. Compared to a turn dial, this is a fantastic option. But mind that the display shows temperature only in Fahrenheit. There is nothing wrong with that, but it would be really nice to have a Celsius option as well.
In general, I believe this is the best corded heat gun for vinyl wrap you can find on the market. It's powerful and allows you to carry out a wide range of tasks. This heat gun is suitable for car wrap, plastic work, plumbing tasks, etc. You will love the case that enables convenient device storage and additional accessories.
Key specs
Type: corded.
Watts: 1550.
Max. output temperature: 150-1150°F/66-621°C.
Airflow, CFM: 17.7.
Cord length, ft/cm: 6/183.
Pros
1550 W to deliver power for any task.
Max temperature: 1,100 F for a wide range of applications.
10-ft cord covered with a special protective layer to prevent damage.
LCD for neat temperature regulation.
Overload protection to prevent overheating.
It comes in a box with additional accessories.
Cons
Can be too weak for certain applications.
PORTER CABLE PC1500HG – budget corded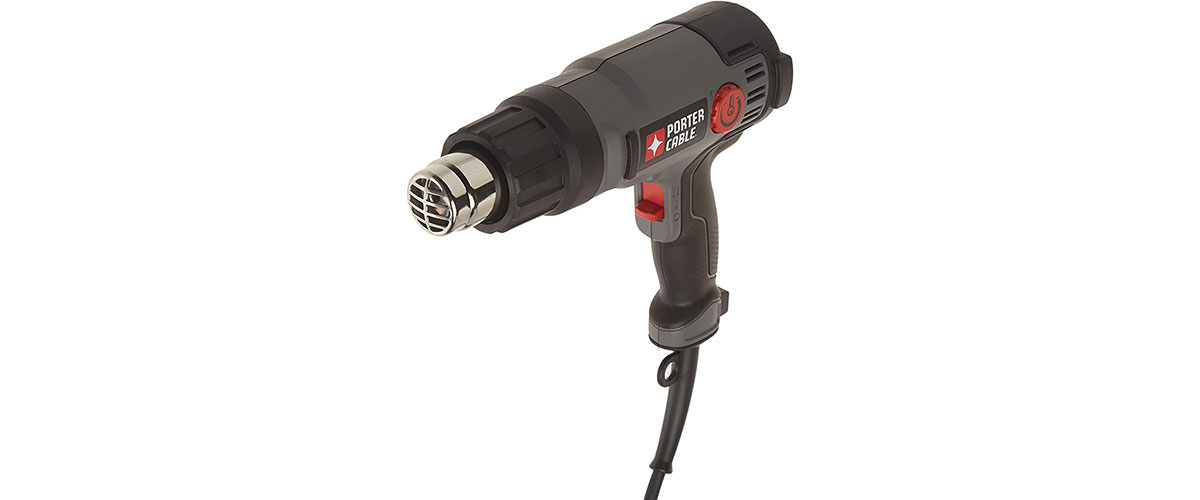 PORTER corded PC1500HG heat gun model is a reasonably priced device that would allow you to apply a vinyl film as well as perform other tasks that require heating.
This mini heat gun offers a dual fan speed option, which allows you to use the device with low- and high-speed settings. Thanks to 1500W, the item is powerful enough to tackle almost any heating task. You can easily regulate the temperature using an ergonomic dial. The heat gun is only 2 lbs, so you won't be fatigued when using it.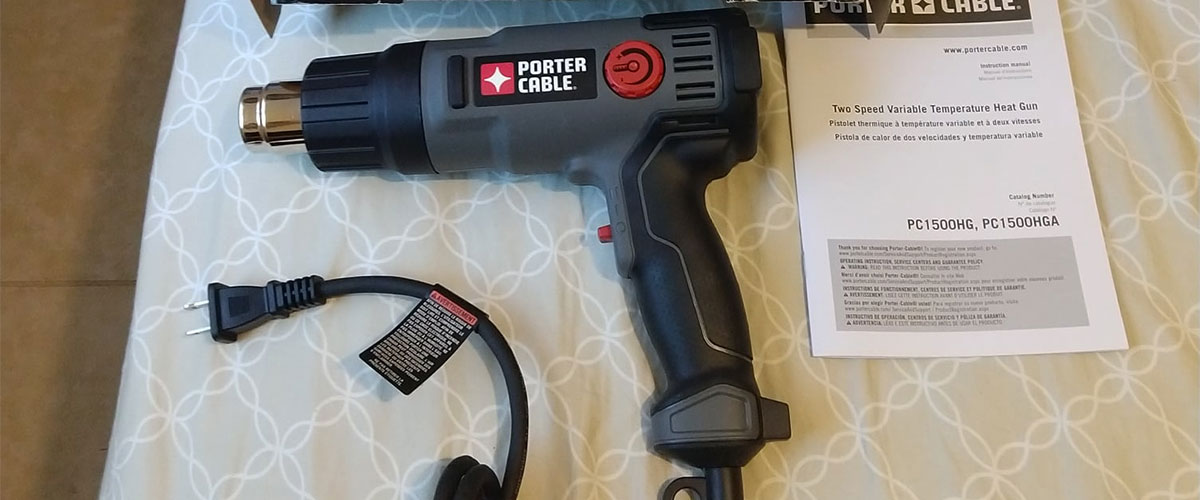 Compared to DEWALT D26960K, this model has a shorter cord – 6 ft. However, this is enough for operating the item connected to the plug. It also features a special support stand for hands-free use, which is not available in DEWALT's model. Besides, the PORTER heat gun is twice as cheap as the DEWALT tool, so this might be a defining factor for you.
Generally, it's the perfect budget corded heat gun for some crafts and simple tasks that require heating. It's powerful and provides some great heat. The temperature control dial is responsive, but you may have a hard time manipulating it to set the desired parameter. I also had some issues using the fan speed regulator as the switch didn't stop at the spot where I wanted it. All in all, the minor flaws don't beat the price of the tool.
Key specs
Type: corded.
Watts: 1500.
Max. output temperature: 105-1085°F/41-585°C.
Airflow, CFM: 19.
Cord length, ft/cm: 6/183.
Pros
Lightweight and easy to hold: only 2 lbs.
2 fan speed settings for processing different surfaces.
The length of the cord is optimal for performing tasks.
Hanging hook for easier storage.
Cons
Inconvenient temperature dial.
Fan speed regulator fails sometimes.
Wagner FURNO 500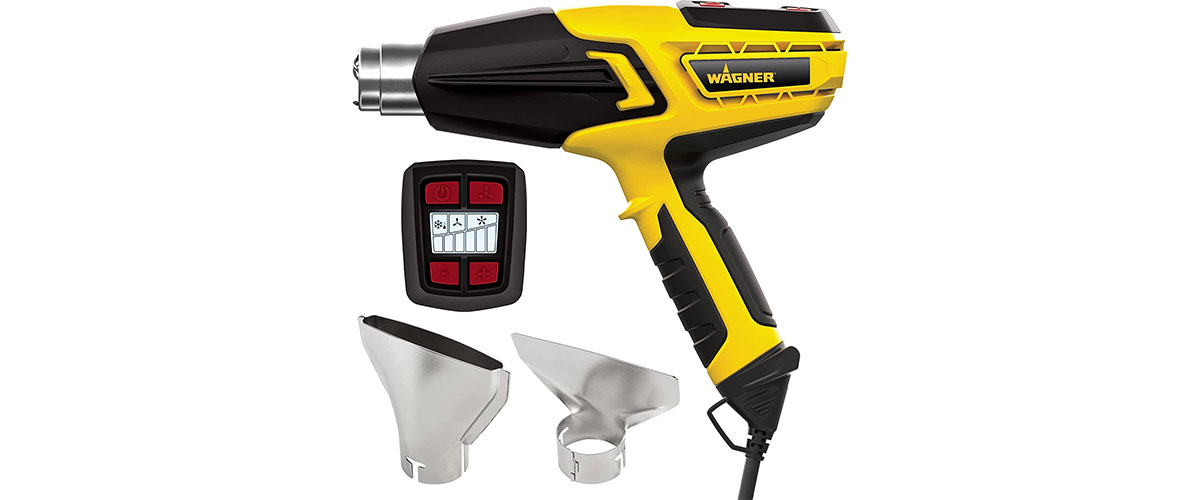 Giving your car a new fancy feel is easy with Wagner FURNO 500. This corded vinyl wrap heat gun will enable you to apply vinyl to your car's service effortlessly. At the same time, due to the 12 temperature settings from 150°F to 1200°F, you can use it for other applications like tinting windows, removing caulk, or shrinking window sealing. I like that this device heats up very quickly, actually faster than the Porter Cable PC1500HG. That is why I will recommend being careful to avoid burns on your skin or surfaces. One more thing I find appealing is the option to choose between two fan settings and a cool-down mode.
This heat gun comes with two nozzles (glass protector and flare), which are enough for a wide range of applications. Moreover, the use of this tool is quite convenient thanks to the graphic LED screen with push-button control. Besides, it's as powerful (1500 Watts) as Dewalt D26960K, so working on your project won't take ages. In addition, Wagner FURNO 500 is light and comfortably sits in your hand, enabling you to hold it for an extended time. You will also love the integrated stand, which makes a hands-free operation possible. However, I wish this heat gun to come with a case for easier storage.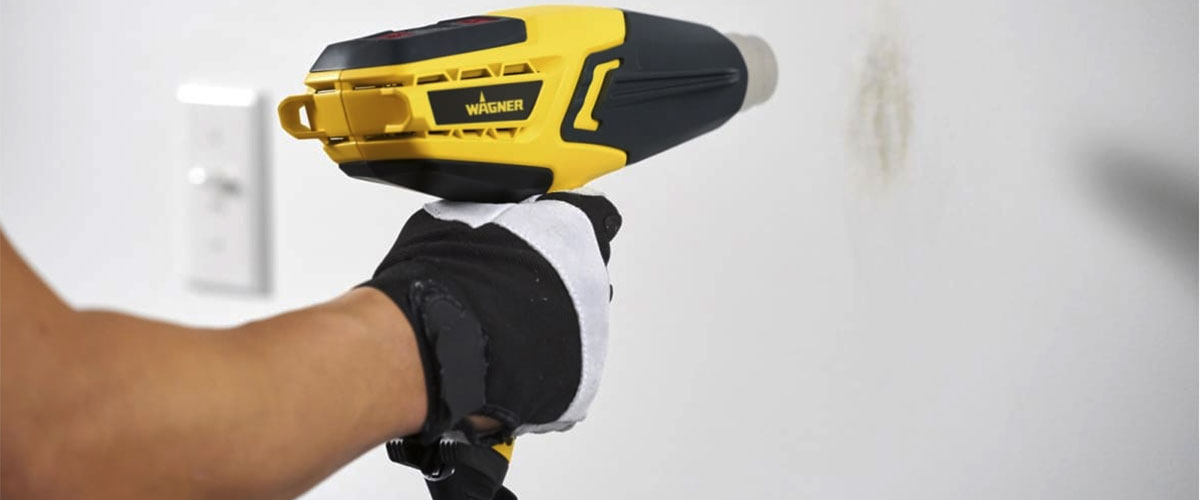 The instruction booklet reads that you may notice some smoke when you use this device for the first time due to the burning of some factory oils. Even though the smoke did not last long, it still spread in the room and had an unpleasant smell. So keep this in mind and be prepared for it. I had no similar incidents during my other uses of this tool.
Generally, Wagner FURNO 500 is a good heat gun for car wrap. It doesn't take long to get to the optimal temperature, and you can use a stand for more convenient hands-free use.
Key specs
Type: corded.
Watts: 1500.
Max. output temperature: 150-1200°F/65-649°C.
Airflow, CFM: 17.
Cord length, ft/cm: 6/183.
Pros
12 temperature settings from 150°F to 1200°F for numerous projects.
It's powerful – 1500 Watts.
It's light and ergonomically sits in your hand.
Features a LED screen with buttons for a comfortable use.
Cons
There is no storage case coming with this heat gun.
It may emit some smoke during the first use.
Best cordless heat guns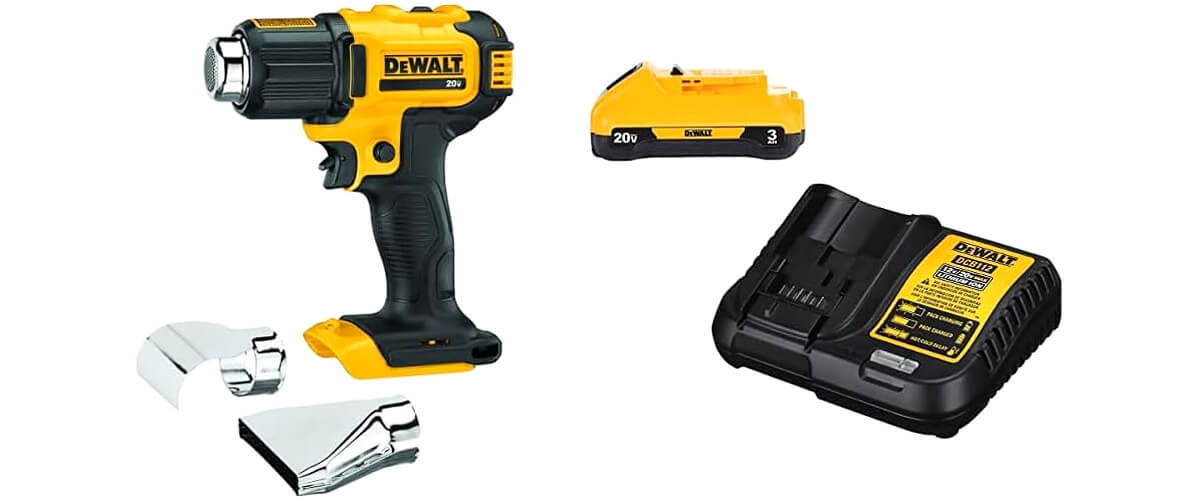 Now, let me introduce you to the undisputed champion in the world of heat guns – the DEWALT DCE530B. This remarkable tool stands out as one of the top cordless heat guns in its class, bringing unrivaled convenience and performance. And I am really excited to share my thoughts with you.
First off, the compact design is fantastic! It's incredibly portable and allows me to reach tight spaces that were previously inaccessible with my old corded heat gun. Whether I'm working on heat-shrinking wire tubing or removing paint and decals, this cordless heat gun handles it all effortlessly.
The temperature settings are great, with a maximum of 990 degrees Fahrenheit. The two settings let me control the heat intensity, which is helpful for delicate materials. The lock-on feature is a standout, allowing hands-free operation for longer tasks.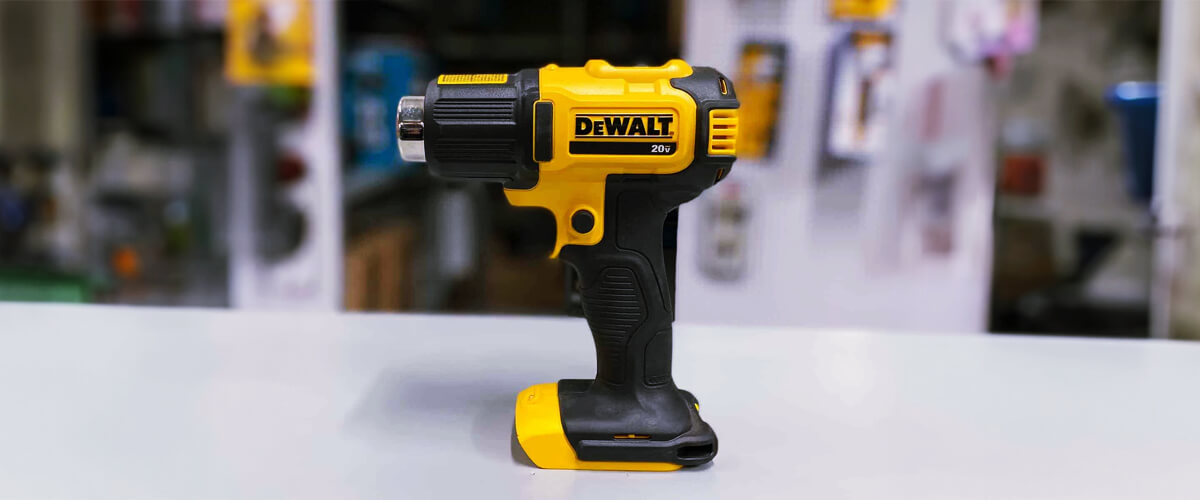 The standard-sized nozzle is a thoughtful design choice. I can use attachments from my old corded heat gun and even other brands without compatibility issues. It's great to know that I don't have to buy a whole new set of accessories just because I switched to a cordless model. The kit includes both a flat nozzle and a hook nozzle attachment, which is quite handy. Such attachments have proven to be very useful in various applications, making the kit even more versatile.
The only minor downside is that the battery and charger are sold separately. Including them in the kit would be convenient, but I understand that it gives users the freedom to choose the finest battery that suits their needs.
In conclusion, the DEWALT DCE530B is one of the best heat guns for vinyl wrap and a fantastic addition to my toolbox. Its portability, powerful output, and user-friendly features have made it my go-to heat gun for all sorts of tasks. Whether you're a DIY enthusiast or a professional tradesperson, this cordless heat gun will not disappoint!
Key specs
Type: cordless.
Watts: 400.
Max. output temperature: 990°F/532°C.
Airflow, CFM: 6.7.
Runtime per charge, min: 42.
Pros
Compact and portable design for tight spaces.
Adjustable temperature settings with a max output of 990 degrees.
Hands-free operation with lock-on and lock-off features.
The standard-sized nozzle allows compatibility with other attachments.
The kit includes flat and hook nozzle attachments for added versatility.
Cons
Battery and charger are sold separately.
PRULDE NHG0140 – budget cordless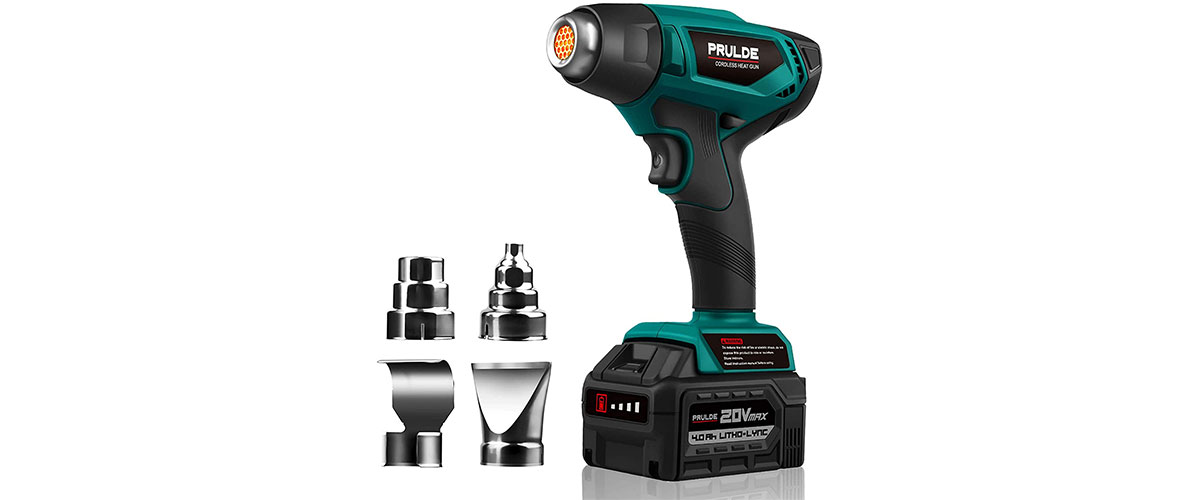 PRULDE 20V Max cordless heat gun is a budget-friendly alternative to DEWALT DCE530P1, which has quite decent characteristics and will bring more convenience to your work.
This automotive heat gun has a compact cordless design, making it an excellent tool for working in any environment. It delivers up to 1022F of max temperature output, which is more than the DEWALT model. 20V Max Lithium-Ion battery ensures continuous operation and enables rapid recharging. It features a lock-on mechanism to ensure you can use the tool hands-free. There are four nozzle attachments in a set, so you are free to use the tool for a wide range of applications, including vinyl wrapping, paint stripping, cell phone repairs, and more.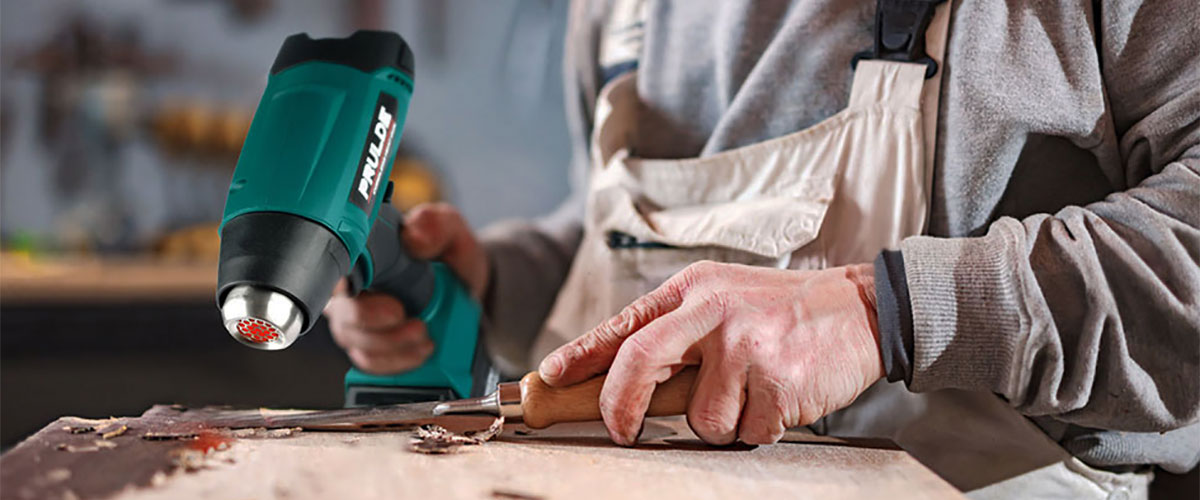 This PRULDE heat gun has nearly identical characteristics as the DEWALT DCE530P1, although it offers a bit higher max temperature point. However, the price difference between these models is very significant.
PRULDE NHG0140 fits the hand perfectly. The handle grip is pleasant to the touch and is easy to grab. It's light and not bulky, so I had no trouble using it at a high altitude. It heats up really fast, and I especially liked the nozzles that came with the tool. However, mind that this heat gun might not be too powerful for you, especially if you are planning to use it for high-performance tasks. The battery doesn't last long either, so get ready to recharge it frequently.
Considering the modest price, this PRULDE NHG0140 is a worthy investment if you do not plan to perform heavy-duty tasks. It heats up fast, provides around 1022F of max temperature output, and contains great nozzles for various activities.
Key specs
Type: cordless.
Max. output temperature: 1022°F/550°C.
Pros
Optimal max temperature output – 1022F for different tasks.
Four nozzle attachments to cover various needs.
Cordless design for convenience of use.
Cons
Can be too weak for certain applications.
The battery life is not long.
What to look for when choosing a heat gun?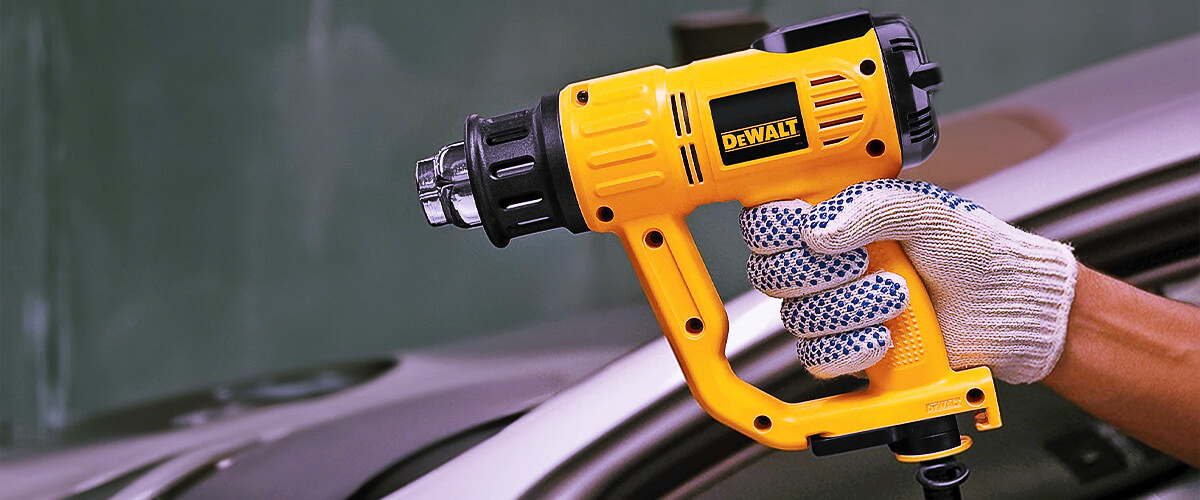 Adjustable temperature range
If you planning to use this device for multiple purposes, you'd better consider variable temperature heat guns.
Most heat guns cover the temperature range of 120F – 900 F. So, if you are not planning to involve the unit in a serious job and need a heat gun for vinyl wrapping, a standard device will do. Let me remind you that the optimal temperature range for applying the film is between 125-195F.
You might want to deal with plumbing, paint stripping, and other heavy-duty tasks using the heat gun. In this case, it would be a wise decision to go with the tool that has the 120F – 1290F temperature range.
Fan speed control
If the area the heat gun can cover is crucial, you should check the fan speed feature. The device with lower fan speeds is great for accurate and precise work. At the same time, a more powerful tool is capable of distributing heat over the larger area without temperature reduction.
In our case, a heat gun with higher fan speeds would be a better option since you will want to cover more area in less time.
Built-in LCD or LED displays
Not all heat guns for car wrap have LCD or LED displays. Perhaps, you won't need this feature since its presence will add to the price of the tool.
If you are planning to use the heat gun for simple tasks and in-home use, you might be satisfied with the tool that is not equipped with a display.
But in case you aim at having utmost control over the operations and settings, you should invest in the heat gun that features a display. It enables you to set a more precise temperature or other parameters that are critical for your project. What is more, you will be able to do it effortlessly with one click on the screen. That's a great advantage when your hands are dirty or oily, and you can't use the switcher.
Nozzles included
Nozzles are indispensable for accurate and neat work, as they distribute the heat over the right area of the surface. This enables you to maintain the proper temperature range and cover the desired spots with little effort.
There are numerous nozzle options, and you might need a specialized one if you are planning to take on extraordinary projects. But there are standard nozzles like a reducer (enables to focus heat on a definite spot), flat (is suitable for big areas), glass protector (allows stripping off the paint from the window without heating glass), and more.
FAQs
Do you need a heat gun to wrap the vinyl? Can I use a hair dryer?
Let's think this way. You use a hair dryer to dry your hair. Thus, the device has the characteristics that are designed to cover this need solely. You can use the tool for 10-20 minutes without the risk of overheating. And you know what happens when you misuse the device – it gets broken. Besides, the temperature range might be inappropriate for applying the wrap.
Comparing a heat gun vs hair dryer vinyl wrap, the professional device is meant to be used for extended periods while providing a more powerful stream of heat. What is more, a heat gun ensures a more targeted flow of heat that enables shrink wrap more effortlessly. So the answer is obvious.
How do I handle a heat gun to avoid damaging the vinyl?
Handling a heat gun for vinyl wrap requires a delicate approach. First, set the heat gun to a low or medium temperature setting, depending on the vinyl's thickness. Maintain a safe distance of around 6-8 inches between the heat gun and the vinyl surface. Keep the heat gun moving constantly to avoid concentrating heat on one spot, which could cause overheating and potential damage. Patience and a gentle touch are key to successfully removing car vinyl wrap without harm.
How long does a typical heat gun last with regular use in vinyl wrapping?
The lifespan of a heat gun can vary depending on its quality, usage frequency, and maintenance. A high-quality product, like the DEWALT DCE530B, can last for several years with regular use in vinyl wrapping tasks. However, this estimate is subject to change based on individual usage habits and environmental conditions. I always try to carefully handle the heat gun, clean it regularly, and store it properly to extend its lifespan. If you notice any decline in performance or signs of wear, consider replacing the necessary parts or investing in a new heat gun to maintain efficient and safe vinyl wrapping processes.