Makita HG6530VK is a versatile heat gun for industrial application that turns out to be a neat tool for many handicraftsmen. In this Makita HG6530VK review we will try to show you the main advantages of this product.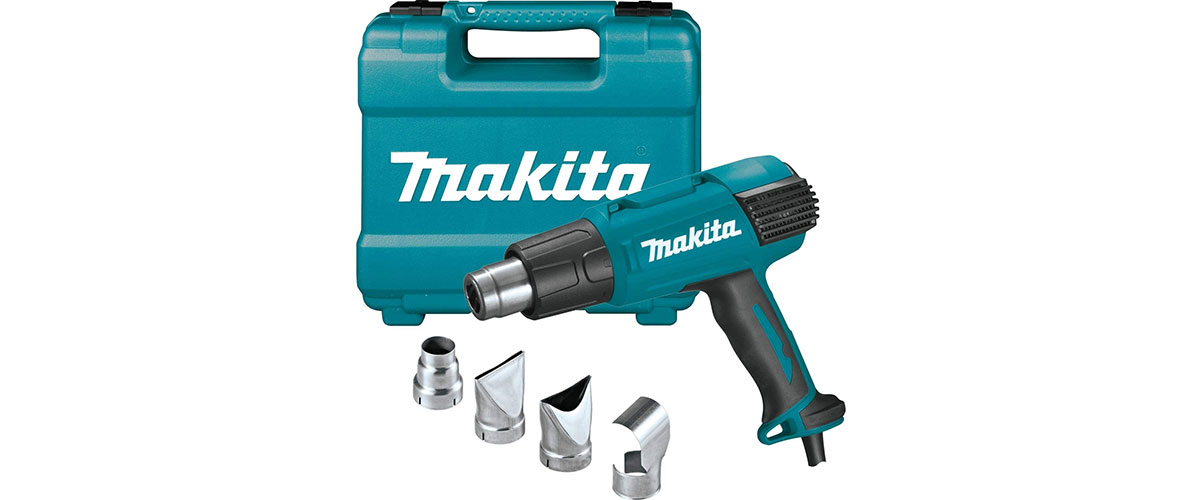 Features and spec
This compact 2000W instrument can be used for waxing, removing stickers, thawing frozen pipes, stripping paint and lacquer, vehicle tinting, etc. Such versatility of the heat gun is achieved owing to variable temperatures that you can set between 122º and 1022º F. Moreover, you can change the airflow settings from 7 CFM to 14 CFM. You can also adjust fan speeds right on the handle slide switch and choose low, high, and cooling options.
One of the features that you will definitely appreciate is an LCD screen on the rear end of the instrument with two buttons (+ and -) that allows you to change the temperature and see the changes right on the screen. Thanks to a 6.6 ft. cord you will have additional mobility and enough space for creative work. A built-in tether notch is another characteristic of the tool that you might enjoy, but keep in mind that the tether is sold separately.
Design and materials
Lightweight tools are always more pleasant to use as they do not cause hand fatigue. The Makita tool weighs only 1.6 pounds, and you can always put it on a flattened rear end whenever you need a break. A rubberized molded handle secures a convenient non-slip grip.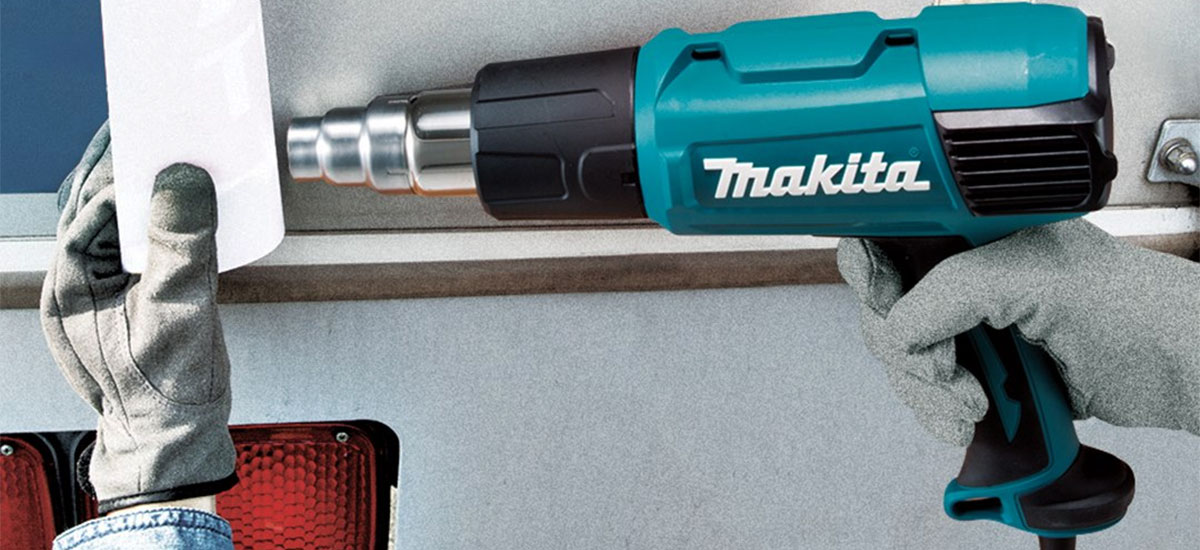 Accessories
Makita HG6530VK heat gun comes in a solid kit for comfortable safekeeping and transportation as well as enhanced protection of the product. The tool case also includes four 1-3/8″ nozzles – a wide slot, a reflector, a glass protector, and a reflector nozzle.
Conclusion
All in all, the Makita heat gun proves to be an efficient robust tool of a small size that will serve you for years and complete a wide range of tasks. It is quite an expensive instrument that is ideal for industrial applications rather than for amateur crafts.
Key specs
Watts (low/high) settings: 2000W.
Low heat setting: 50°C/122°F.
High heat setting: 650°C/1202°F.
Airflow, CFM: 10/16.
Cord length, ft/cm: 6/183.
Weight, lbs/kg: 2/0.9.