Heat guns are multifunctional tools that are used for various DIY projects. Candle makers have also adopted this versatile instrument for completing several essential tasks. Needless to say that only the best heat guns for candle making will allow you to craft a masterful product with a nice smooth top. I'll also add that investing in a high-quality heat gun ensures not only the aesthetic appeal of the candles but also their longevity and burn quality.
How to pick a heat gun for making perfect candles? How to use a heat tool in the candle industry? In this review, I will answer these questions and help you choose an appropriate heat gun that will serve you for years.
Our pick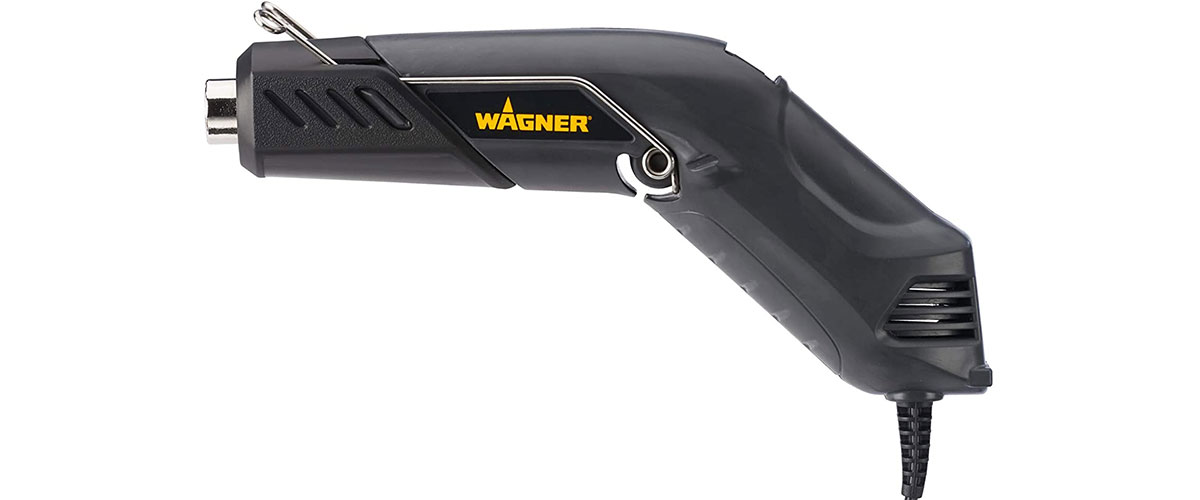 Wagner HT400
Best heat gun for candle making
The HT400 Heat Tool is a versatile heat gun for home, workshop, and hobby projects. Its small size is ideal for getting into hard-to-reach places and working on delicate crafting.
Read the full review.
How to use a heat gun for candle making?
There are some important tasks in candle making that you can complete with the help of a heat gun. You have to realize that only the best heat gun for candles will ensure the accuracy and safety of the process.
In addition, if you also dabble in creating wax melts, having a dedicated heat gun for wax melts can be invaluable. It is advisable to use a different special tool for each process.
Preparing Containers. If you want to avoid shrinkage when you create a candle, do not forget to heat the container in which you pour the wax. The difference in the mixture's temperatures and the jar results in unpleasant shrinkage when the wax cools unevenly. You have to heat the edges of a container for about 15-30 seconds before you pour the wax to prevent wet spots when the wax cools.
Fixing Imperfections. A heat gun for candles will be helpful when you need to fix some minor imperfections. The main problem you may face while making candles is creating a smooth top without bubbles. It is easier to achieve a decent result when you re-melt the wax in a jar at a low temperature and then let it cool.
Cleaning Supplies. Needless to say that wax in liquid form can be cleaned easier and faster than hardened wax. Hence, you need to use a heat gun to heat the residual wax in utensils, on your tools, and even on the work desk, and then remove it with a paper towel. You can also reuse the wax left on the bottoms of containers by re-melting it.
Best heat guns for candle making reviews
Wagner HT400 is a compact multipurpose heat gun produced by Wagner Spraytech - a company with a long history and good reputation. In this Wagner HT400 review, we will analyze the key characteristics of the tool.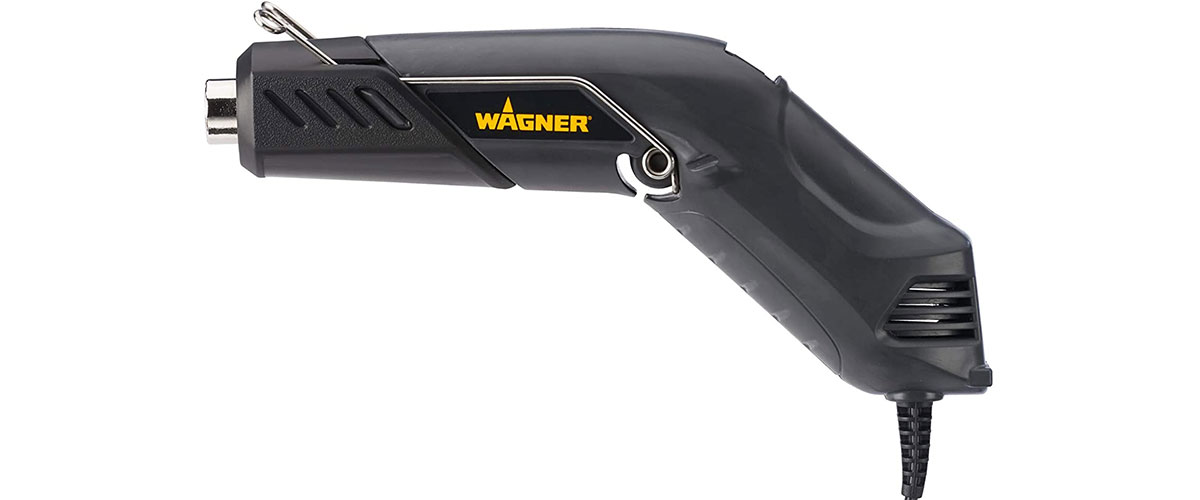 Features and specs
The manufacturer of this heat gun claims that the product can be used for home, workshop, craft, and hobby projects. Such versatility is achieved owing to the dual temperature settings with the low 450°F and high 680°F options. Thus, the low-temperature setting is perfect for embossing cards and other crafting projects, while the high-temperature option is ideal for shrinking electrical tubes or strip paint. The maximum wattage on a high setting is 350 Watts.
One of the product's peculiarities is its angled shape that offers 3 different operating positions. The pencil grip gives you better control and precision for detailed projects. The palm grip is ideal for heavy-duty tasks. The installed, retractable stand turns out to be helpful for hands-free operation.
The heat gun comes with a six-foot cable that gives you enough space to comfortably operate the tool. The voltage of the plug is 110V.
Design and materials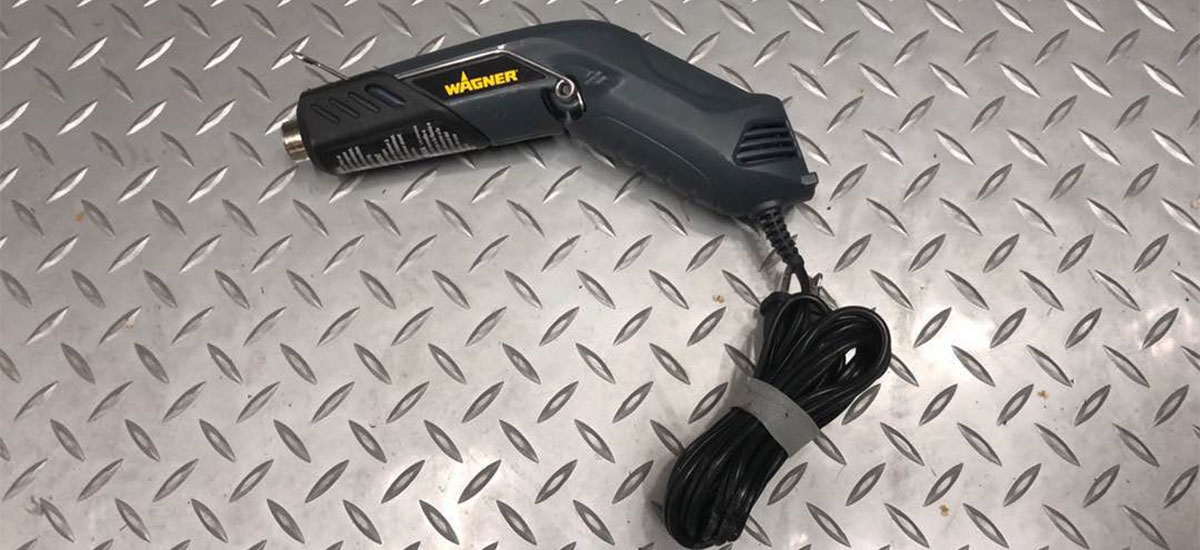 One of the advantages of this heat gun is its compact size and light weight of 0.9 lbs.
Owing to the angled design of the product, this tool can be used to reach hardly accessible areas, unlike heat guns with standard design. You will appreciate cool-touch sidebars whenever you use the pencil grip for your projects.
Accessories
The Wagner HT400 heat gun does not include any additional nozzles and does not come with a kit for safekeeping and transportation.
Conclusion
In personal use, the Wagner HT400 leaves an impression of a real high-quality tool. Thanks to its unique design, compact size, and hands-free feature, this heat gun will become one of your favorite tools that you will use for versatile purposes. The various grip options make this model adapt to any task at hand, providing an incredibly versatile crafting tool. But keep in mind that this product is unsuitable for large areas.
Key specs
Watts settings: 170-350.
Temperature settings: 450-680°F/230-360°C.
Cord length, ft/cm: 6/183.
Weight, lbs/kg: 0.7/0.32.
PORTER CABLE PC1500HG – most powerful
PORTER CABLE is a wired heat gun with a dual-fan speed selector. In this PORTER CABLE PC1500HG review, we will try to discover the key features and scope of the application of the tool.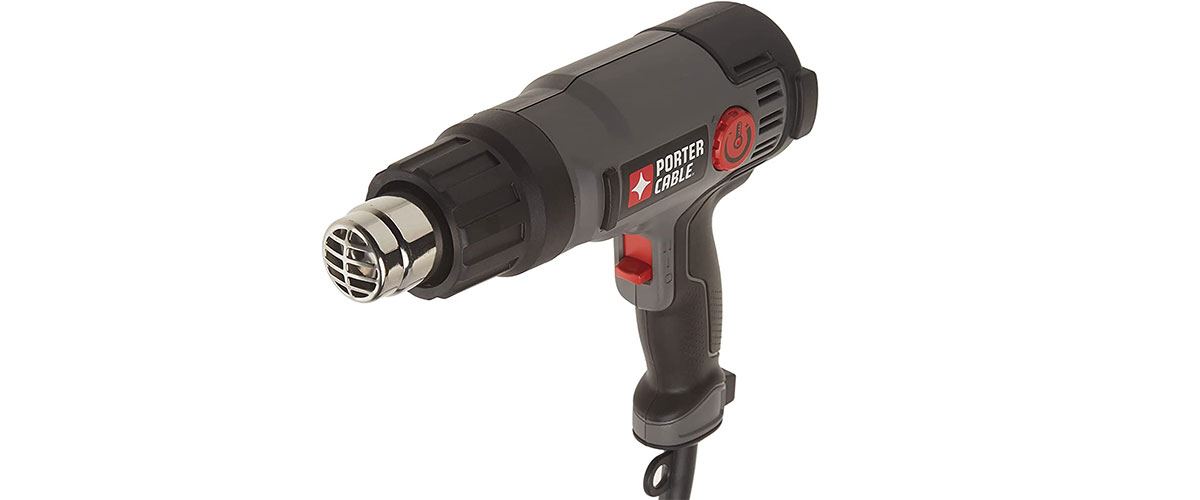 Features and specs
If you need a heat gun that will be ideal for welding plastics, bending pipes, removing adhesive tiles, shrinking plastic tubing, removing paint, or melting plastic, PORTER CABLE will meet your expectations. Such versatility of the tool is achieved owing to a low (120°F to 900°F) and high (130°F to 1150°F) fan speed settings.
This 1500-watt tool is equipped with a variable temperature dial, so you can adjust the temperatures effortlessly. One of my favorite features is the integrated support stand that allows setting the gun with the hot end pointing up in order not to burn the table you are working at and proving hands-free application. Furthermore, the heat gun comes with a 6 ft. first-rate cord that provides improved flexibility during cold utilization.
Design and materials
The tool is compact and quite small as it weighs only 1 pound, so you will not experience any hand fatigue whenever you used the heat gun. This product comes with an integrated hanging hook for convenient storage.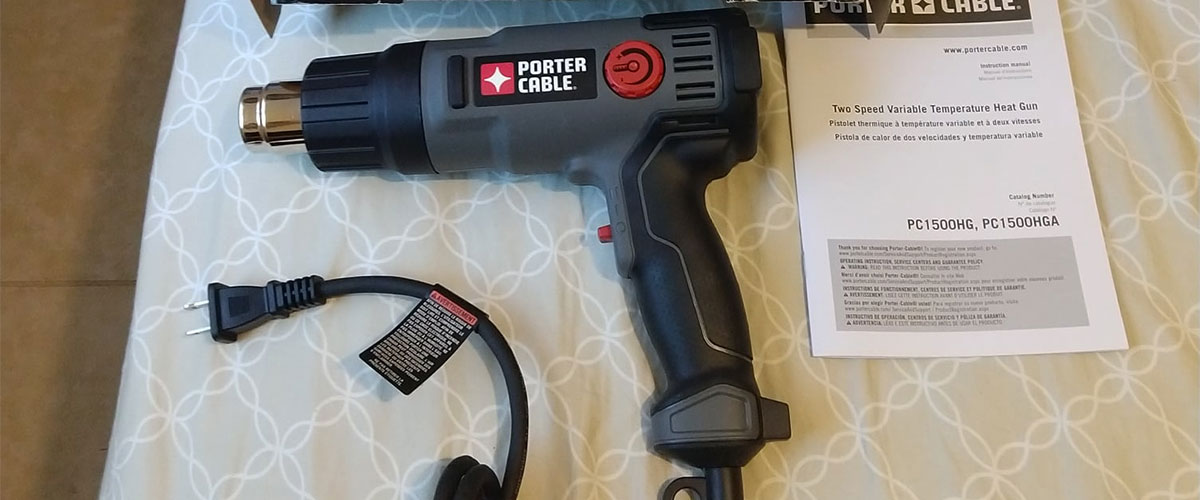 Accessories
There are no accessories included in the box, just a heat gun and a manual. A hard case for travel and storage, as well as several nozzle attachments, are sold separately.
Conclusion
All in all, PORTER CABLE heat gun is quite a cheap yet powerful and lightweight tool that is ideal for various DIY projects. It has a relatively soft output of air and can maintain a specific but consistent level of heat which makes it adaptable for different needs.
Key specs
Watts: 1500W.
Low heat setting: 41℃/105°F.
High heat setting: 585℃/1085°F.
Airflow, CFM: 19.
Cord length, ft/cm: 6/183.
Weight, lbs/kg: 1/0.45.
Chandler Tool – also a great choice
Chandler Tool is a mini heat gun that can be used for versatile purposes owing to its dual temperature mode. In this Chandler Tool review, we will try to discover the main characteristics and functions of the product.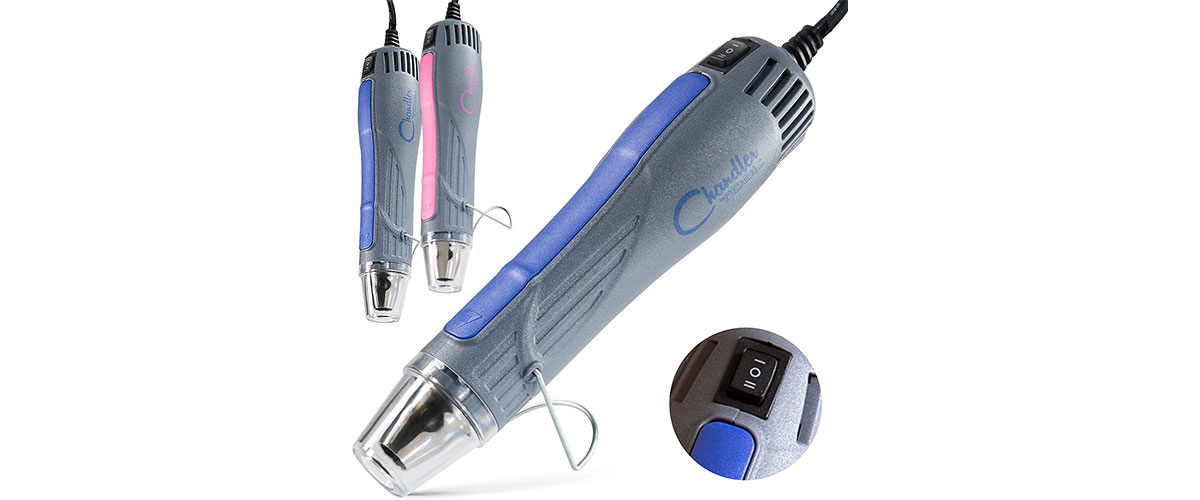 Features and specs
One of the main Chandler Tool features is that it offers a low-temperature mode of 392 F which is appropriate for delicate projects and a high-temperature mode of 572 F which is ideal for heavy-duty jobs. The item will be your great helper if you are a fan of crafts, shrink wrapping, phone repairs, candle making, embossing powders, jewelry making, etc.
The maximum power of this tool is 300 Watts. While using the instrument you can adjust the temperature and speed according to your needs. Chandler tool can be used continuously for 1-2 hours before it requires a forced break.
The item is flexible, ergonomic, and quiet; it requires just a couple of minutes to heat up. Owing to its tiny size, this electric portable heat gun can be used effortlessly even in tight spaces.
Design and materials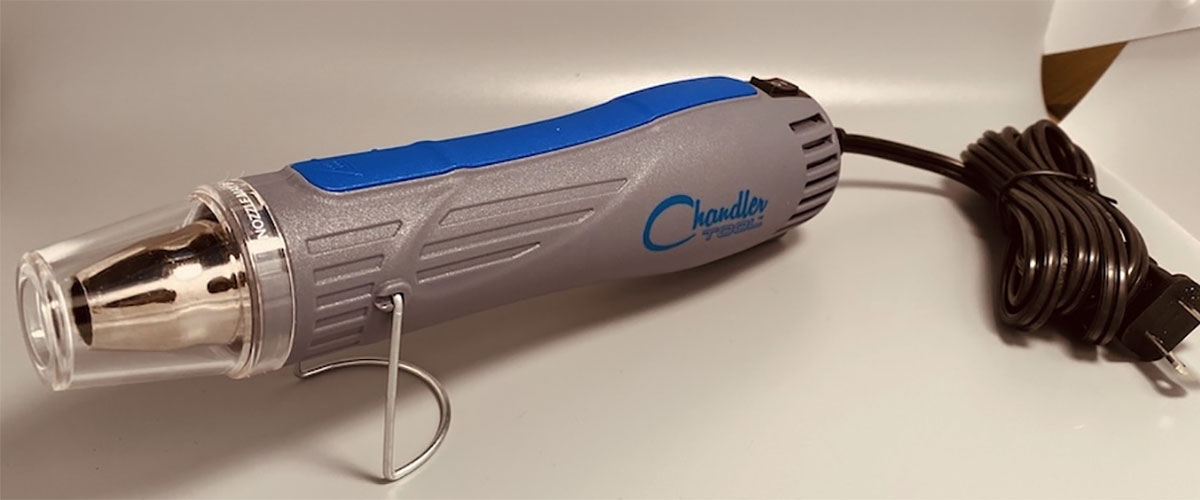 Since Chandler Tool is a mini heat gun, it weighs only 13.1 ounces. Thanks to the insulated plastic body of the item and a plastic nozzle protector, your hands will not suffer, when the instrument is heated during active use.
Accessories
The item includes a protective nozzle so that you do not have any chances to burn your hands, a kickstand for additional comfort, and a 5-feet cord to let you use it away from the socket.
Conclusion
In general, Chandler Tool is a great instrument that you can use for numerous reasons. By buying this heat gun you get two products in one owing to the low and high-temperature settings that you can switch at any time.
Key specs
Watts settings: 150-300.
Temperature settings: 392-572°F/200-300°C.
Cord length, ft/cm: 6/183.
Weight, lbs/g: 0.7/326.
PRULDE Mini Heat Gun
In a world where tools are designed for precision and portability, the PRULDE Mini Heat Gun stands out. It's not just about soldering anymore; modern heat guns need to be versatile, and this device promises just that.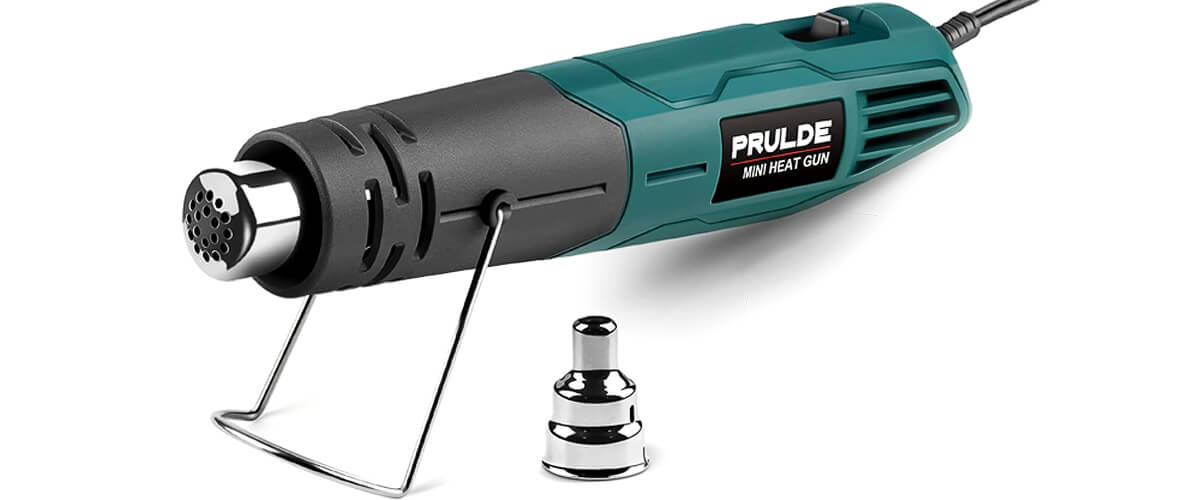 Features and specs
The PRULDE Mini Heat Gun offers a powerful heat output that belies its diminutive size. Tailored for precision tasks, it boasts rapid heat-up times and a wide range of adjustable temperatures, allowing users to toggle between intensive tasks and delicate operations. Its safety features are particularly impressive, including an automatic shut-off mechanism to prevent overheating and ensure longevity.
Design and Materials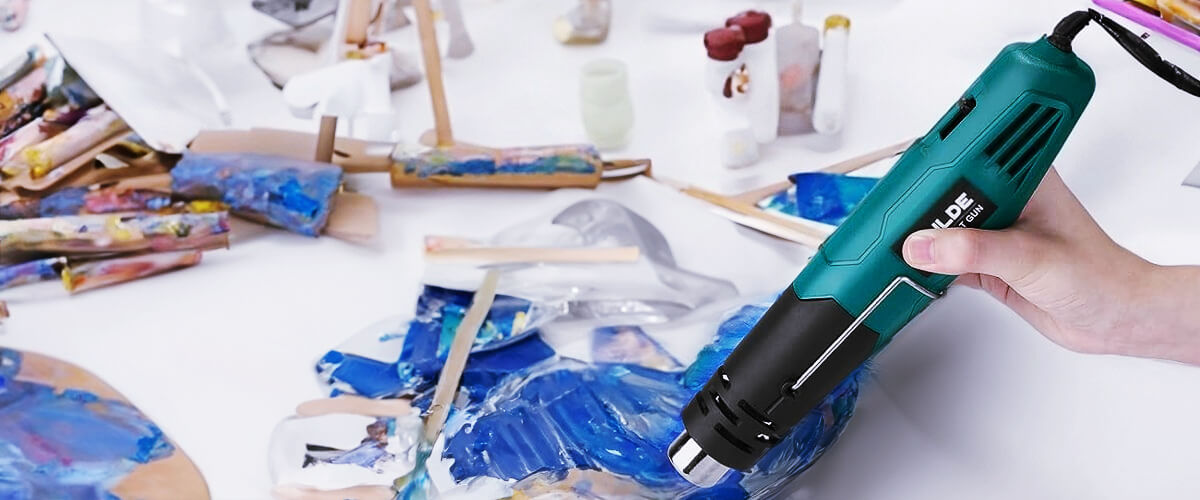 Fashioned from high-quality materials, this model promises durability and robust performance. Its ergonomic design ensures comfortable grip and maneuverability, making prolonged use a breeze. The sleek aesthetics combined with its sturdy build make it both a functional and stylish addition to any toolkit.
Accessories
The package comes equipped with a variety of nozzle attachments, catering to a myriad of tasks. Whether it's embossing, paint stripping, or shrink-wrapping, these accessories ensure that the PRULDE Mini Heat Gun remains versatile and adaptable to diverse project needs.
Conclusion
The PRULDE Mini Heat Gun stands out as an exceptional blend of power, design, and adaptability. Its compact nature, paired with its potent performance, makes it an invaluable tool for both amateurs and professionals. A worthy investment for those who value efficiency and quality in their toolkit.
Key specs
Watts settings: 380.
Temperature settings: 450-850°F/250-450°C.
Cord length, ft/cm: 6.5/198.
Weight, lbs/kg: 0.8/0.3.
How to choose a heat gun for candle making?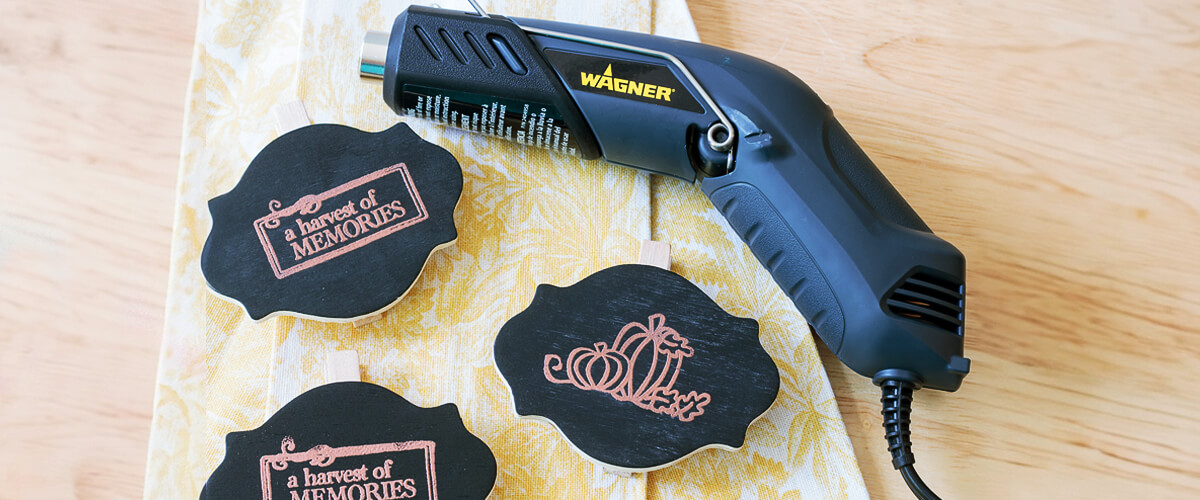 There are several criteria that you have to consider when you go shopping for the best heat gun for candle making. The temperature range is the first feature that you have to take into consideration. You do not need a powerful industrial heat gun to make candles. It is recommended to pick a heat tool that can offer a range of temperatures from 120 to 1000 degrees Fahrenheit.
A perfect candle heat gun should allow you to control the temperature when dealing with wax. The better control you have, the lower the chance of ruining the project or getting burns.
Rivet your attention to a fan speed as it determines the size of the area that you can heat. For most candle-making projects, you will need a heat gun that allows even heat distribution.
Last but not least, pick a tool that comes with basic safety options. Thus, a built-in stand prevents unwanted burns and gives you an opportunity for hands-free operation. Ideally, the heat gun should come with thermal cut-out switches to avoid overheating.
FAQ
Can you use a hair dryer as a heat gun for candles?
Why are my candle tops not smooth?
The reason your candle tops are not smooth may be because the wax is cooling too quickly. In such a case, it can cause the surface to become pitted or rough. Another possible reason is that your wick is too small for the candle container. When the flame melts the wax near the wick, it should create a smooth top. However, if there is not enough wax, it can create an uneven surface.
What temperature should soy wax be to add fragrance?
The recommended soy wax temperature for adding fragrance is between 125 and 145 degrees Fahrenheit.
What happens if you pour soy wax too hot?
If you pour soy wax too hot, it will be too liquid and will not adhere to the wick. Also, you can overheat soy wax, and it will cause it to smoke and potentially catch on fire.