PORTER CABLE is a wired heat gun with a dual-fan speed selector. In this PORTER CABLE PC1500HG review, we will try to discover the key features and scope of the application of the tool.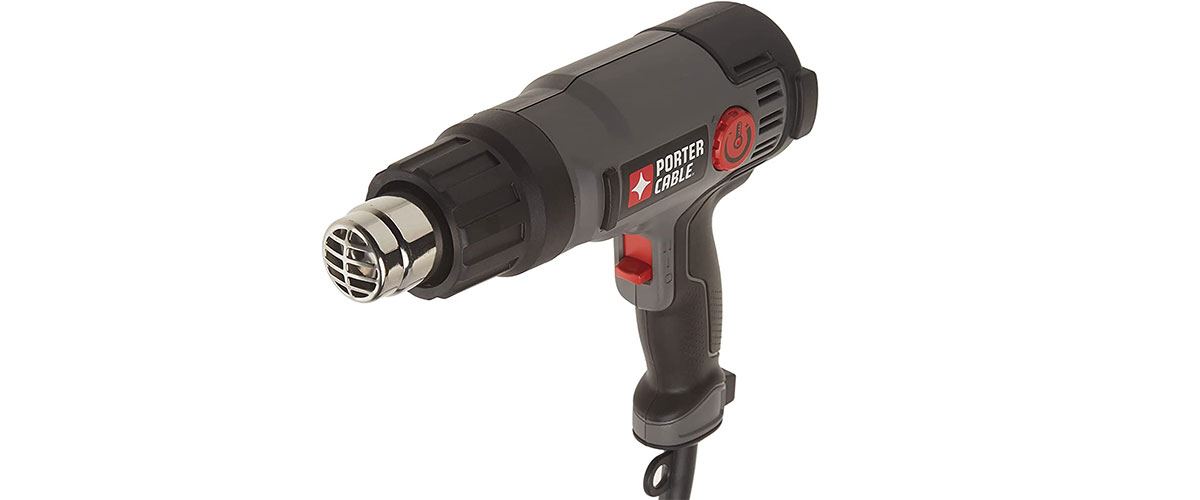 Features and specs
If you need a heat gun that will be ideal for welding plastics, bending pipes, removing adhesive tiles, shrinking plastic tubing, removing paint, or melting plastic, PORTER CABLE will meet your expectations. Such versatility of the tool is achieved owing to a low (120°F to 900°F) and high (130°F to 1150°F) fan speed settings.
This 1500-watt tool is equipped with a variable temperature dial, so you can adjust the temperatures effortlessly. One of my favorite features is the integrated support stand that allows setting the gun with the hot end pointing up in order not to burn the table you are working at and proving hands-free application. Furthermore, the heat gun comes with a 6 ft. first-rate cord that provides improved flexibility during cold utilization.
Design and materials
The tool is compact and quite small as it weighs only 1 pound, so you will not experience any hand fatigue whenever you used the heat gun. This product comes with an integrated hanging hook for convenient storage.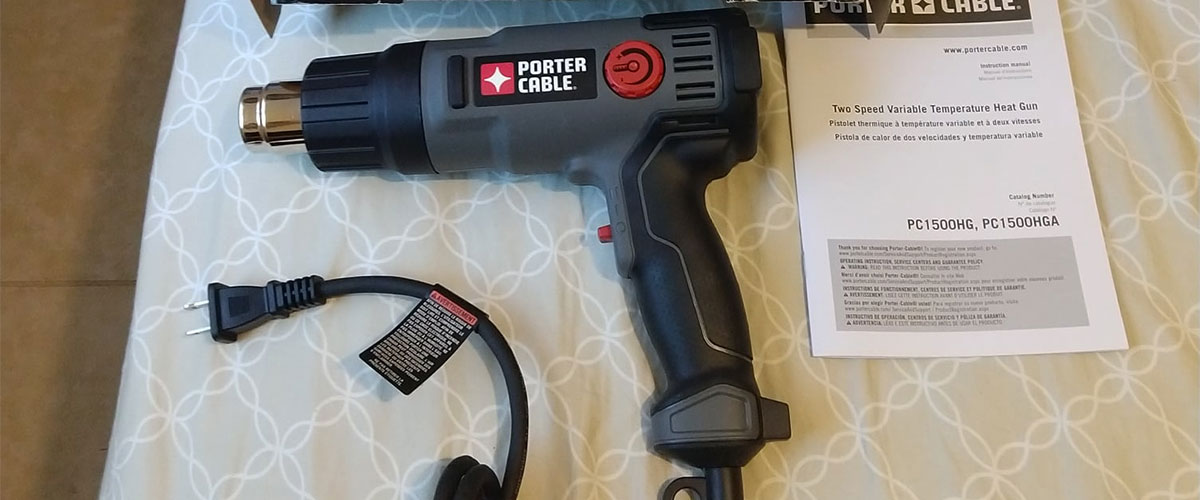 Accessories
There are no accessories included in the box, just a heat gun and a manual. A hard case for travel and storage, as well as several nozzle attachments, are sold separately.
Conclusion
All in all, PORTER CABLE heat gun is quite a cheap yet powerful and lightweight tool that is ideal for various DIY projects. It has a relatively soft output of air and can maintain a specific but consistent level of heat which makes it adaptable for different needs.
Key specs
Watts: 1500W.
Low heat setting: 41℃/105°F.
High heat setting: 585℃/1085°F.
Airflow, CFM: 19.
Cord length, ft/cm: 6/183.
Weight, lbs/kg: 1/0.45.