The trims around the doors and windows, as well as baseboards, require repainting from time to time to preserve their fresh look. That's where you might need the best paint brushes for trim. Even though you might think that these tools play an insignificant role in the quality of the final painting work, let me prove the opposite.
When working with narrow and angled areas like the trim, the paintbrush will define how easy it would be to apply paint, how neat and smooth the coverage would be, and more.
If it feels that you are stuck with the choice of the great trim paintbrush, you can put your feet up. I put together this review with top paintbrushes for trimming so you could bother yourself no more with surfing the net and picking decent products on your own.
Our pick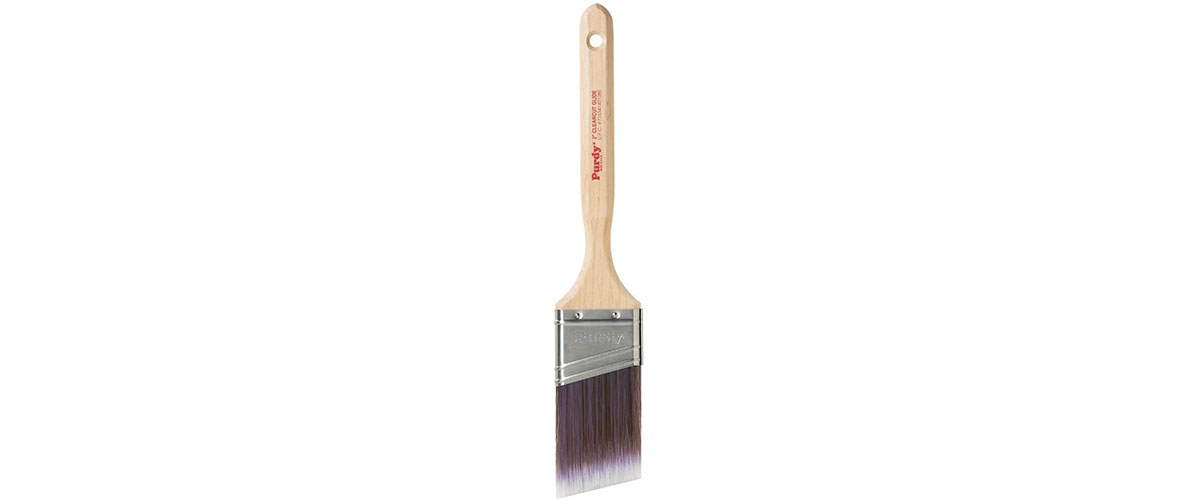 Purdy Clearcut
Best paint brush for trim
Superior cutting-in capability and quick, easy clean up.
Name
Size
Material
Brush shape
Review
Purdy Clearcut

best overall

2 inch/50 mm
Nylon/polyester
Angled
Review
Wooster Silver Tip

budget

2 inch/50 mm
Polyester
Angled
Review
Purdy XL Glide

large

3 inch/76 mm
Nylon/polyester
Angled
Review
Richard ELEGANCE

for small details

0.75 inch/18 mm
Polyester
Tapered
Review
Purdy White Bristle

with natural bristles

2 inch/50 mm
Natural
Straight
Review
Wooster Shortcut

for baseboards

2 inch/50 mm
Acrylic
Angled
Review
How I tested paint brushes for trim
I tested the listed trimming paint brushes on baseboards, door frames, and window trims to check how they would work on various surfaces. I sanded wooden trims to ensure better paint stickiness and make the surface smoother. I also dusted off the surface before brushing it on.
Best paint brush for trim reviews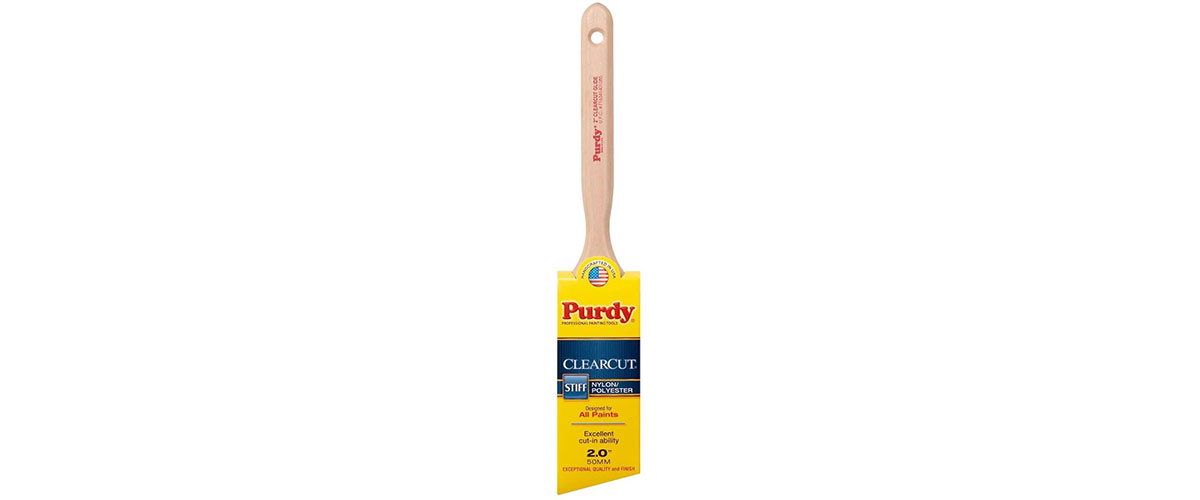 The Purdy Clearcut 2-inch/50 mm brush provides an excellent cutting-in capability with all paint types.
Unlike the Purdy White Bristle brush with natural bristles, this model is made of high-performing Tynex nylon and Orel polyester. Because it's thick, you can apply more paint with more control. But there is a downside to this – you might notice brush strokes if you fail to distribute the paint carefully. The clear-cut angular bristle shape ensures precise edging.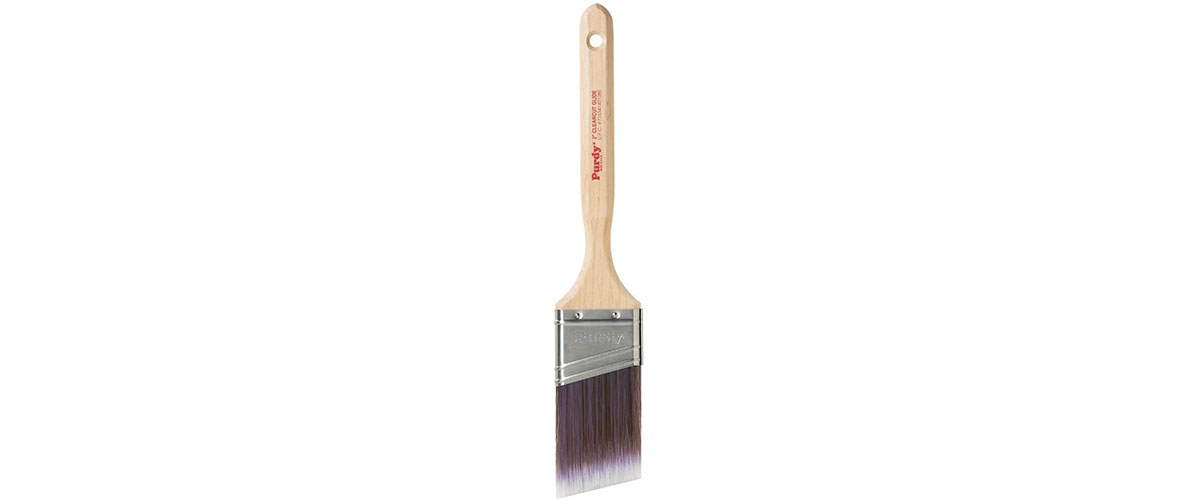 The handle is made of natural hardwood. It features a hole to hang the brush when you are done with the painting job.
The Purdy Clearcut has proved to be the best paint brush for trim due to the precision and the ease of paint application.
Key specs
Size, inch/mm: 2/50
Material: Nylon/polyester
Brush shape: Angled
Pros
Suitable for all paint types
The mix of nylon and polyester for enhanced stiffness
Angled bristle design for more edging precision
Ergonomic hardwood handle.
Cons
Might leave insignificant brush strokes sometimes.
Wooster Silver Tip – budget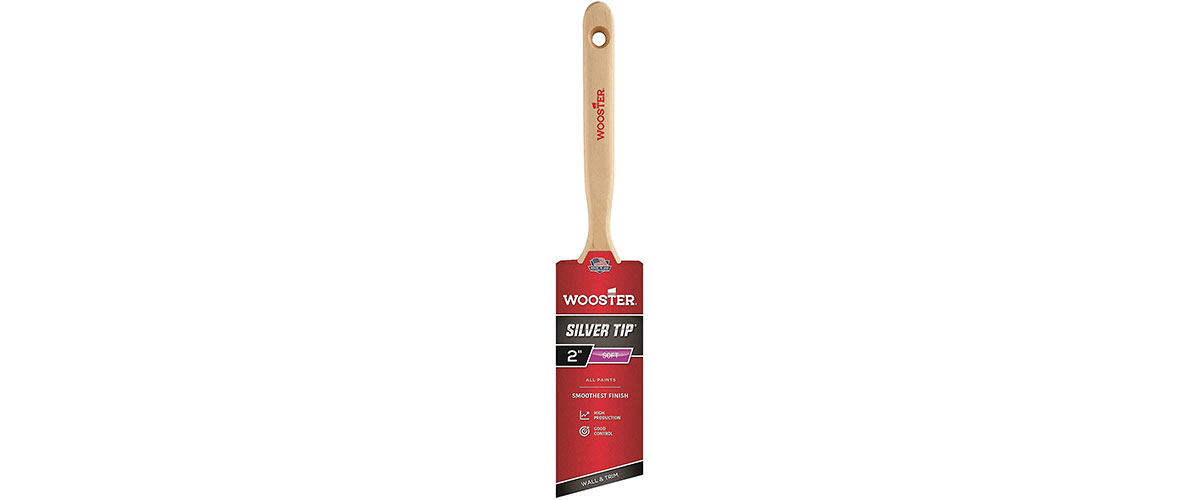 Gain superior control during the paintwork and achieve the smoothest finish with the 2-inch Wooster Silver Tip brush.
Similar to the Purdy Clearcut brush, this tool has an angled brush design. But unlike its more expensive rival with stiff bristles, the Wooster Silver Tip brush is soft. The bristles are made of chemically-tipped polyester, making them thin, flexible, and soft. However, you might find the bristles slightly stiffer than other soft brushes. Also, the brush showed signs of rust after the first use.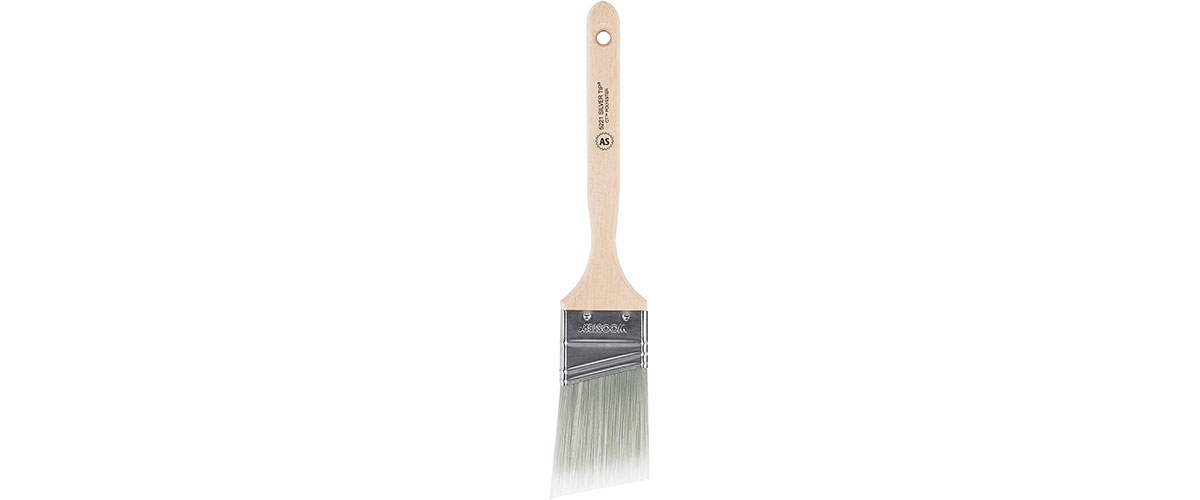 The filament holds a lot of paint and lays it down pretty well, and it has great leveling properties with all paints.
It feels good in the hand. No shedding at all, making it the best paint brush for trim and baseboards in the budget-friendly segment.
Key specs
Size, inch/mm: 2/50
Material: Polyester
Brush shape: Angled
Pros
No shedding or brush strokes
A universal 2-inch size
Angled brush shape for better edging.
Cons
Signs of rust after the first use
It might feel stiffer than other soft brushes.
Purdy XL Glide – large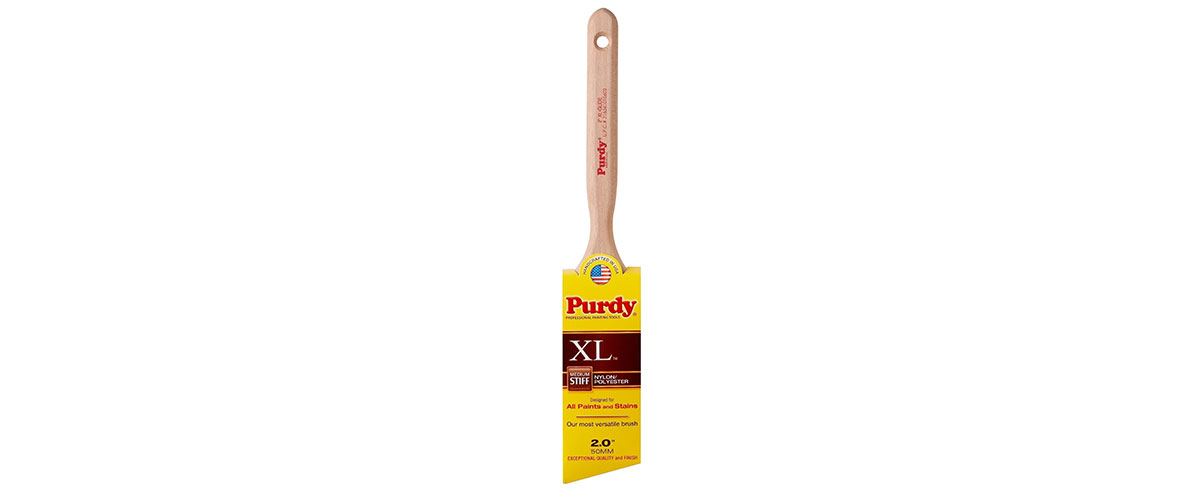 The 3-inch Purdy XL Glide brush will make the refreshing trim job a breeze.
The Purdy XL Glide brush is 1-inch larger than the Purdy Clearcut, making it suitable for larger projects. Due to the mix of DuPont solid, round, tapered Tynex, and Orel filaments, the Purdy XL Glide brush works great for all paint types. The angled design ensures smooth edging and better corner coverage.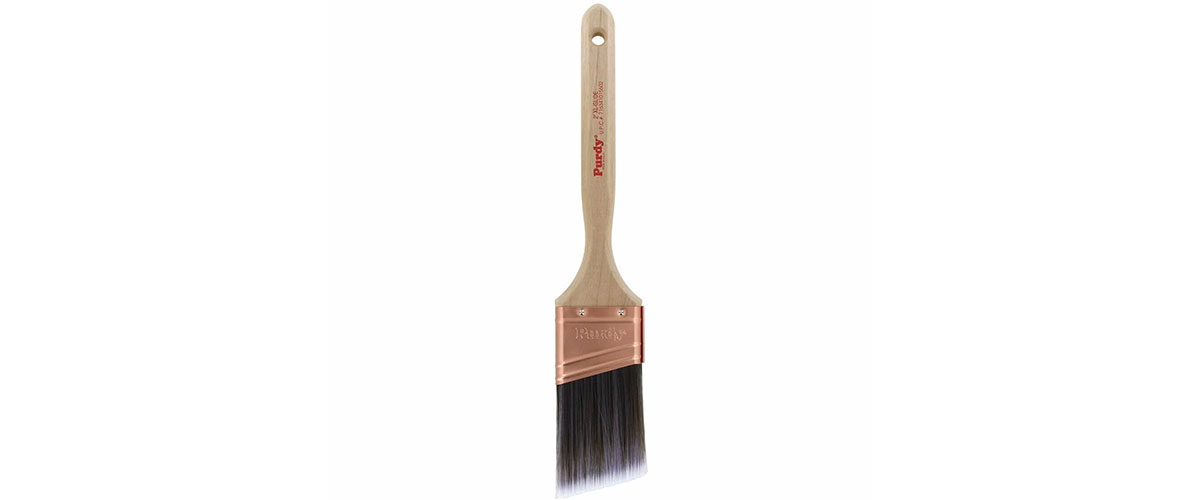 The natural wood handle is good, and the brush overall gives a glass-like finish. But you may find that some bristles stick to the wet paint. The brads holding the ferrule might get loose after moderate use, causing the brush head to wobble.
This brush boasts long bristle life, so it's a great choice if you want to have a larger brush for your refreshing or painting projects.
Key specs
Size, inch/mm: 3/76
Material: Nylon/polyester
Brush shape: Angled
Pros
3-inch brush for all paints, even thick ones
Stiff enough due to the mix of synthetic materials
Long bristle life and great coverage.
Cons
Seldom bristles fall out
The ferrule gets loose over moderate use.
Richard ELEGANCE – for small details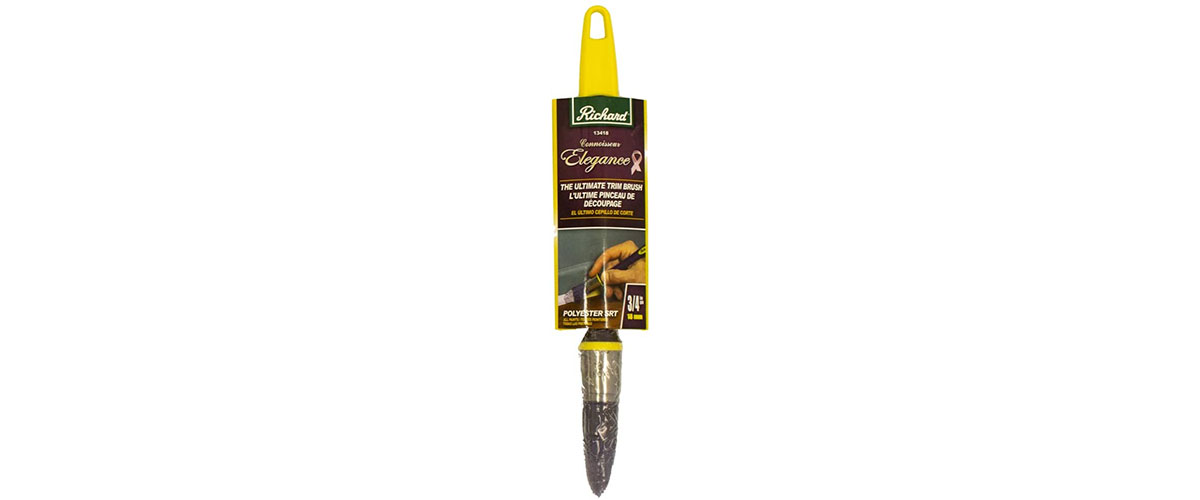 Being made of 100% polyester SRT, this ⅝-inch Richard ELEGANCE is perfect for neat trimming and cutting-in around doors. The tapered end also does its job – painting the corners is easier than ever. It delivers a smooth finish, especially when you use latex paint. But if you do not know how to use this brush the right way, you may find that the paint is hard to control.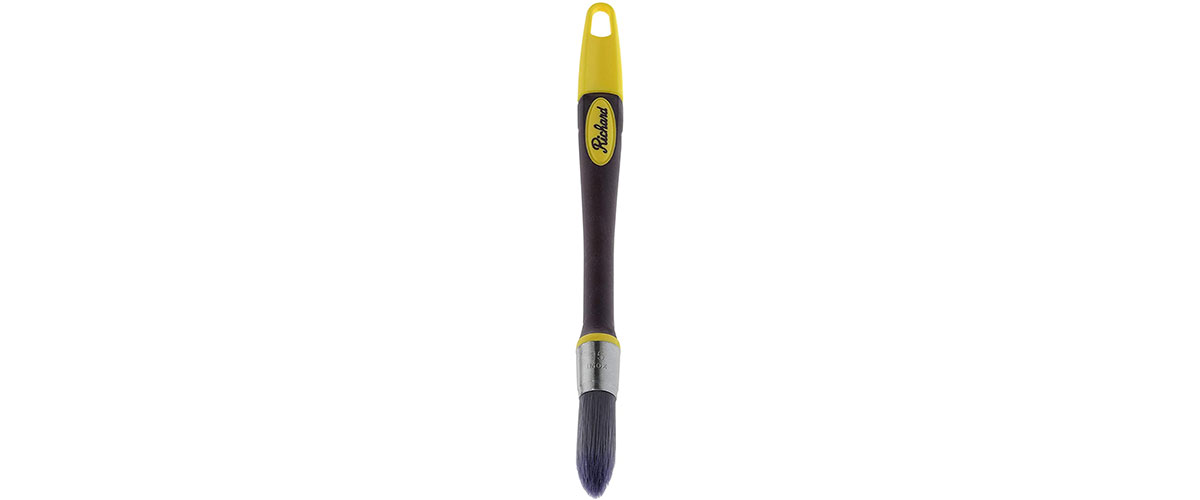 In contrast to Purdy Clearcut with a standard wood handle, this product features a soft-grip handle. However, it might feel stiffer in your hands.
All the bristles stayed in their place after the first use. All in all, if you harness the stiff bristles of the Richard ELEGANCE, you'll end up having a great brush for tiny painting projects.
Key specs
Size, inch/mm: 0.75/18
Material: Polyester
Brush shape: Tapered
Pros
Compact size (⅝ inch) for covering small details
Smooth coverage with latex paint
Soft-grip handle for ease of use.
Cons
It might be hard to control the paint
The handle can feel too stiff in your hand.
Purdy White Bristle – with natural bristles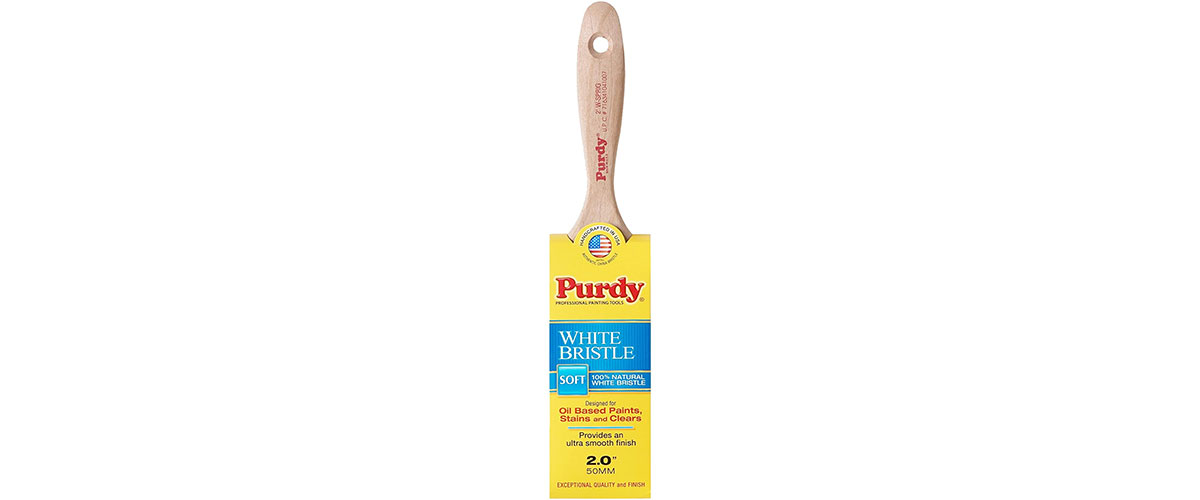 You'll love the ultra-smooth finish of this Purdy White Bristle Sprig brush for oil-based paints, stains, and clears.
The 2-inch brush has a hardwood Beavertail-style handle, which is pretty convenient. The flat sprig shape of the brush makes it a universal tool for your DIY projects, including refreshing trims or baseboards. In contrast to the synthetic Purdy Clearcut brush, this item boasts natural soft bristles. It gives zero brush strokes and bubbles, but I faced another issue.
This brush loses bristles, which might ruin the painting project.
The Purdy White Bristle Sprig is a cool natural brush for painting trim or baseboards. Its soft bristles leave no strokes and give satisfying painting results.
Key specs
Size, inch/mm: 2/50
Material: Natural
Brush shape: Straight
Pros
Designed for oil-based paints, stains, and clears
Natural soft bristles for a smooth finish
Zero brush strokes and bubbles.
Cons
Bristles fall out from time to time.
Wooster Shortcut – for baseboards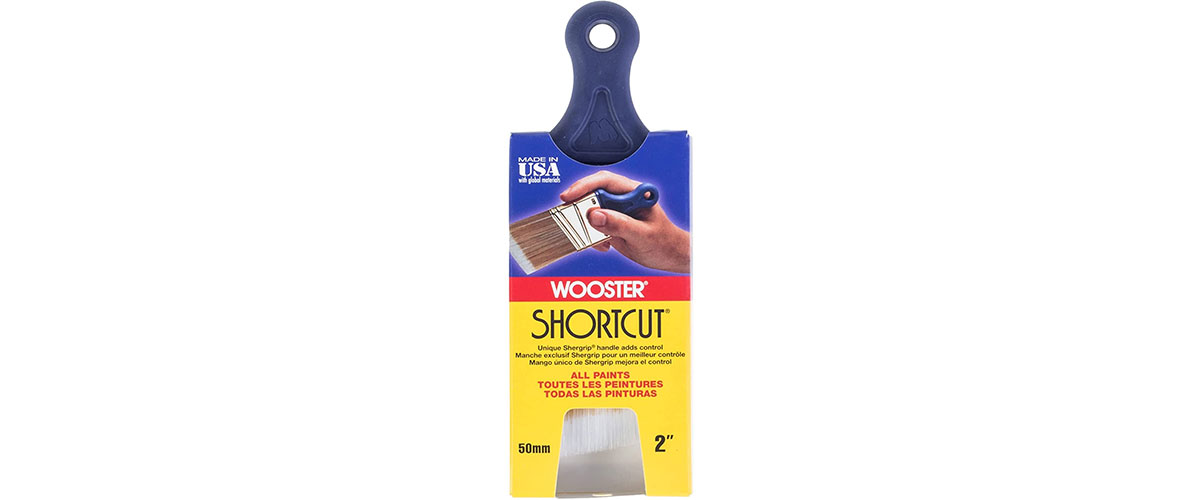 You will enjoy painting baseboards with this Wooster Shortcut brush, suitable for all paints.
Unlike Richard ELEGANCE meant to work out every detail of the object, this 2-inch Wooster Shortcut brush with synthetic bristles will help you get into tight places due to the flexible Shergrip handle. It will also prevent your hands from aching and blistering.
This brush gives you more control when painting a straight swatch due to the angled design. But because it absorbs paint heavily, the bristles are hard to clean. You may also find it streaky.
This Wooster Shortcut professional trim paint brush will let you refresh the baseboards in your place while being easy on your hands.
Key specs
Size, inch/mm: 2/50
Material: Natural
Brush shape: Straight
Pros
A flexible Shergrip handle for added comfort
Synthetic bristles for all paints
Angled brush design for straight swatches.
Cons
Can be streaky sometimes
Hard to clean due to the bristle texture.
Trim paint brush buying guide
Brush size
The properly chosen paintbrush size is the key to neat paintwork. Before you decide on the paint brush for interior trim, measure the surface you'll be working with. This will give you a better idea about what size of brush you may need. For instance, a one-inch small paint brush for trim won't be a great assistant when you've got to dye a 20-inch windowsill. However, you may want to get a smaller-sized brush for tight corners or intricate woodwork.
Brush shape
There are different brush shapes that define the tool's application. A straight, also known as a square, brush is a universal solution, and it is applicable for almost all painting projects. But when you want to obtain better coverage, you may want to consider the rounded or angled bristle shape.
Bristles material
The paint brushes for trim work come with different bristle material options. Natural bristle brushes made of animal hair (white boar, horse, goat) and plants (Tampico) are common choices for shellac, polyurethane finishes, and oil-based paints since they hold more paint and ensure a smooth coverage. Synthetic (nylon, polyester, PVC, polyethylene) brushes are easy to clean, and they keep the bristle shape better than natural bristles. They are mainly used for latex and water-based paints.
Handle shape
Most brushes come with straight handles, both short and long, to allow you to easily trim and edge baseboards, window, and door trim. You can also come across angled handles for precise cut-ins or flexible handles, which adjust to any angle.
How to paint interior trim?
Before you start trimming, prepare the room (move the furniture away, apply the painter's tape along with the flooring that meets the trim, etc.). Sand the woodwork with sandpaper to smooth rough surfaces. Spackle dents and holes, dry them, and sand the areas smoothly again. Prime bare wood and filled areas to avoid the risk of spotting when you apply the paint. Now you can paint the trim. Use a clean tray to pour carefully mixed paint. Deep the bristles of the brush about 1 inch into the paint and remove the excess by gently slapping the brush against each side of the tray. Make short strokes to dye a few feet of the trim. Then, make one long stroke to smooth the freshly applied paint. Find more trim painting tips in this article.
How to avoid brush strokes when painting trim?
To get a clean and smooth finish without messy brush strokes from the very first try, you've got to pick the paint and get a quality brush with soft bristles (stiff bristles leave unwanted brush strokes) that would match the chosen paint type. Prepare the surface by sanding and dusting it. When you proceed with the painting job, go with the grain rather than across it (left to right, not up to down). Also, do not wipe the paint off the brush. Slap it off instead. More handy tips on painting trim without brush strokes are gathered in this article.
What should I use to paint trim: brush or roller?
Is a brush or roller better for painting trim? Rollers deliver a smoother finish and more even paint coating compared to brushes. But a roller is inconvenient for working on small projects or parts (corners, joints, etc.). You also won't be able to cover the fine details of trim. Thus, you will have to use both items – a roller for the middle of the trim and a brush for covering the areas the roller can't reach. IMHO, that's a lot of work, and using one item (a brush) is more efficient.
FAQ
What size brush should I use to paint trim?
When painting trims either inside or outside, it is important to match the width of the brush to the size of the surface being painted. The best way to figure out what size brush to use is to measure the width of the surface being painted.
For example, a 1″ brush should be used for painting door and window frames that are approximately 1″ wide.
What size brush should I use to paint door trim?
A 1″ or 2″ wide trim brush should be used depending on the surfaces' size. If the door trim is 3″ to 4″ wide, you can use a 2″ brush.
What size brush should I use to paint window sills?
It is best to use a 1/4 inch or 1/2 inch wide brush when painting window sills because the actual painting area is small and doesn't require a larger brush.
Why are Purdy brushes so expensive?
Purdy brushes are far superior in quality compared to other paint brushes and can last for many years if properly cared for.
Do expensive paint brushes make a difference?
Yes, because expensive brushes are made with the highest quality materials and extra care is taken in the manufacturing process, they can last for many years.
What paint to use on baseboards and trim?
Baseboard paint is a combination of latex and oil high-gloss paint. The same paint can be used on both baseboards and trim except for doors, door jams, and windows, requiring an enamel finish.
Are angled brushes better than straight?
Angled brushes have a slightly more flexible bristle and are better for cutting moldings. In addition, angled brushes can give a smooth finish on flat surfaces, while straight bristle brushes may leave some spots untouched if too much pressure is applied from the handle of the brush.
What is a good paint brush brand?
There are many good and affordable paint brush brands available. Quality paint brushes should be stiff, not soft, with bristles that don't break off when dipped in the paint. They also need to hold their shape while painting. Recognizable brand names such as Wooster or Purdy can be more expensive, but they offer different styles of brushes.