The majority of painting jobs cannot be completed without special brushes for cutting in. You will need one for painting the corners and edges whenever you have to paint a wall, door, ceiling, etc. The best paint brushes for cutting in are made of high-quality materials with nice bristles that do not fall apart after continuous use.
In this review, I want to tell you about the most popular models of brushes for cutting in and help you choose the right item for your needs. Only a five-star slanted brush will allow you to paint a straight line from corner to corner without leaving any blank spots.
Our pick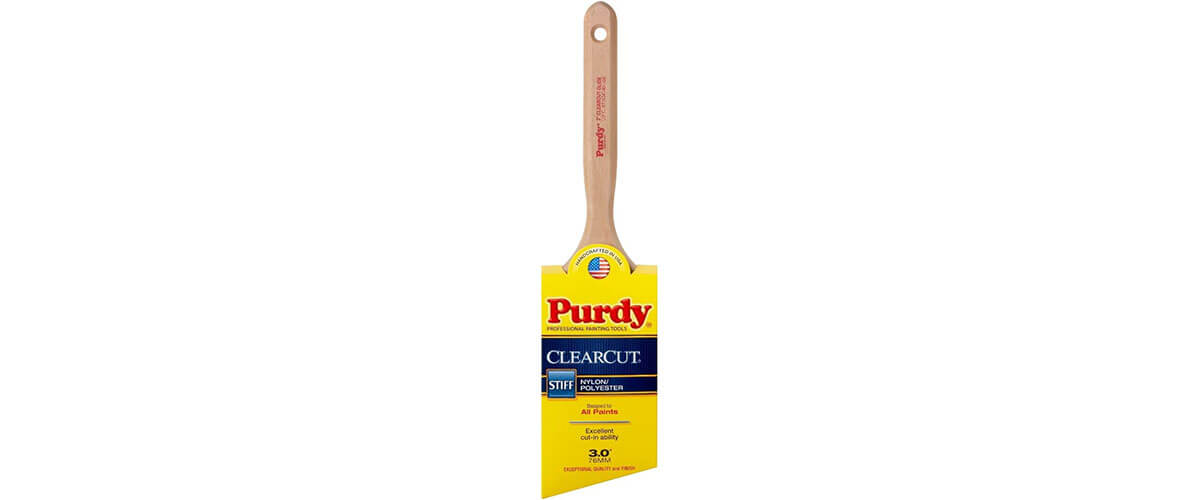 Purdy Clearcut
Best paint brushes for cutting in
Purdy is proud to announce the introduction of a tipped-only, nylon polyester brush that provides superior cutting-in capability.
Read the full review
.
Brushes for cutting in comparison table
Name
Size
Material
Brush shape
Review
Purdy Clearcut

best overall

3/76
nylon/polyester
angled
Review
Wooster Shortcut

budget

2/50
acrylic
angled
Review
Stinger Brush

also a great choice

2.5/63.5
polyester
angled
Review
Why do I need a special paint brush for cutting in?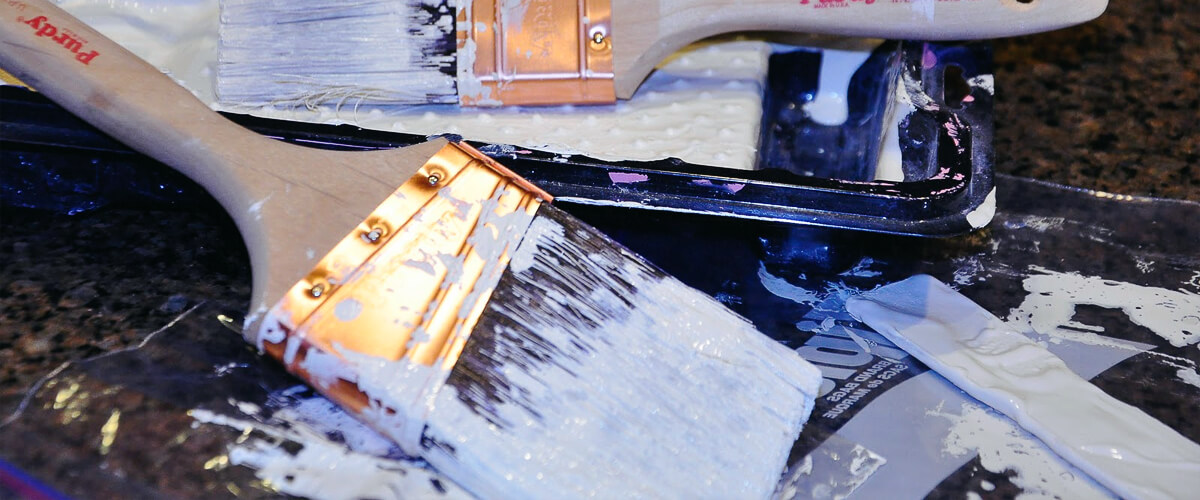 I'm often asked, "Why do I need a special edging paint brush?" Well, let me break it down for you. Using a dedicated cutting brush is crucial for 5 key reasons:
Precision: These brushes are designed for super fine lines and sharp edges. You'll get that polished, professional look you crave.
Accuracy: Say goodbye to paint smudges and drips. A cutting brush keeps you on point, even in tricky spots.
Time and effort savings: With the right tool, your trimming work becomes quicker and smoother. Less touch-up, less frustration!.
Clean finish: Achieve a flawless, clean finish that'll make your paint job pop.
Versatility: These brushes aren't just for walls; they're handy for moldings, corners, and more.
Best paint brushes for cutting in reviews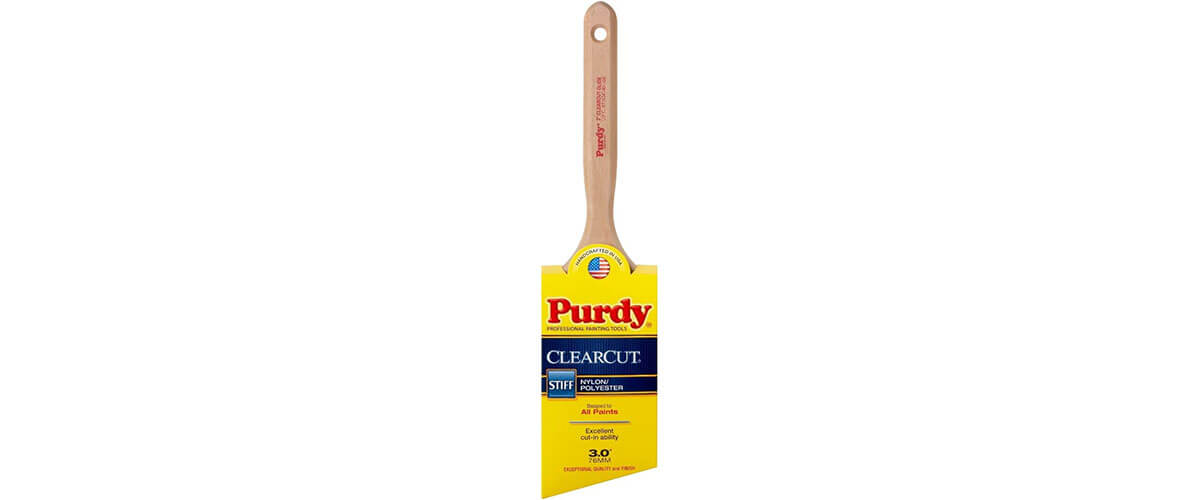 I recently got my hands on the Purdy Clearcut angular brush for straight lines, and I must say, it lives up to the hype. The manufacturer claims it can handle all types of paint, but I found it truly excels with latex paint. In addition, the moisture-wicking alder wood handle provides a comfortable grip, while the nylon-polyester blend bristles make precise cutting-in a breeze.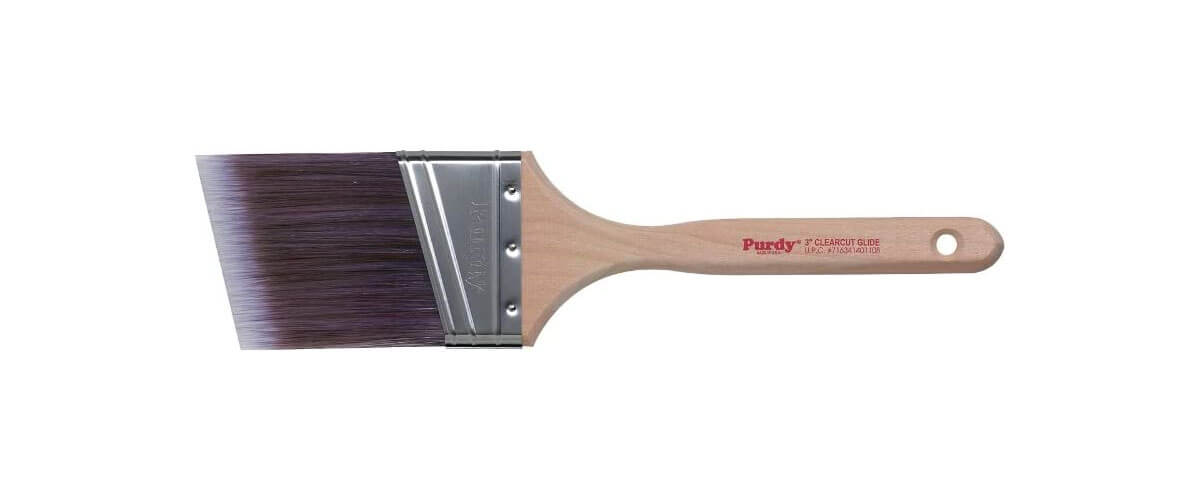 This 3-inch paintbrush is wider than 2.5-inch Stinger Brush, so it allows it to cover a bigger area. Also, unlike the analog, the bristles of this brush will not get frayed after repeated use.
Thus, Purdy Clearcut is the best paint brush for cutting in. It maintains its shape, leaves no paint streaks, and holds the paint better than analogs. It will last you for years if cleaned and stored properly. Yet, I would not recommend using this brush with emulsion paint.
Key specs
Size, inch/mm: 3/76.
Material: nylon/polyester.
Brush shape: angled.
Pros
Perfect for all types of paint.
Made of durable nylon-polyester.
Maintains its shape.
Cons
It is not appropriate for emulsion paint.
Wooster Shortcut – budget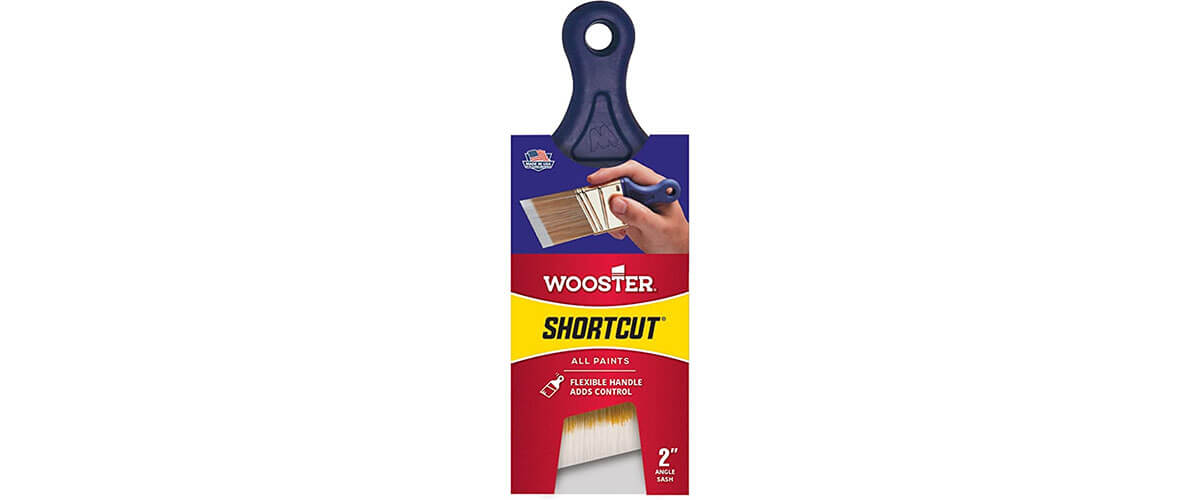 If you're on the hunt for the best paint brush for edging that won't break the bank, I highly recommend checking out the Wooster Shortcut. I recently picked one up, and it's been a game-changer for my DIY projects.
One standout feature is the short 2-inch flexible purple Shergrip handle, which provides excellent maneuverability. The angled bristle, crafted from a blend of white nylon and gold-plated polyester, ensures durability and consistent performance.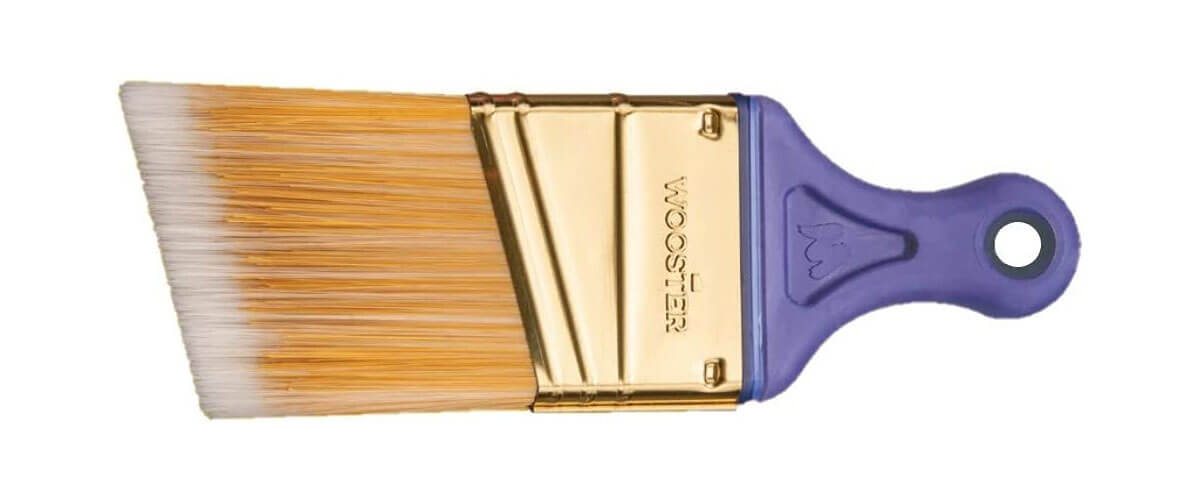 Compared to a 3-inch Purdy Clearcut brush, this item features a thinner 2-inch sash. But the main difference is in the handle, which is wooden for Purdy and soft rubberized for Wooster Shortcut.
To conclude, this brush is a nice deal for the money and will cope with cutting in effortlessly, but it is not meant for continuous use. The bristle would not maintain its shape after a couple of uses.
Key specs
Size, inch/mm: 2/50.
Material: acrylic.
Brush shape: angled.
Pros
Flexible rubber handle.
Highly maneuverable for tight spaces.
Ideal for all paints.
Cons
Loses its shape when used for a long time.
Stinger Brush – also a great choice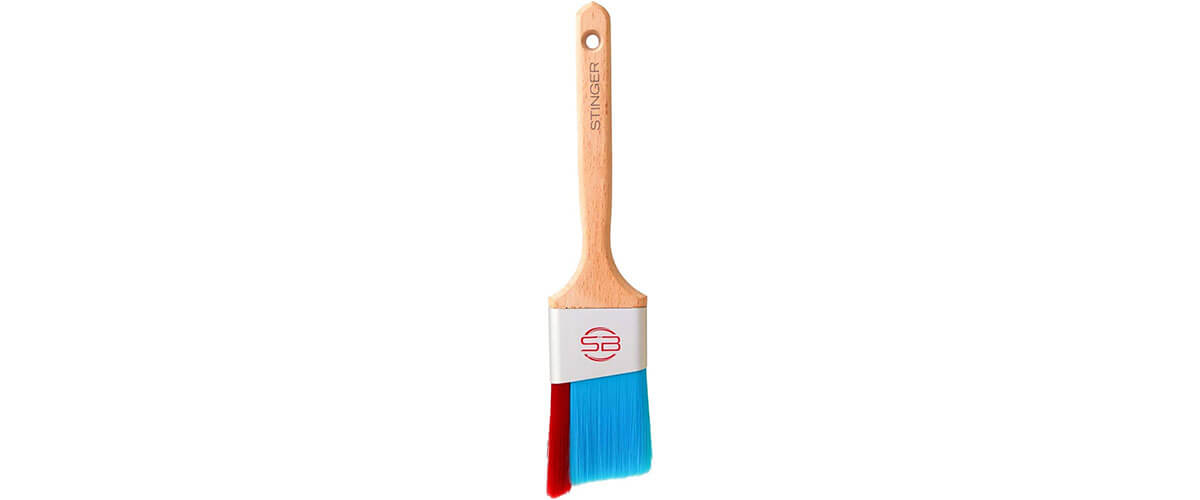 Are you in the market for a top-notch paint brush for cutting in walls? Then, rivet your attention on Stinger Brush with a unique 2-colored bristle design. This angled brush features a wooden handle, a 2.5-inch PBT bristle, and an extruded aluminum ferrule.
One standout feature of the Stinger Brush is its versatility. This brush is compatible with all types of paint, making it a versatile choice for various interior projects. Whether you're working with latex, acrylic, or oil-based paints, you can trust this model to deliver consistent results.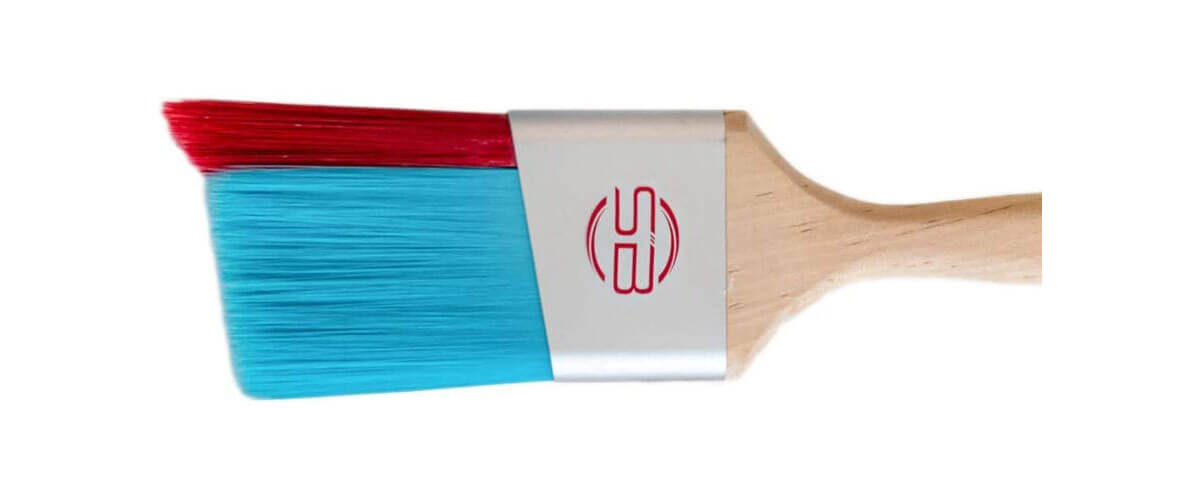 Even though both Purdy Clearcut and Stinger Brush possess the same characteristics, the analog comes with a wider 3-inch bristle. Both are made of durable synthetic materials, and it is actually the bright color of bristles that distinguishes a Stinger Brush.
To sum up, it is a lightweight brush that provides smooth paint release and is easy to clean up. But I would not say that this cut in brush is meant for repeated use, as bristles get more frayed after each cleaning.
Key specs
Size, inch/mm: 2.5/63.5.
Material: polyester.
Brush shape: angled.
Pros
Unique 2-colored design.
Ideal for all types of paint.
Lightweight for reduced hand fatigue.
Cons
Bristle gets frayed after cleaning.
Richard Elegance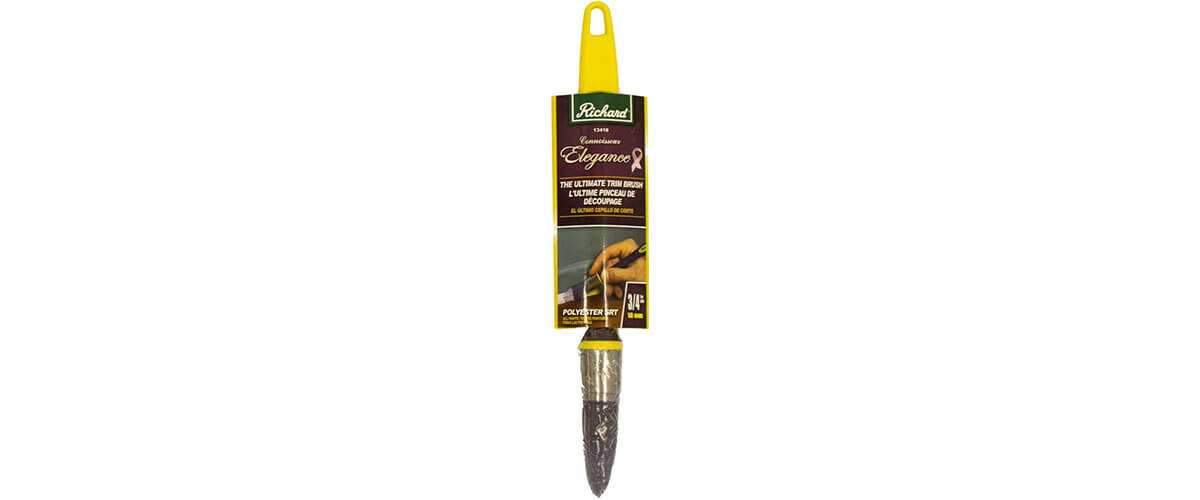 In case you need a brush for cutting in latex paint, Richard Elegance should be your optimal choice. This is a trim brush with a soft grip handle and a ¾-inch polyester bristle for convenient paint application. Such a product is suitable for small interior jobs since it provides precise cutting in owing to the tapered shape of a brush.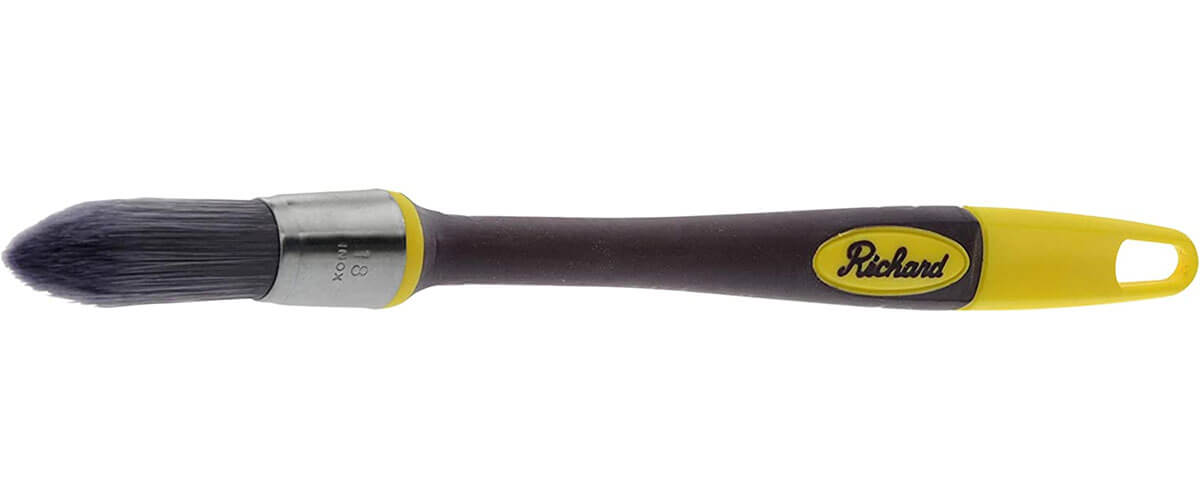 In comparison with an angular 3-inch Purdy Clearcut brush, this item is rather suitable for a narrow scope of application due to its size and shape. However, unlike the analog, it is not meant for exterior jobs and oil-based paints.
In general, the brush is easy to hold, allowing you to deposit paint beautifully along corners and trims. Moreover, it is convenient that the brush bristles maintain shape and do not lose bristles even after repeated use. Yet, it leaves streaks of paint when you try to cover a big area.
Key specs
Size, inch/mm: 1/25.4.
Material: polyester.
Brush shape: tapered.
Pros
Ideal for latex paint.
Suitable for small interior projects.
Does not lose bristles.
Cons
Leaves streaks of paint.
Not appropriate for oil-based paint.
Purdy XL Glide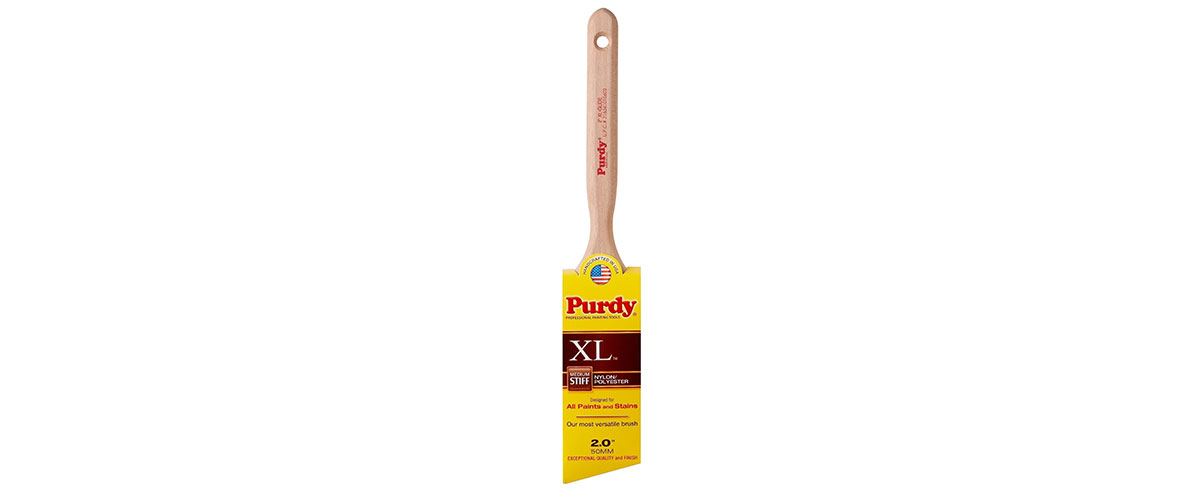 If you need a versatile brush for interior and exterior, have a look at Purdy XL Glide. It is a 3-inch paintbrush with an angled sash meant for all types of paint, from latex to oil-based paints. The brush comes with a comfortable wooden handle and nylon-polyester bristle to provide a smooth application of paint.
Compared to Richard Elegance trim brush with a smaller ¾-inch bristle, Purdy XL Glide is more universal and appropriate for bigger painting projects. Moreover, Richard Elegance works mainly with latex paint, while you can use the analog even with primers and stains.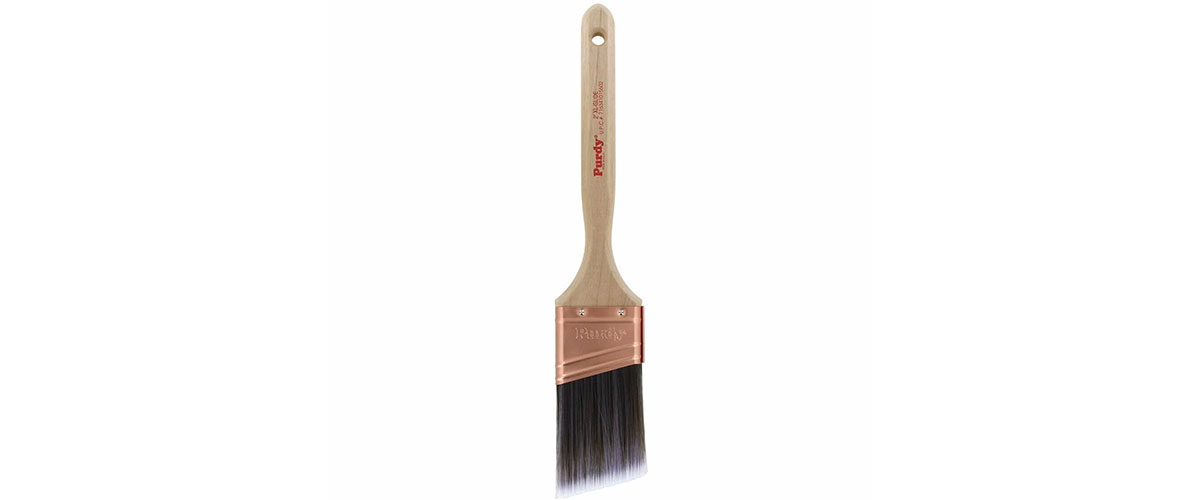 All in all, Purdy XL Glide is a cool paint brush for edges that applies the paint smoothly and provides a glass-like finish. My only complaint is small brads that are used to attach the handle to the metal ferrule of the brush, making the brush head wobble.
Key specs
Size, inch/mm: 3/76.
Material: nylon/polyester.
Brush shape: angled.
Pros
Ideal for all types of paint.
Appropriate for indoor and outdoor jobs.
Perfect for big painting projects.
Cons
Small brads that cause wobbling of a brush head.
Сutting brush buying guide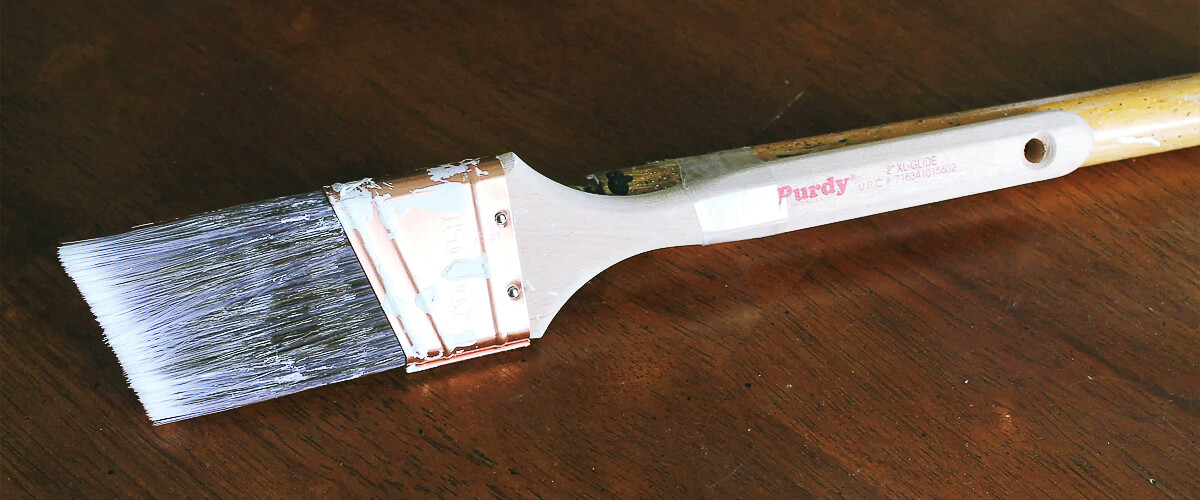 Brush size
The size of a brush is one of the key aspects you have to consider when picking an appropriate tool for your needs. Typically, 2-inch to 2.5-inch is the average size of a cutting brush for the majority of projects. At the same time, you should pay attention to smaller 1-inch to 1.5-inch brushes if you plan to complete a small job that requires thin lines. The largest size for cutting in brushes is 3 inches. It is ideal for drawing thick lines and completing bigger painting jobs.
Brush style and shape
You can pick a paintbrush for corners of a different style and shape for your convenience. For example, a brush with an angled bristle allows you to paint a straight line against the edges effortlessly. A thin angled sash is meant for smaller painting jobs. An angled foam brush is another option that features a slanted tip for better control during the painting process. Keep in mind that a round-ended roller is not the most convenient alternative but still can be used where a regular roller will not reach the edges.
Bristles material
It is unquestionable that brushes for edging should come with high-class bristles. The choice of material will depend on the paint you plan to use. Thus, you will require a brush with natural bristle if you expect to apply oil-based paints. If you mostly work with latex paints, rivet your attention on a brush with synthetic bristles. This type of bristles is perfect for repeated use, as they do not lose their initial shape. A foam brush can be used with all types of paints, as it absorbs the pain well and allows quick painting.
Some useful tips for cutting in paint
Cutting in painting will be more pleasant and efficient if you follow simple tips. First of all, buy a paint pail and pour some paint into it for a more convenient application. In this way, you will not dip your brush too deep and will not spill too much paint in the process of work.
Whenever you need to apply paint in tight corners, do not forget to wiggle the brush a bit so that you do not miss any spots. The lines will be more accurate if you can see the contours clearly, so it is recommended to use a headlamp for better precision of work.
In case you spill the paint on doors, walls, or floor, try to wipe it off before the paint starts to dry. Also, do not try to cut in all the corners and edges immediately. Instead, take one wall at a time and move to the next one when you are done with painting and wiping goofs. Last but not least, clean up the brushes when you complete the job so that you can use them again.
FAQ
Do you need an angled brush for cutting in?
No, you don't need an angled brush for cutting in. A regular paint brush will do just fine. Angled brushes are helpful if you're trying to get into tight spaces, but a regular brush will suffice for general cutting in.
How do I get a perfect line between my wall and ceiling?
There are a few ways to get a perfect line between your wall and ceiling, but the easiest way is to use a level. Simply place the level against the wall and make sure that it is perfectly flat before marking your line with a pencil or tape. Once you have your line marked, simply follow it when painting or hanging wallpaper.
Is it OK to cut in one day and paint the next?
It's fine to paint the day after you've cut in the edges of a room. However, it's better to do two coats of paint in one day. All you need to do is wait for the first coat to dry completely before applying the second coat.
What is the easiest way to cut in when painting?
The easiest way to cut in while painting is to use a paintbrush. To do this:
Dip the brush into the paint and tap it on the edge of the can.
Hold the brush against the wall and use a light back-and-forth motion to create a clean line.
Release the pressure on the brush and pull it away from the wall to create a smooth line.