Chalk paint is an amazing invention of the Annie Sloan brand. This paint creates an appealing matte look with natural brush strokes on upcycled furniture, glass, metal, laminate, and even concrete. It's a water-based paint with low VOC, making it less toxic than oil-based paints and much easier to clean up.
If you want your DIY project to get the so-desired hand-painted antique look, you've got to consider the best brushes for chalk paint. But this might not be as simple as you assume because not every brush will cope with the chalk-painting job.
Luckily, you've found this review. You'll learn what to look for in a good brush for chalk paint. I've also tested some popular brush options to determine whether they live up to the users' expectations.
Our pick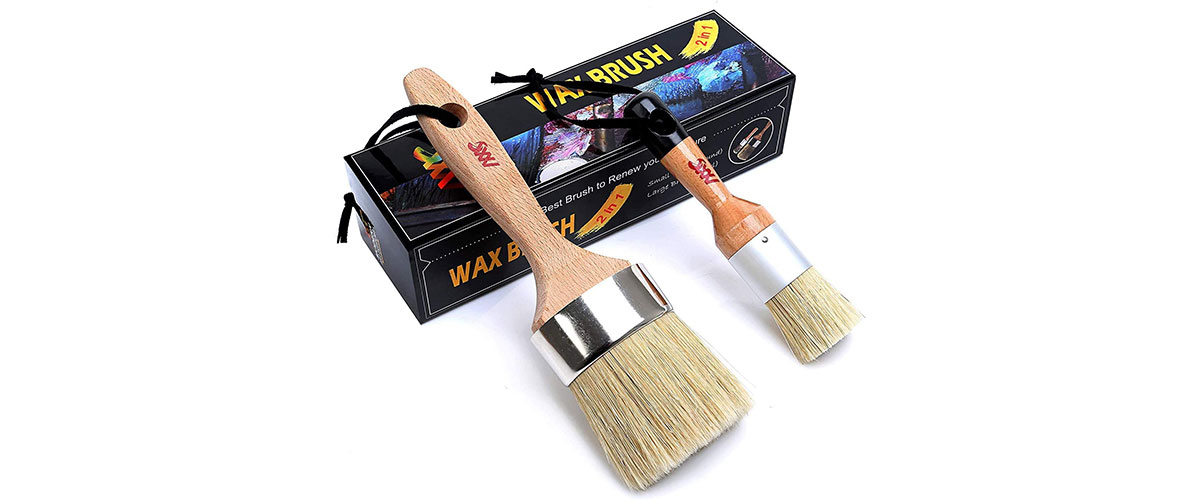 SMARTVISION
Best brush for chalk paint
Premium quality chalk paint wax brush with natural bristles and easily gripped wooden handle.
Read the full review
.
Brushes for chalk paint comparison table
Name
Size
Material
Brush shape
Review
SMARTVISION

best overall

1.4;2.5 inch/35.6;63.5 mm
Natural
Round
Review
Tatler & Tatum

budget

2.4 inch/60.9 mm
Natural
Round
Review
Brossum XL

large

2.5 inch/63.5 mm
Natural
Round
Review
Colorantic

with natural bristles

0.6 inch/16 mm
Natural
Round
Review
FolkArt Home Decort

wide

4 inch/101.6 mm
Nylon
Wide
Review
Understanding chalk paint and its unique characteristics
Chalk paint is not your ordinary paint. It's a water-based paint known for its matte finish, which gives your projects that irresistible, velvety texture. What sets it apart is its incredible versatility. Whether you're sprucing up an old dresser, giving new life to a tired chair, or adding character to your kitchen cabinets, chalk paint is your go-to option.
But here's the kicker: chalk paint isn't like traditional paint, so it requires special brushes. These brushes have thicker bristles, ensuring better paint distribution and preventing streaks. They also help achieve that signature shabby-chic look that chalk paint is famous for.
How I tested brushes for chalk paint
I had an old bookcase which was still good but required some refreshing. So I decided to go with the chalk paint to maintain its vintage look. I visually divided the painting surface into six sections (that's how many brushes I tested) to check how every entry from my list would dye the surface.
Best brush for chalk paint reviews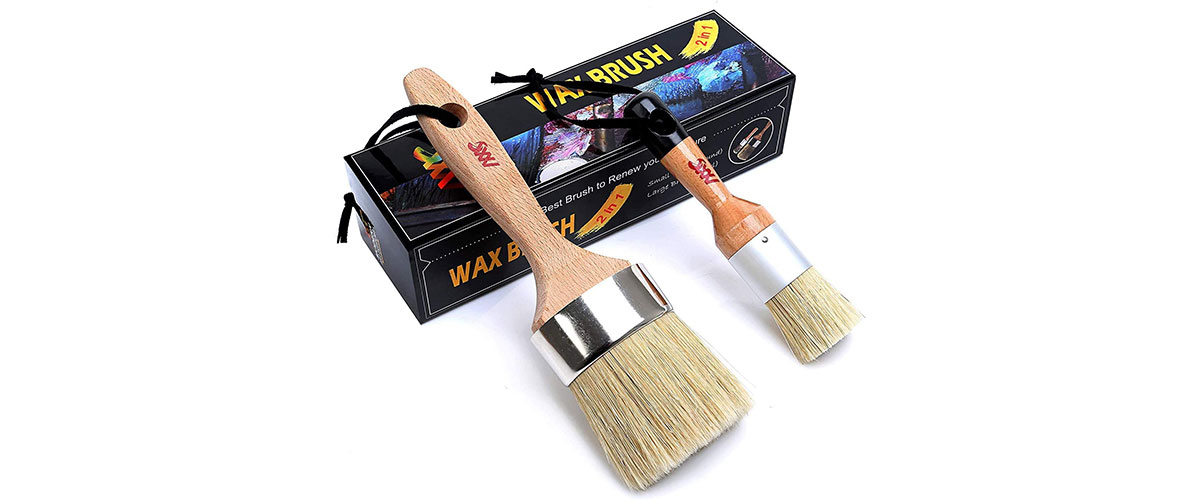 This set of 2.5 and 1.4 inches round brushes with soft natural bristles ensures smooth coverage without bristles coming out. Like the Tatler & Tatum brush, these tools also have a curved handle for a perfect grip. The smaller brush is easier to hold, especially when you have to work for a long time.
One of the standout features of the SMARTVISION brush is its ability to apply paint evenly. Achieving a smooth, flawless finish was a breeze, making my chalk painting experience even more enjoyable.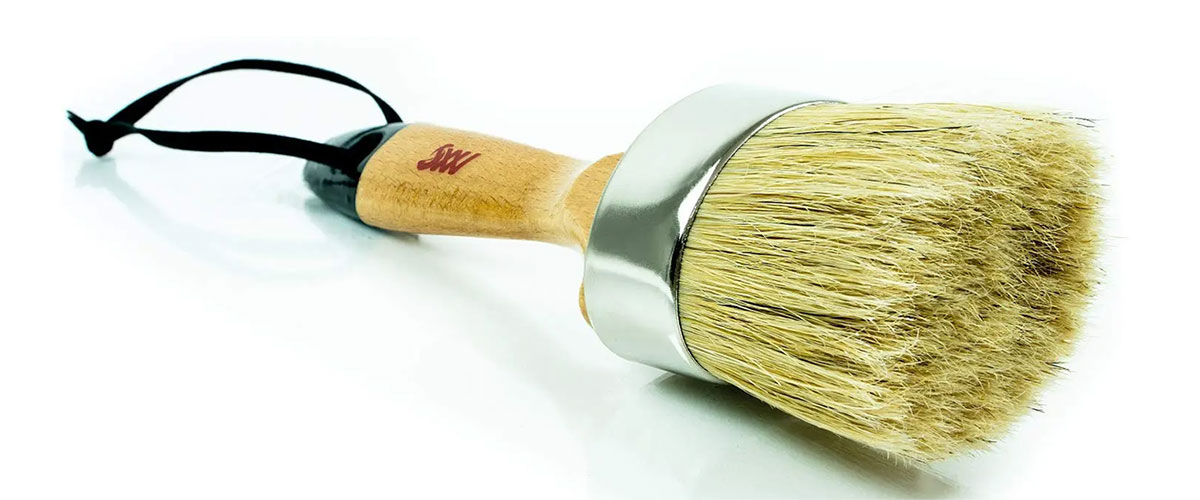 The only drawback I found in this set is that the handle of the larger brush was slightly chipped. That didn't make any difference to the final result – I got the matte, chalky appearance I craved for.
This set contains the best brush for chalk paint. These brushes are versatile and allow you to take on any dying project, big or small.
Key specs
Quantity in set: 2.
Size, inch/mm: 1.4, 2.5/35.6, 63.5.
Material: Natural.
Brush shape: Round.
Pros
Two brushes (2.5 and 1.4 inches) for a wide range of use.
Suitable for chalk paint and wax.
A curved handle for convenient grip.
No bristle shedding.
Cons
The handle of one brush was slightly chipped.
INFINITI ELEMENTZ – best set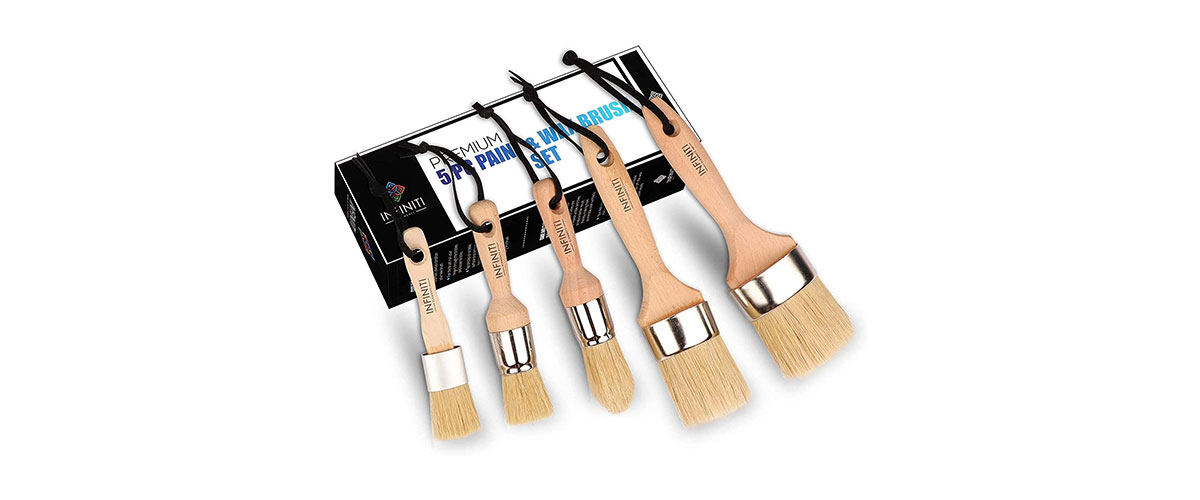 The Infinity Elementz set of round brushes for chalk paint ensures smooth wax applications on a wide range of surfaces, including wood and furniture.
Unlike the SMARTVISION two-brush set, this one has five differently-sized pieces. Every brush has a rounded shape, so you will paint faster and easier. The INFINITI ELEMENTZ brush set features natural bristles that strike a perfect balance between softness and effectiveness. These moderately soft bristles ensured me a smooth and even chalk paint or wax application. This quality is vital in achieving a professional-looking finish on your projects, where coverage is uniform and the paint glides on effortlessly.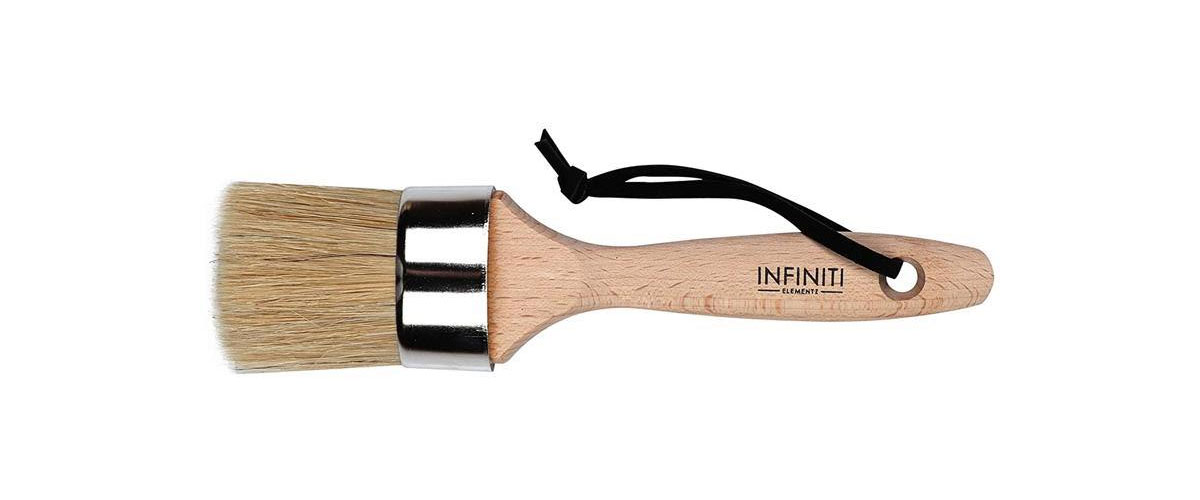 The ergonomic wooden handle is lightweight, so you won't feel the strain on your wrist when using smaller brushes. However, larger brushes might feel too heavy in your hands. There is almost no shedding, but these items might have an odor after you rinse them.
This is the finest set of wax brushes for chalk paint as I achieved the peculiar aged antique look, minimizing the mess.
Key specs
Quantity in set: 5.
Material: Natural.
Pros
Minimal hair loss.
Five brushes of various sizes to cover your painting needs.
A round brush shape for easier and faster paint application.
Cons
Larger brushes might feel too heavy.
You might feel an odor after rinsing the brushes.
Tatler & Tatum – budget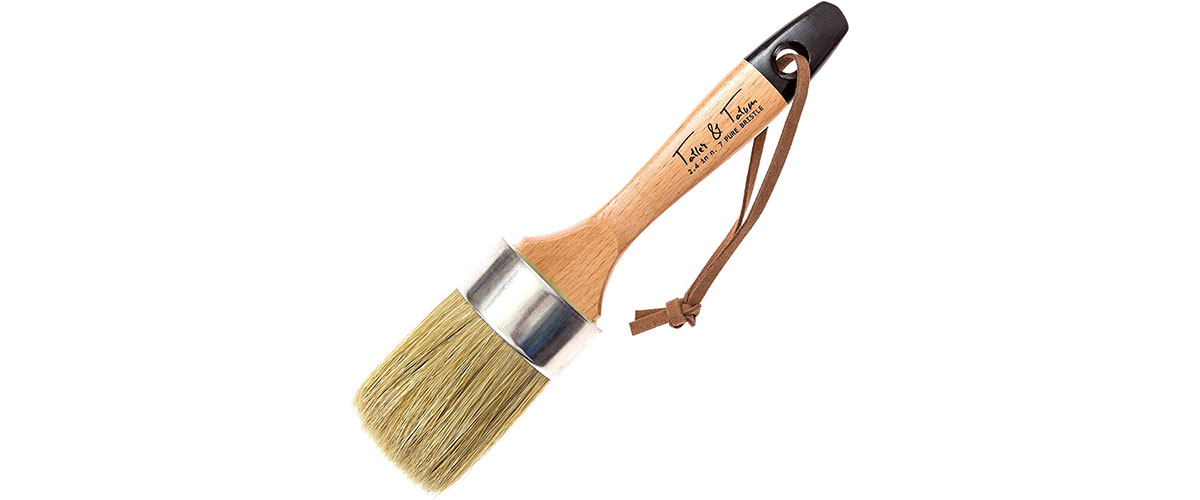 This Tatler & Tatum natural brush is made of twice boiled boar hair, so it holds even thick paints. 2.4-inch bristles are flexible and bouncy, allowing you to express your creativity neatly. The Tatler & Tatum's handle rests more conveniently in hand than the larger SMARTVISION brush. But if you got used to smaller brushes, this might be too heavy for you.
The bristles of this brush pick up a lot of paint, and the paint goes on smoothly, but it's slightly messy with wax – it just leaves bristles everywhere.
Tatler & Tatum is the best paint brush for chalk paint in the budget segment. There is minimal hair loss, but the painting results are amazing.
Key specs
Quantity in set: 1.
Size, inch/mm: 2.4/60.9.
Material: Natural.
Brush shape: Round.
Pros
Natural flexible and bouncy 2.4-inch bristles.
Round brush shape for smooth paint application.
Bristles pick a lot of paint and distribute it evenly.
Cons
Might be too heavy for people who use smaller brushes.
Slightly messy for wax.
Brossum XL – large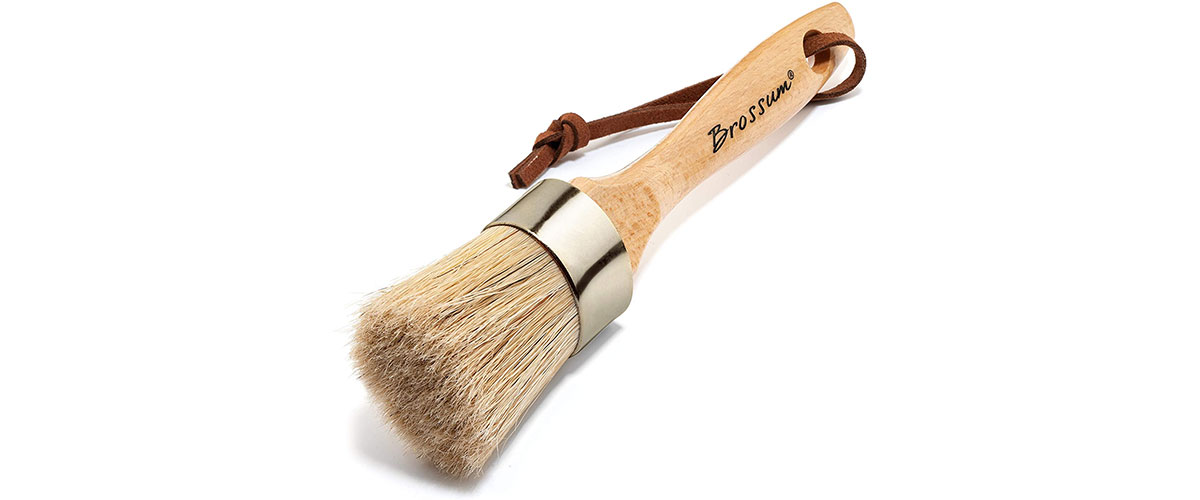 Honestly, this is one of my favorite brushes for cabinets. The 2-inch Brossum XL brush for chalk paint and wax is a great fit for large projects.
By holding natural boar hair bristles, this model will give your furniture a rustic look. The round brush shape is just what you need for easy and smooth paint application. A smooth wood handle will ensure you can work easily for hours.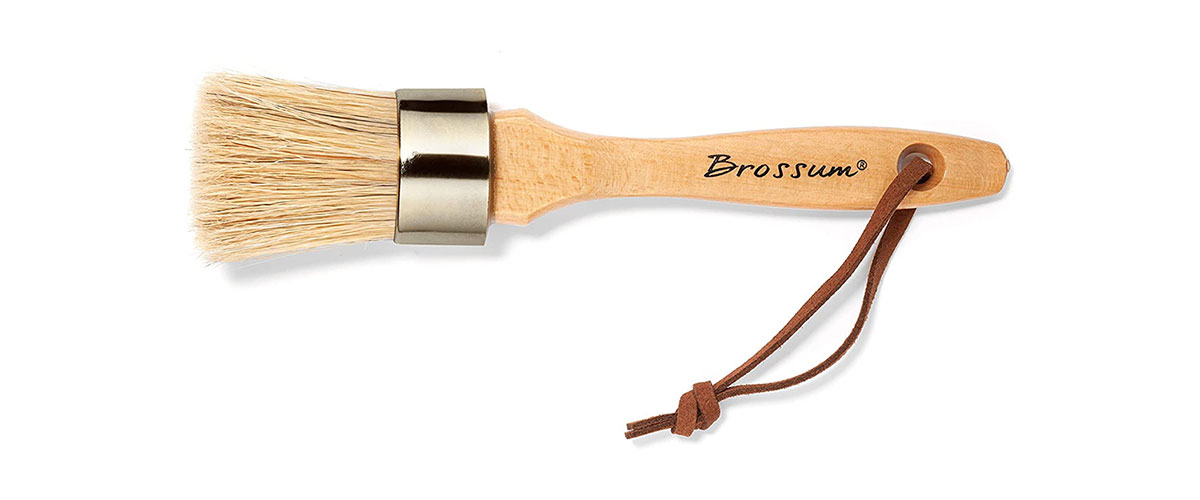 Unlike the Colorantic brush, the Brossum XL tool has a leather strap on the handle for effortless drying and storage.
The paint goes on really nicely, covering the surface perfectly, but in some cases, the bristle loss can be overwhelming. Despite that, this chalk paint brush for cabinets is a decent solution for large projects.
Key specs
Quantity in set: 1.
Size, inch/mm: 2.5/63.5.
Material: Natural.
Brush shape: Round.
Pros
Natural boar bristles for a natural furniture look.
XL brush size for painting large items.
Leather strap for easier storage.
Cons
May lose its bristles heavily.
Colorantic – small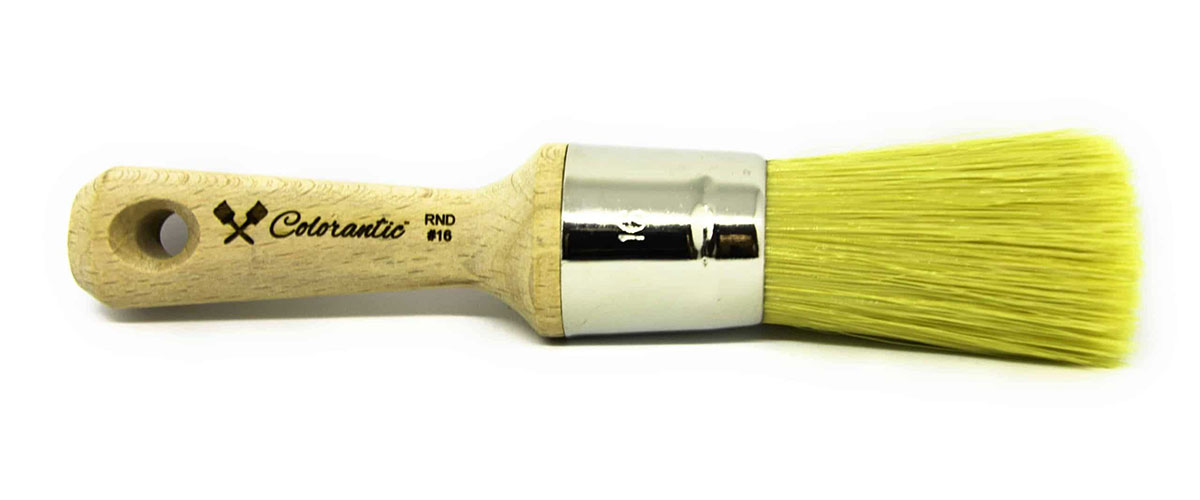 Have to deal with intricately designed furniture or would like to ensure better coverage of corners? This small Colorantic round cabinet paint brush with natural bristles will perfectly do this job.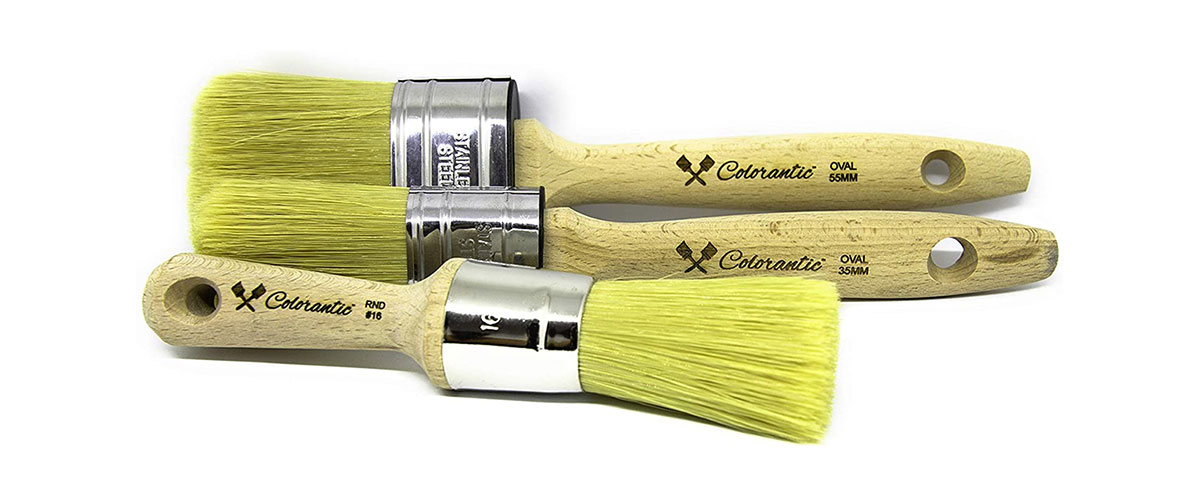 Featuring 0.6-inch long bristles, this furniture paint brush will perfectly do for chalk paint and wax at the same time. Unlike the Brossum XL's varnished handle, this one is just smoothly polished, meaning that it might get chipped over time. But since it's smaller, it is much easier to grip.
It picks up a lot of paint (sometimes even more than it can lay down), but all in all, it delivers minimal visibility in strokes. Overall, this is a great brush for chalk painting furniture, especially when you've got to use a small brush to dye the details of the large project.
Key specs
Quantity in set: 1.
Size, inch/mm: 0.6/16.
Material: Natural.
Brush shape: Round.
Pros
Minimal visibility in strokes.
Small brush size for painting tiny parts.
Lightweight and easy to grip.
Cons
The handle is not varnished – it might chip over time.
Sometimes picks up more paint than it can lay down.
FolkArt Home Decor – wide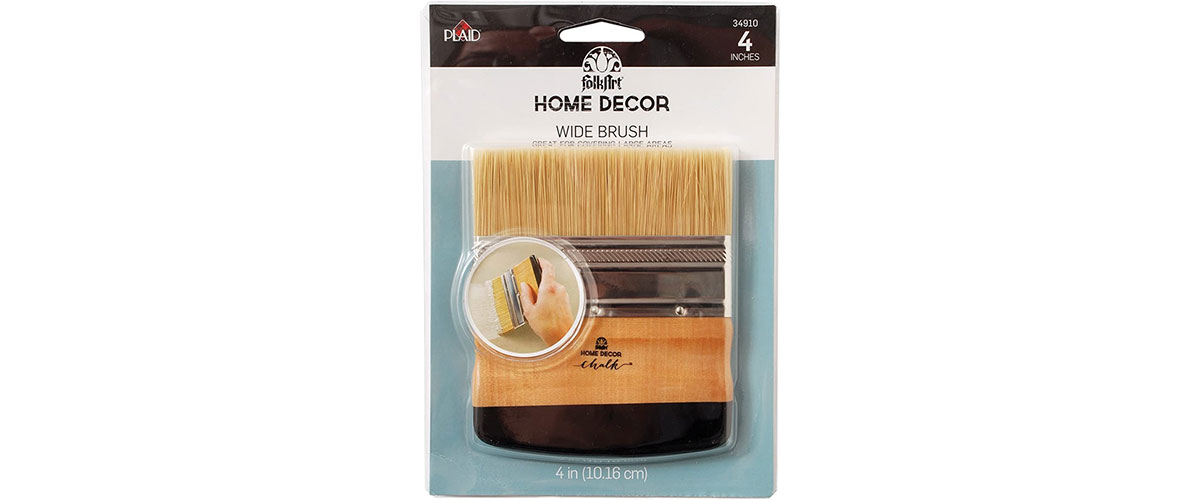 This 4-inch wide brush for chalk paint and wax is an amazing match for covering large areas with one stroke.
Unlike the round Brossum XL brush, this one has a flat bristle design, which will work great for blending and shading as well. Nylon bristles tend to shed less, and paint glides on smoothly. Since there is no traditional long handle, it's much easier to make strokes.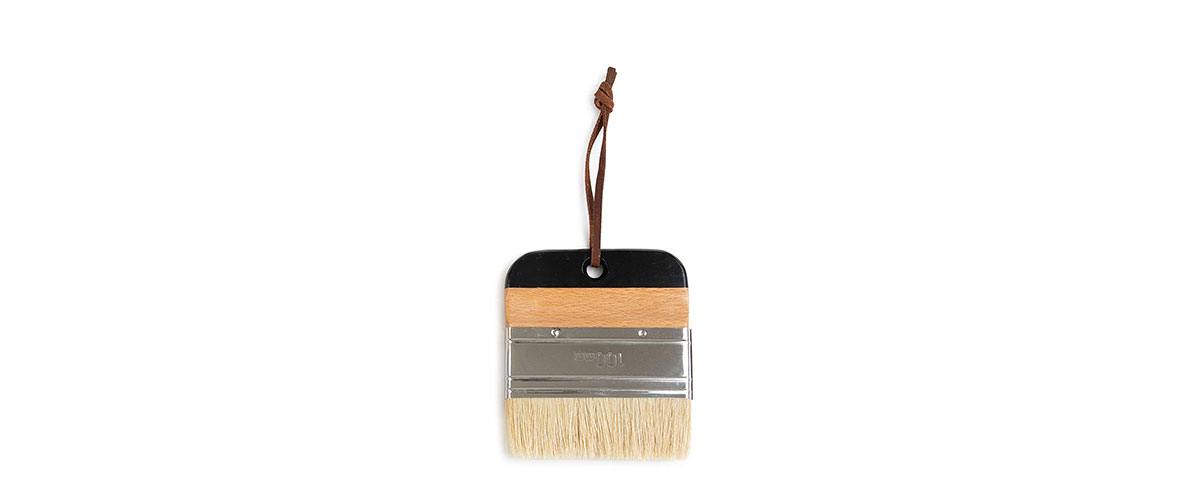 The only concern about this chip brush for chalk paint is that it won't last long (at least, that was the case for me). It just came undone after several uses.
So, due to the width, this FolkArt Home Decor brush will help you finish your furniture refreshing project millions of times faster.
Key specs
Quantity in set: 1.
Size, inch/mm: 4/101.6.
Material: Nylon.
Brush shape: Wide.
Pros
Extra wide for greater surface coverage.
No long handle – easier to make long strokes.
Bristles do not shed heavily.
Do you need a special brush for chalk paint?
There is no set rule stating what brush to use for chalk paint. But do not lose sight of the fact that the overall brush quality and the bristle type will affect the final result.
If you are interested in the excellent result, you should pay attention to the brushes with natural bristles. They are longer, smoother, and more flexible than synthetic alternatives, but some synthetic brushes will also do. Natural bristles are stiff enough to spread the paint evenly but are also soft enough to let chalk show through.
Chalk paint brush buying guide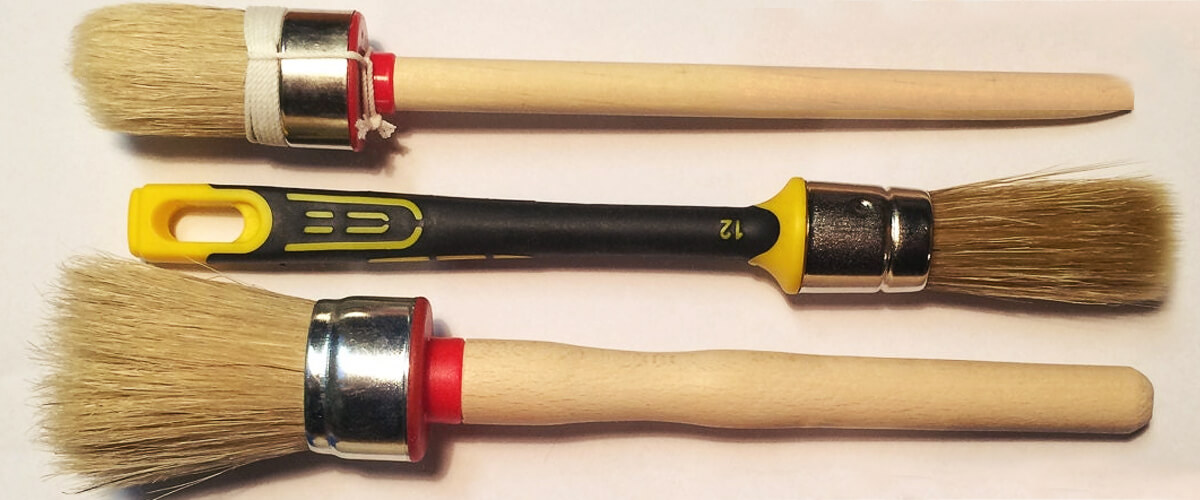 Brush shapes
A round chalk paint brush is the top-rate choice for this paint type. It helps achieve a clean and minimalist matte finish by giving you more control over how you lay on the paint. Besides, it prevents brush strokes and ensures a more even coat.
However, tapered or flat brushes will also work.
Tapered brushes have tapered tips, meaning that the central bristles are longer than the outside bristles. This shape allows you to gain more control over where and how much paint goes onto the surface without making a mess around. It's also a good choice for cutting in edges and corners.
Flat brushes are the common choice for covering large areas like walls or even large sides of the furniture.
Material of bristles: natural or synthetic
When picking a brush for chalk paint, you will come across natural and synthetic bristle materials.
Natural bristles are the best choice for chalk paint as they deliver a smooth textured vintage finish. They are moderately dense, ensuring the paint evenly covers the surface. These bristles are mainly made of the animals' hair like boars, hogs, badgers, and others. However, natural brush bristles are prone to shedding, so make sure you pick the one that doesn't shed much.
Synthetic brushes for chalk paint are frequently made of nylon or polyester. Thus, they are much easier to clean. Because they are stiffer than natural bristles, they might leave minor brush marks on the surface. They tend to hold and release more paint than natural brushes, so they are perfect for large projects.
Brush width
You can find paintbrushes of different width options, but the most common range is between 1 to 5 inches. Larger brushes will cover wide areas, which is handy when renovating huge furniture units or repainting walls. A smaller brush will make it easier to work with more delicate and textured surfaces for better paint application and coverage.
How to clean and maintain a chalk paint brush?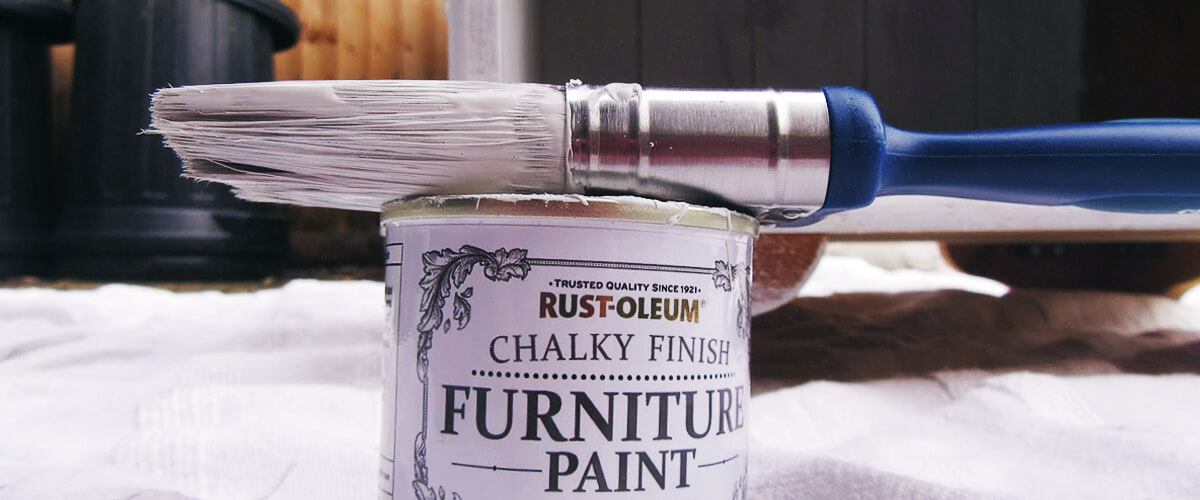 Chalk paint brushes require the same maintenance as regular brushes. Luckily, chalk paint is fairly easy to clean, so you won't have any issues. Just rinse the brush with warm water until it looks clean. If paint sticks to the brush heavily, you can use mild soap. Then, let the tool dry by hanging it with bristles facing down. Get more brush cleaning tips by jumping into this article.
What are the advantages of using chalk paint?
There are many reasons people choose to use chalk paint. Each of these contains its own benefits, from being able to paint without prep work, covering up imperfections on furniture or walls, not requiring waxing, and using soap and water to clean it.
Chalk paint is very easy to use. Chalk paint can be applied directly onto surfaces like wood, metal, concrete, and terra cotta. Most of the time, no sanding or priming is required, which means you can save money on paint and get painted surfaces quickly using chalk paint.
Chalk paint is also non-toxic, meaning it doesn't give off fumes while it's drying as other paints do. This is beneficial if you have children or pets around.
Chalk paint can be cleaned with just soap and water. This eliminates the need to use chemical cleaners to clean up after painting. It also means that an environmentally friendly product has been used for your home improvement project.
Another benefit of using chalk paint is that it comes in a few different finishes. It can be glossy or matte or have an aged look, which creates a unique style for your project.
Many people love the consistency of Chalk Paint as well. It's thick enough that it doesn't drip off furniture like many other paints do but not so thick that it doesn't cover surfaces well or dry quickly.
It also avoids peeling and cracking that is common with other paints.
Chalk paint covers well, but it's not the best at hiding surface imperfections such as scratches or dings in wood furniture. If you want to use chalk paint on surfaces like these, make sure to sand them down properly before applying the paint.
FAQ
Can I use foam brushes for chalk paint?
Yes! Foam brushes are great for applying chalk paint evenly. You can purchase them in packs of assorted sizes or just by the brush at your local hardware store.
How do you get a smooth finish with chalk paint?
The smoothness of chalk paint depends on the type and amount of chalk in the paint. For example, an aged finish will be rougher than a glossy smooth one.
To get a smooth finish to apply multiple coats, sanding lightly between each coat to ensure that your surface is level with the previous layer before applying the next one.
How do you prevent brush strokes when using chalk paint?
You can prevent brush strokes by making sure your paint is properly mixed and that you're using an appropriate brush.
If you see brush marks on the chalk paint, it is because the chalk is not completely mixed with the paint or too much water has been added. Make sure to mix well before applying and add less than one ounce of water to one quart of paint.
How do you remove brush marks from chalk paint?
You can remove brush marks by sanding the surface and starting again. If you don't want to re-paint the entire surface, take high grit sandpaper (400+) and lightly sand over the area with the brush marks. Please make sure not to apply too much pressure or go over it too many times, as this will create more work for yourself.
Why does my chalk paint look streaky?
When chalk paint looks streaky, it means that the surface you're painting is not level. If your walls aren't straight or there are bumps and swirls in concrete, then this will cause the chalk paint to dry unevenly and look like this.
To solve this problem, make sure to sand down any imperfections before applying multiple coats of chalk paint; if you're having trouble getting a smooth finish, consider using epoxy paint. It applies very smoothly and is usually much less expensive than chalk paint.
How long does chalk paint need to dry between coats?
Most chalk paint only needs an hour or two to dry between coats. However, high-quality paints can take up to 24 hours before applying the next coat.
How long should chalk paint dry before waxing?
You should let chalk paint dry for at least 48 hours before adding wax. If you add wax earlier than this, it will not adhere to the surface well and might flake off.