Applying a special sprayer is the most effective and comfy way to paint a fence. Such a tool will save you a lot of time and effort, and, in the end, you will be satisfied with a smooth and even finish. But how to choose the best paint sprayers for fences?
In this article, I'll explore a variety of features that matter most when choosing a sprayer for fence stain. From adjustable spray patterns and nozzle options to tank capacity and ease of cleaning, I'll break down the nitty-gritty details to ensure you're armed with all the knowledge you need before making your investment. No more guessing games – just a straightforward, comprehensive review of the top paint sprayers for staining fences.
Our pick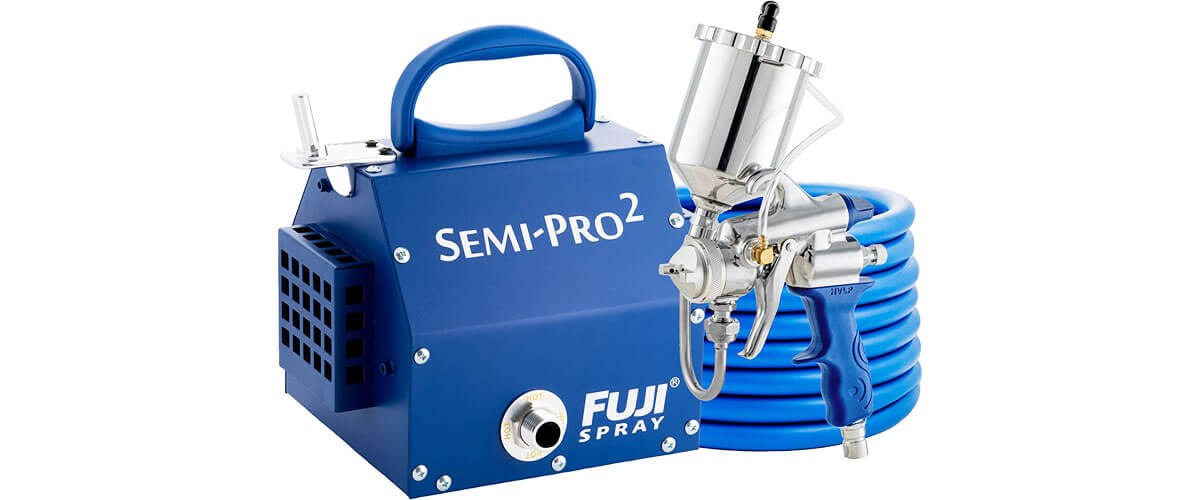 Fuji Semi-PRO 2
Best fence stain sprayer
The Fuji Spray Semi-PRO 2 Model is ideal for spraying furniture pieces, cabinets, walls, ceilings, doors, fences, and shutters.
Read the full review.
Fence stain sprayer comparsion table
Name
Material
Tank capacity, qt
Pressure, psi
Hose Length, feet
Review
Fuji Semi-PRO 2

best overall

Metal, Plastic
1
5
25
Review
Wagner Control Spray Max

budget pick

Metal, Plastic
1+1,5
5
20
Review
Graco Magnum X5

for professionals

Stainless steel, Plastic
20
3000
75
Review
How to choose a fence stain sprayer?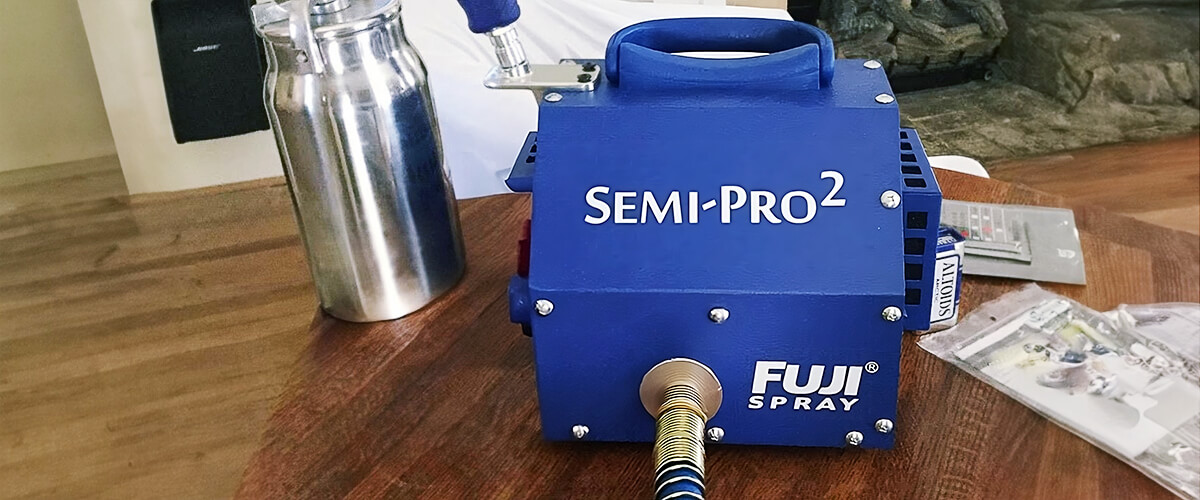 Paint sprayer types
There are two main types of fence paint sprayers – high volume low pressure, and airless ones. Each model has its own pros and cons.
HVLP sprayer
Are you a newcomer to the realm of paint sprayers? If so, the HVLP sprayer is your ideal starting point. Its user-friendly nature and forgiving application make it a fantastic choice for beginners. You'll quickly grasp the basics of handling a paint sprayer while also enjoying the satisfaction of achieving stunning outcomes from the get-go.
This type of sprayer is based on compressed air that activates the stain to spread it on the surface. Such a tool is ideal for smaller jobs that require a detailed finish. Even though it is slower than an airless analog, it minimizes overspraying and saves paint.
Airless sprayer
When it comes to airless stain sprayers, they do not require compressed air but use material pressure instead. Typically, it is a pump or an engine that places the stain under pressure, thus transforming it into a spray. By the way, many professionals prefer airless sprayers because they are much faster than other models.
Airless stain sprayers come in a variety of forms tailored to your staining endeavors. There are the trusty handheld units – those compact companions perfect for tackling smaller tasks with finesse. And then we have the heavyweight portable version, ready to tackle more ambitious staining projects. Their main disadvantage is overspray, which is usually justified by the tool's efficiency, especially in large projects.
Coating compatibility
Ideally, a modern paint sprayer for decks and fences should be compatible with various types of stains. This coating compatibility is achieved owing to nozzles of different sizes. Some sprayers include only small nozzles, while others come with a set of nozzles for each particular job. Since fence paint is quite a thin material, it generally requires a small spray tip. Such a nozzle permits applying the stain evenly and reduces the waste of paint.
Various spray patterns support
You can cope with dozens of painting projects owing to various spray patterns. Typically, you can pick a round, vertical or horizontal pattern. However, having an opportunity to switch the pattern will save time, effort, and even money since it minimizes overspray.
Sprayer capacity
You can pick a paint cup of a different volume depending on the amount of work that you have to complete. It goes without saying that bigger cups are heavier, especially when filled with paint. Commonly, you will require a bigger cup when it comes to painting fences. Moreover, larger volumes save the time needed for refilling the cup with paint.
How I tested stain sprayers for fence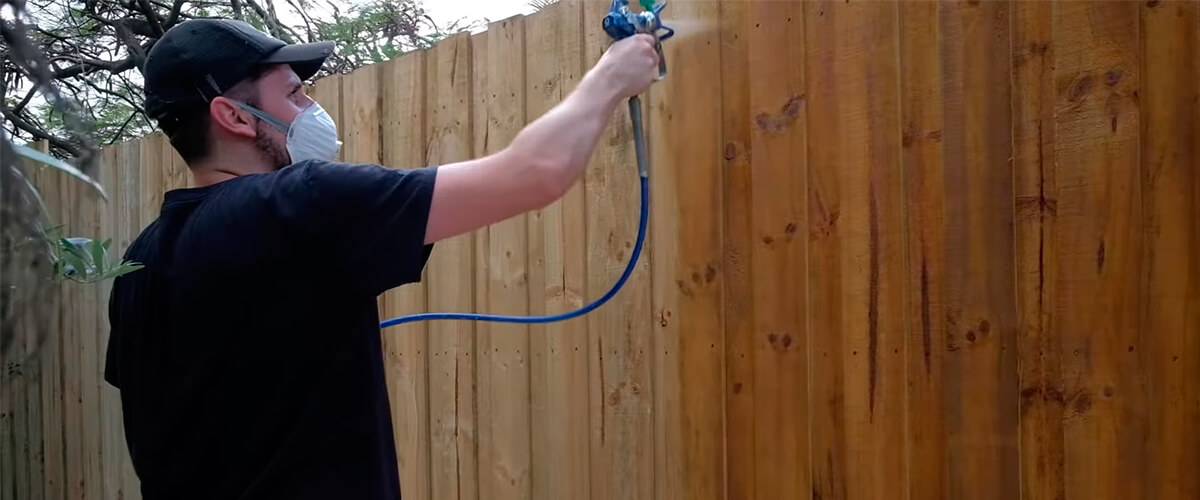 I tested all the models of stain sprayers described in this review while painting a wooden fence in my yard to find the best stain sprayer for a fence. The first step was to prepare the area and protect the trees and grass from stains. Then I tried each model and used different nozzles and patterns to alter the speed and check the paint waste.
After days of thorough testing, I gathered my notes and impressions. Each sprayer had its unique strengths – some were like precision artists, while others were the speed demons of the staining world. I weighed the efficiency against the potential for overspray, considering how these factors might play out in different scenarios.
Best fence stain sprayer reviews
HVLP paint sprayers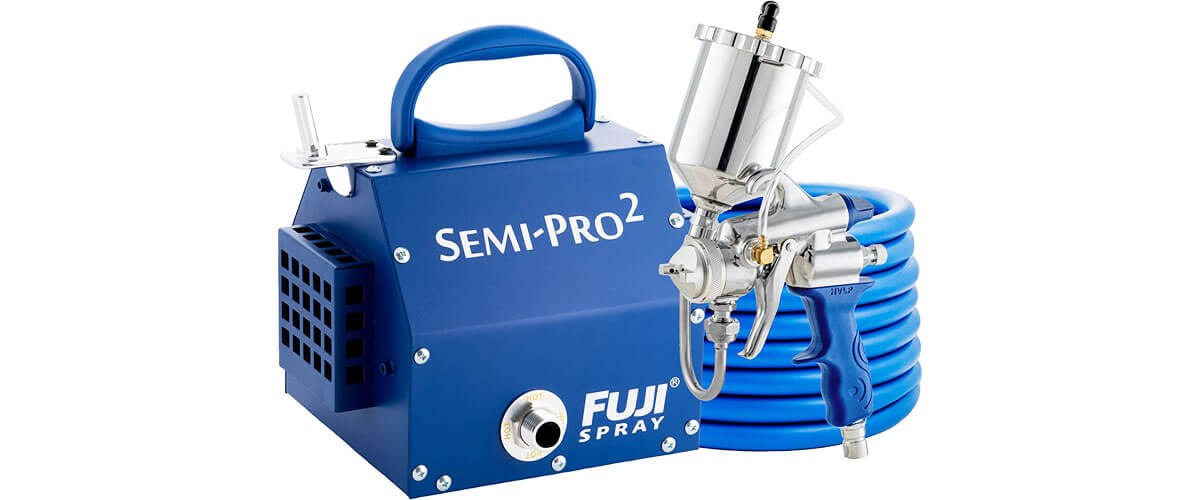 If you are not a professional and looking for your first electric sprayer, have a look at Fuji Semi-PRO 2. It is an HVLP non-bleed spray gun with a powerful 1400-watt 2-stage motor in a metal turbine case. It is manufactured to apply paint on ceilings, walls, doors, fences, etc.
One of the advantages of this model is a long 25ft Hi-Flex hose that includes a built-in air control valve to minimize the waste of paint. With this sprayer, you have an opportunity to apply horizontal, vertical, and circular patterns for enhanced precision. Moreover, the tool's durability is achieved due to the stainless steel nozzle and needle.
Compared to Wagner Control Spray Max, the Fuji sprayer is significantly heavier because of its metal details. On the other hand, the analog features plastic details that are lightweight and easy to break.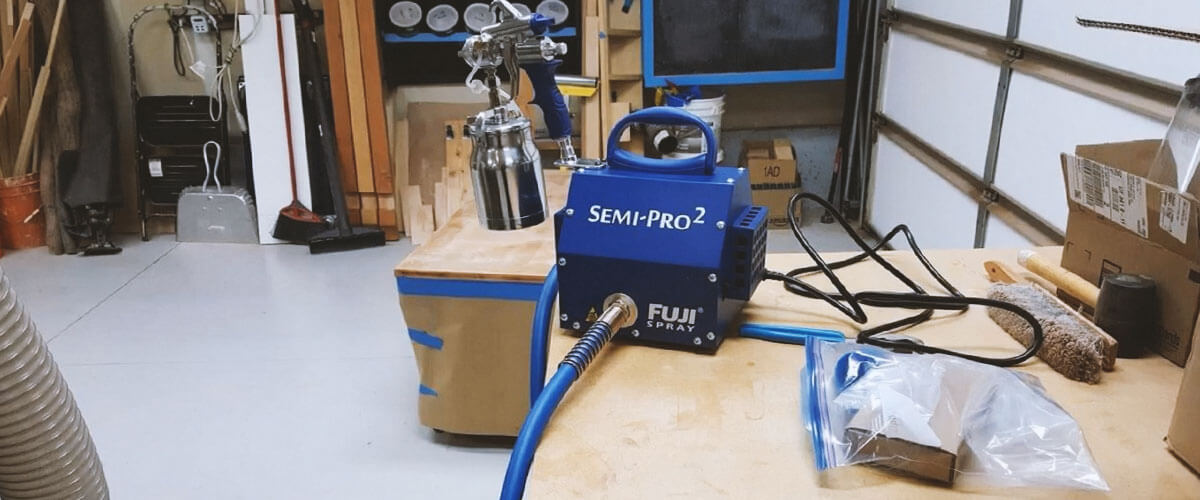 The manufacturer states that you can apply different types of paint with this sprayer due to multiple air cap sizes. I used Fuji Semi-PRO 2 to apply the stain on my wooden fence, and the tool coped with the task perfectly. It features an ergonomic grip, does not cause hand fatigue, and leaves a flawless finish. The sprayer is easy to control and adjust, and the overspray is minimal.
However, let's acknowledge that no tool is without quirks. While the turbine's vigor is commendable, its boisterous noise might be a point of consideration. Additionally, extended usage tends to heat up the turbine, warranting short breaks to prevent overheating.
In general, Fuji Semi-PRO 2 is the best fence stain sprayer that will serve you for years. It is well-built, sturdy, easy to clean, and ideal for versatile painting tasks.
Key specs
Material: Metal, Plastic.
Tank capacity, qt: 1.
Pressure, psi: 5.
Hose Length, feet: 25.
Power Source: AC/DC.
Pros
A powerful 1400 watt 2-stage motor.
Ideal for all kinds of paint.
Comes with multiple air cap sizes.
Includes a long 25ft hose.
Cons
The turbine is pretty loud.
May get hot during prolonged operation.
Wagner Control Spray Max – budget pick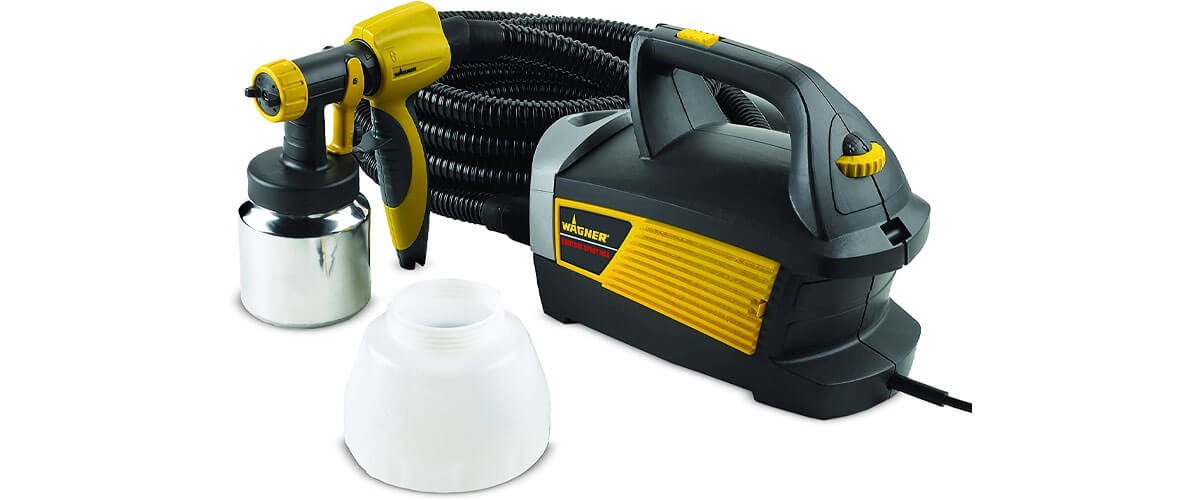 If you want a decent quality sprayer but your budget is limited, rivet your attention to Wagner Control Spray Max. It is a portable tool suitable for painting fences, door trims, decks, wooden furniture, etc. The sprayer has a powerful two-stage turbine with a power adjustment feature. Thanks to the pressure control dial and material flow control, you will get a consistent finish no matter which paints you use.
The kit includes a 1 ½ qt. cup for larger projects and professional grade metal 1 qt. cup for precise jobs. In addition, the pattern adjustments can be horizontal or vertical and wide or narrow.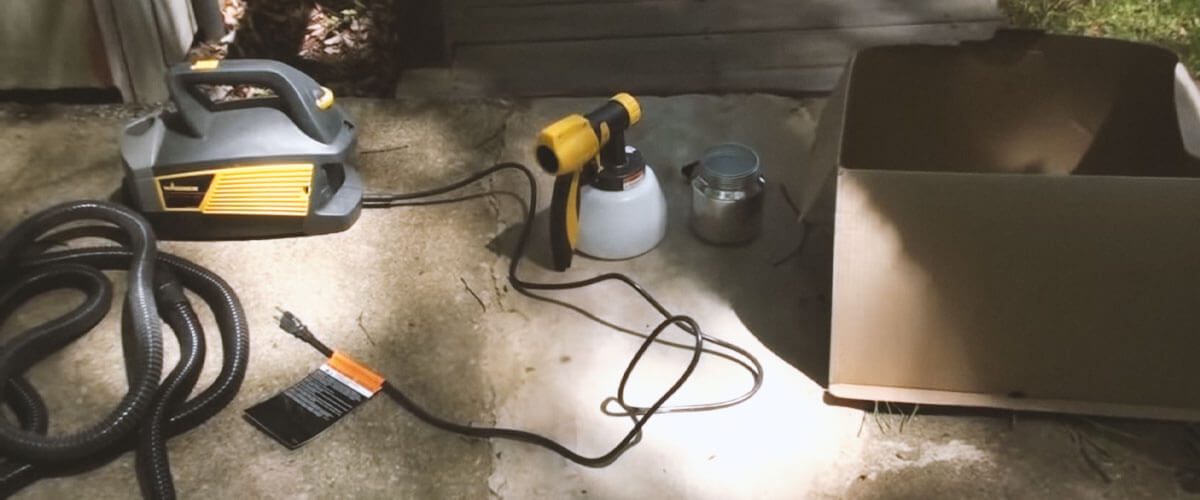 Compared to Fuji Semi-PRO 2, it comes with a shorter 20ft hose, while the analog features a 25ft hose. Yet, it is significantly lighter than the analog and weighs only 11 pounds compared to Fuji's 25 pounds.
I think the sprayer is easy to assemble, use, and clean even when you hold such a tool for the first time in your life. The plastic details look a bit cheaply built, but they do not affect the quality of work. After all, the coverage was good, the quality of the finish was fantastic, and it saved a lot of time and money with minimal overspray.
All in all, Wagner Control Spray Max is a great sprayer for staining fences. Being significantly cheaper than analogs, this model is a decent purchase owing to its versatility and ease of use.
Key specs
Material: Metal, Plastic.
Tank capacity, qt: 1+1,5.
Pressure, psi: 5.
Hose Length, feet: 20.
Power Source: AC/DC.
Pros
Suitable for various types of paint.
Comes with 2 cups for larger and smaller projects.
Features pressure and material flow control.
Easy to assemble.
Cons
Plastic details look cheap.
Airless paint sprayers
Graco Magnum X5 – for professionals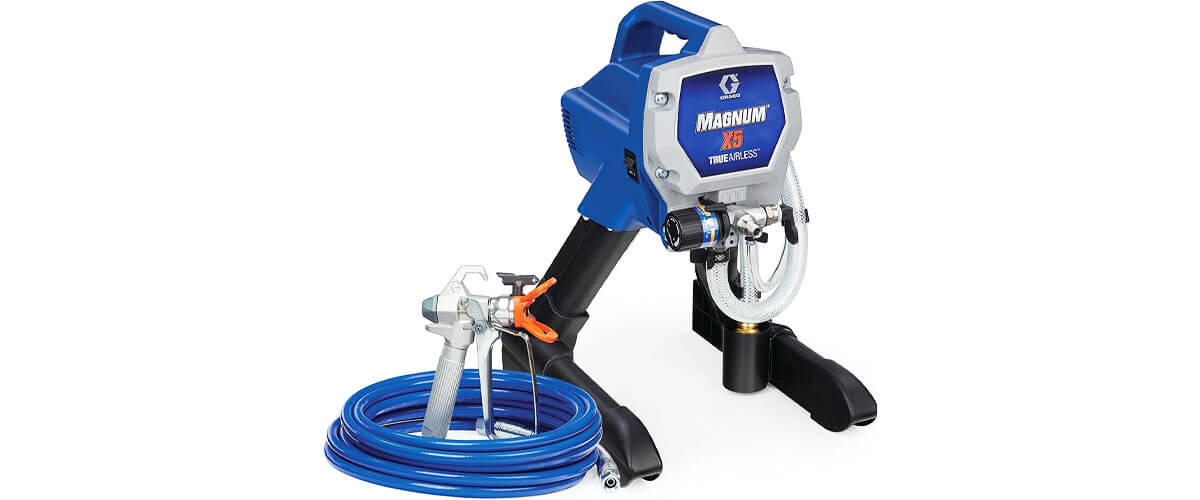 If you want to have your fence painted within a short timeframe, you will definitely want to purchase Graco Magnum X5. This airless sprayer is suitable for big indoor and outdoor projects, including painting decks, fences, sidings, and even small houses. The tool comes with a hardened stainless steel piston pump that allows you to adjust the pressure and alter the paint flow.
Magnum X5 includes a flexible suction tube that allows applying the spray straight from 1 or 5-gallon paint containers. In addition, the sprayer can support up to 75 ft. of paint hose, providing you with extra mobility at the workplace. You will be able to reverse the RAC IV 515 switch tip when clogged for non-stop spraying.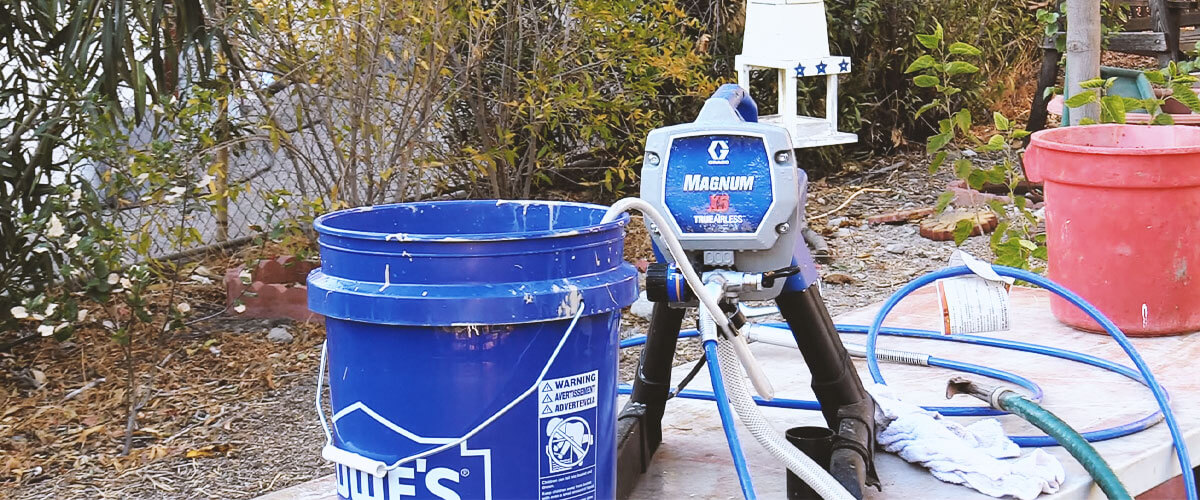 Compared to Wagner Control Pro 130, this tool is extremely easy to clean. You can simply connect it to a garden hose and have it cleaned within minutes. While the analog features less paint waste, this sprayer proves to be more efficient.
In my opinion, this sprayer is designed for professional use. It can cope with a large project quickly, and you will get a great finish. But be prepared that it will use more paint, as the overspray is significant. Moreover, you might need more time to prepare the painting area and clean the machine than the painting itself will take.
All flaws aside, Graco Magnum X5 is the best airless sprayer for stain due to its durability, lightweight, sturdy design, and ease of use.
Key specs
Material: Stainless steel, Plastic.
Tank capacity, qt: 20.
Pressure, psi: 3000.
Hose Length, feet: 75.
Power Source: AC/DC.
Pros
Adjustable pressure and flow control.
Suitable for continuous use.
Easy to clean with a garden hose.
Ideal for large projects.
Wagner Control Pro 130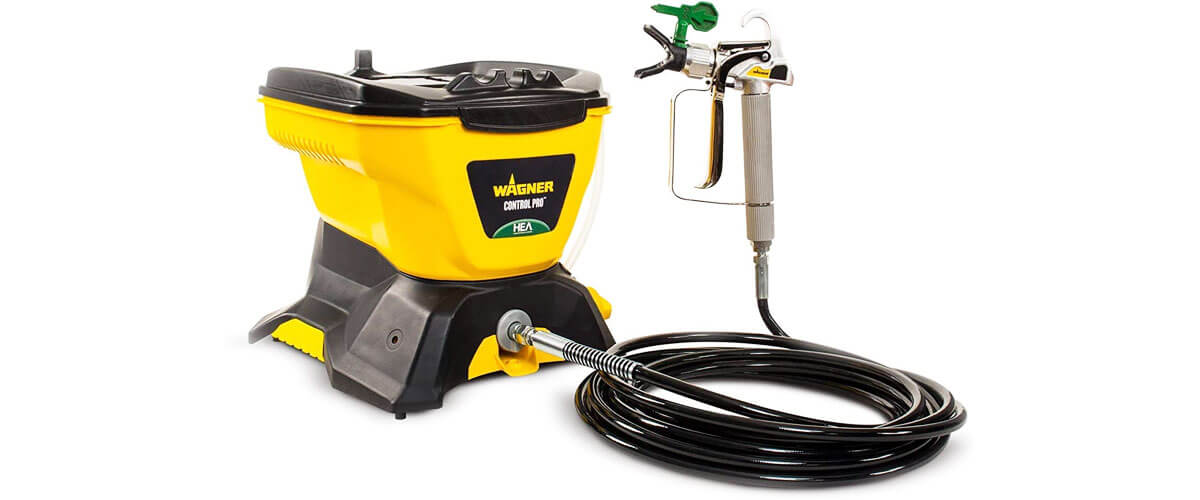 In case you require a universal airless sprayer for versatile unthinned materials, take a look at Wagner Control Pro 130. This model is appropriate for bigger jobs like staining garages, houses, fences, decks, etc. The item features high-efficiency airless technology, reducing the paint waste up to 55% and delivering a smooth finish.
You will like the design of this tool because it is extremely practical. The container comes with integrated handles and is comfortable enough for the gun and hose storage when not used. You can spray right from the 1.5-gallon can with a 25ft hose that provides extra maneuverability.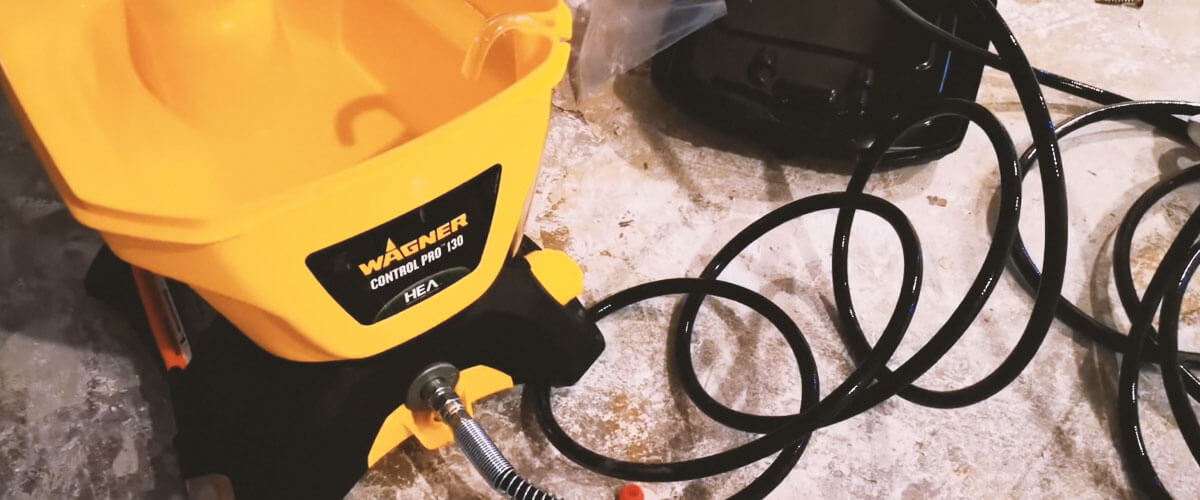 From my point of view, this sprayer is a bit slower than Graco Magnum X5, but at the same time, it uses less paint. While the analog is meant for professional use, this model is rather for DIY projects as it is less sturdy.
The system may get clogged from time to time, causing minor inconveniences. However, what I found really irritating was how long it took to clean the system after the painting job was done.
As you can see, Wagner Control Pro 130 is a decent purchase for the money. It is really quick, features a little overspray, and is easy to store.
Key specs
Material: Metal, Plastic.
Tank capacity, qt: 6.
Pressure, psi: 1600.
Hose Length, feet: 25.
Power Source: AC/DC.
Pros
Suitable for various unthinned materials.
Shows reduced overspray.
Practical design.
Cons
Cleaning up takes too long.
May get clogged.
FAQ
Is it better to spray or roll fence paint?
Each method has its advantages and some disadvantages. For example, spraying paint usually results in a more even coat, while rolling requires more time and muscle power.
Do I need to dilute fence paint for spraying?
It all depends on the paint you are working with and the device itself. That's why some paints can be
thinned
, and some can be used at once.
How do you stop overspray when painting a fence?
One way to stop overspray when painting a fence is using a tarp or plastic sheeting. This will help to contain the paint and prevent it from spreading to other areas.
Can you use a garden sprayer to spray stains on a fence?
While garden sprayers can be used to spray stains on a fence, it is not the best tool for the job. A garden sprayer produces a lot of pressure and can quickly spread the stain across a large area. This may not be what you want when trying to target a specific spot on the fence.
Therefore, using a tool specifically designed for this task is better.