A backpack sprayer is an indispensable tool for pest-control specialists, gardeners, landscapers, and homeowners looking for a convenient way of applying fertilizers, herbicides, insecticides, fungicides, and many more types of chemicals. While there are various types of these devices, battery-powered ones give their owners the advantage of the ease of use. In addition, battery-powered devices make your life much easier by reducing the need to manually pump up the pressure or drag the cord behind you wherever you go. However, with so many available options, it can be hard to find the best battery-powered backpack sprayers.
Our pick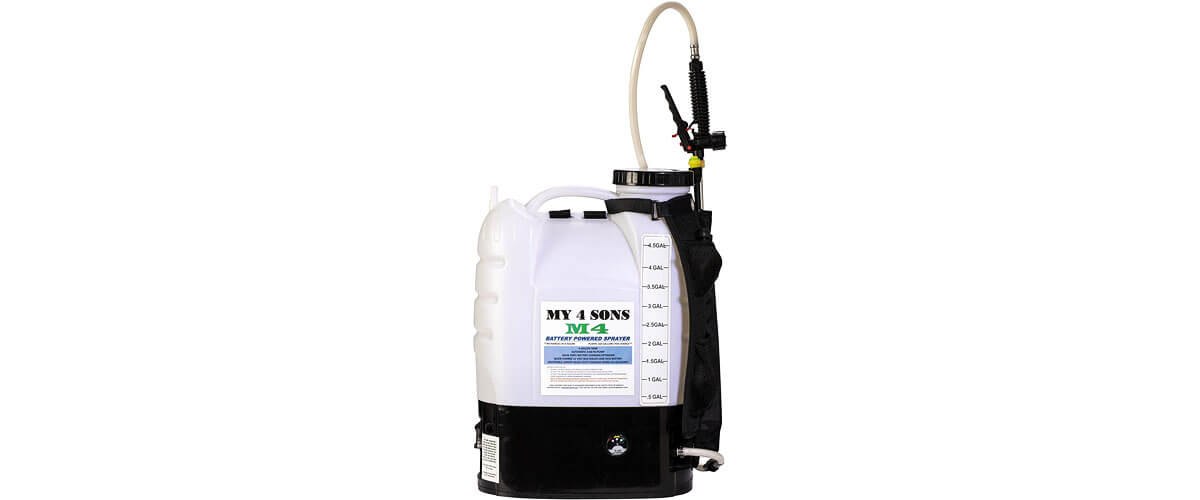 MY 4 SONS M4
Best battery-powered backpack sprayer
The M4 Automatic Battery-Powered Backpack Sprayer is designed to be versatile, durable, modular, and easy to use. Say goodbye to manual pumping forever!
Read the full review.
Therefore, I've put together this review to weed out products worth your attention. I've tested dozens of backpack sprayers, and now I present the ones that stood up to the expectations and proved to work great. So, stick with me, and you will get tips on what features to consider when you search for an optimal backpack sprayer.
Battery-powered backpack sprayers comparison table
Name
Material
Tank capacity, gallon
Pressure, psi
Spray time, hours
Spray distance, feet
Review
MY 4 SONS M4

best overall

Stainless steel, Plastic
4
20-60
6-8
30
Review
Chapin 63924

budget

Polypropylene, Plastic
4
34-45
2
25-30
Review
FlowZone Typhoon 2.5

premium pick

Polypropylene, Plastic
4
8-115
3
30
Review
Field King 190515

also a great choice

Steel, Plastic
4
35-40
4
25-30
Review
What to look for when choosing battery backpack sprayers?
Pressure rating
The amount of pressure the backpack sprayer produces through its nozzles is usually measured in pounds per square inch (PSI). This parameter is essential for an effective sprayer operation. When the pressure is too low, the tool won't be able to produce an even spray of its contents. At the same time, a too-powerful sprayer will generate an excess of mist, which may be redundant for smaller yards. The average pressure level for a battery-powered garden sprayer is 70 PSI. The smallest models can have as little as 40 PSI, while commercial or professional sprayers will deliver around 150 PSI.
So, you may consider a device with more than 70 PSI when you have a large yard with many hard-to-reach areas. In case you have a small or mid-sized yard, you will be more than satisfied with a rating between 40-70 PSI.
Battery life
The greatest advantage of a cordless backpack sprayer is that you can use it freely without the hassle of dealing with cords and manually pumping up the pressure. However, checking whether the battery lasts long enough to let you work in the garden or yard without interruptions is important. Therefore, I recommend considering the sprayer with a battery that can last at least a few hours.
Tank capacity
You can find backpack sprayers with a tank capacity ranging from 2 to 7 gallons. Which option will work better for you depends on the usage scenarios. Consider a medium-sized tank (4 gallons) for domestic use. A smaller-capacity sprayer (2 gallons) will totally satisfy your needs if you have a small yard or garden. If you are looking for a professional backpack sprayer for commercial use, you will come across options with large tanks (5-7 gallons) with a wheeled cart to let you move it around.
Spray distance
The spray distance varies among backpack sprayers. You are more likely to find tools with a spray range from 10 feet to 30 feet. The further the item sprays, the easier it will be to cover hard-to-reach places and spray the large area in one go.
Spray nozzles
Different types of nozzles offer various spraying modes and patterns. The nozzle can make a difference depending on what type of work you perform. So, if you plan to use the backpack sprayer in multiple ways, it is better to look for options with several nozzles.
Best battery-powered backpack sprayer reviews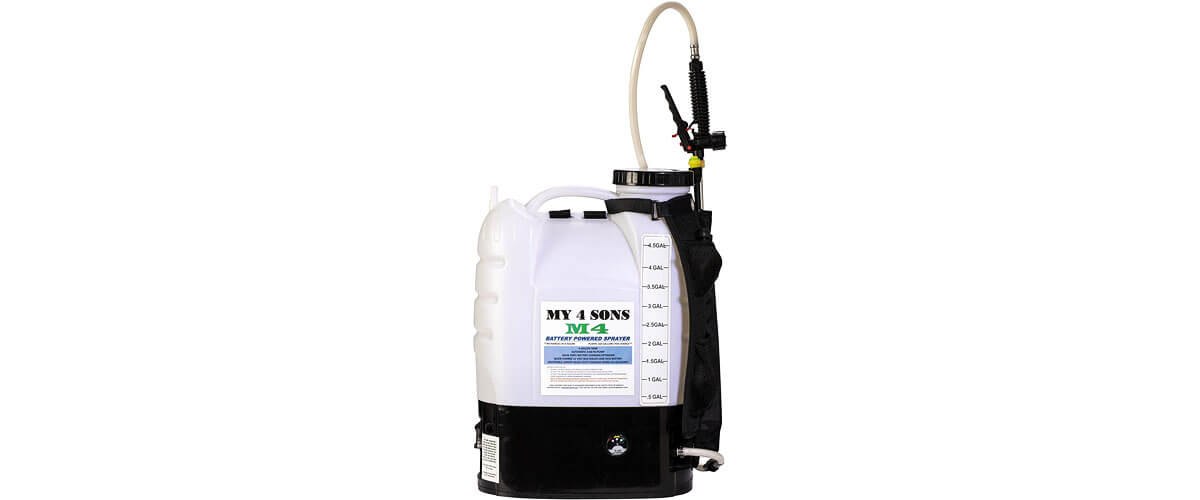 Meet MY 4 SONS M4, one of the most powerful backpack sprayers that offers great control and reliability for a wide range of your spraying needs.
Its lead-acid battery delivers 6-8 hours of operation on a single charge, which is around 200 gallons. This is four times more than in Chapin 63924, allowing you to work for extended periods. The battery is standard, so you can find one for a replacement pretty easily in local stores. Also, the battery comes out easily to be recharged with an included charger.
This battery-operated sprayer has a variable pressure switch, so you can choose between 20-70 PSI. This is an optimal range to ensure even spraying. In addition, it easily sprays 30 feet, letting you cover a larger area with less effort.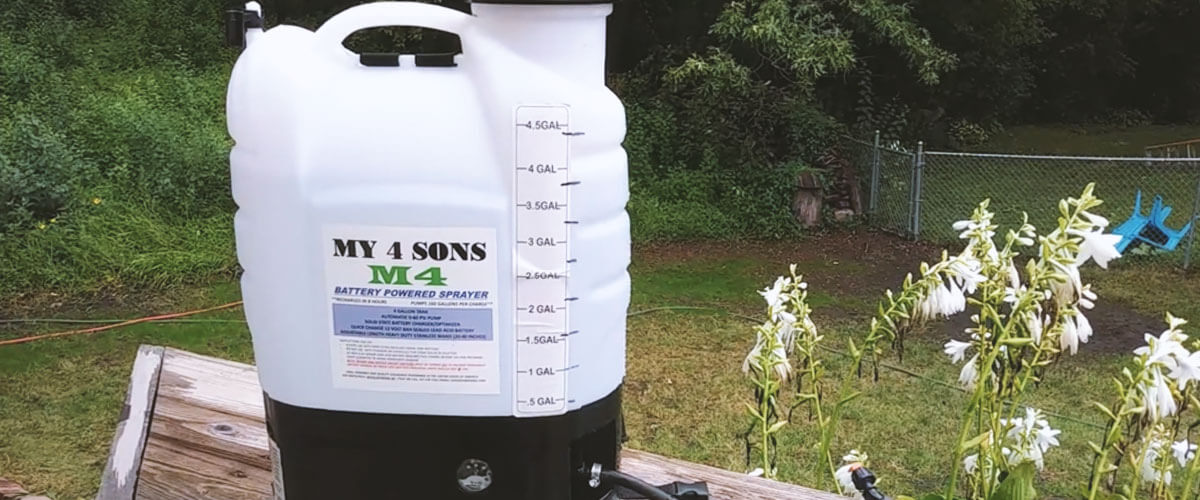 Thanks to a wide lid, you can effortlessly refill the tank, while the filter will keep the dirt and debris away. Also, there are pockets for wands and accessories. The thick straps are comfy and soft, so do not rub your shoulders.
I like that MY 4 SONS M4 comes with a variety of nozzles. However, some nozzles with a lot of back pressure resulted in a slight leakage of the plastic wand.
It is a well-engineered and well-built machine that will satisfy your needs. MY 4 SONS M4 is the best battery-powered backpack sprayer that covers a large area and lasts longer than average cordless devices.
Key specs
Material: Stainless steel, Plastic.
Tank capacity, gallon: 4.
Pressure, psi: 20-70.
Spray time, hours: 6-8.
Spray distance, feet: 30.
Pros
Works 6-8 hours on a single charge.
An automatic 20-70 PSI pump with adjustable pressure output ensures even spraying.
A variety of nozzles for different spraying patterns.
Doesn't rub or hurt shoulders.
Cons
Some nozzles cause the plastic wand to leak.
Chapin 63924 – budget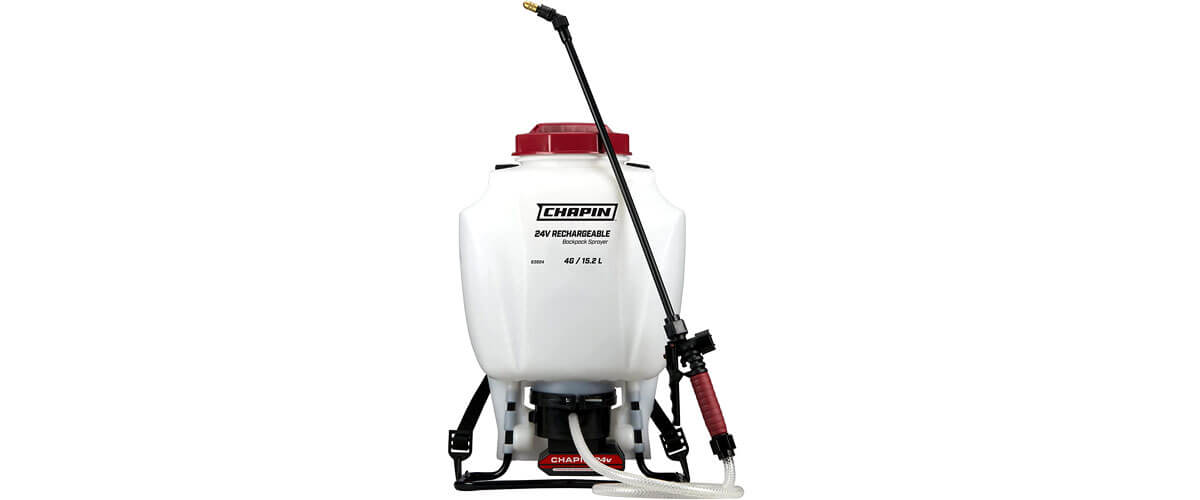 When you appreciate mobility, the Chapin 63924 backpack sprayer is a product you should pay close attention to. It weighs less than MY 4 SONS M4, so it will provide comfort as you work.
This machine features a 24-volt lithium-ion battery that ensures two hours of uninterrupted work. It allows you to spray up 58 gallons (220 liters) on a single charge. The 4-gallon (15 liters) translucent tank is enough to ensure you avoid frequent refilling. As Chapin 63924 extracts 35-40 PSI of even and pretty strong pressure, you can expect it to spray out even the last drop from the tank.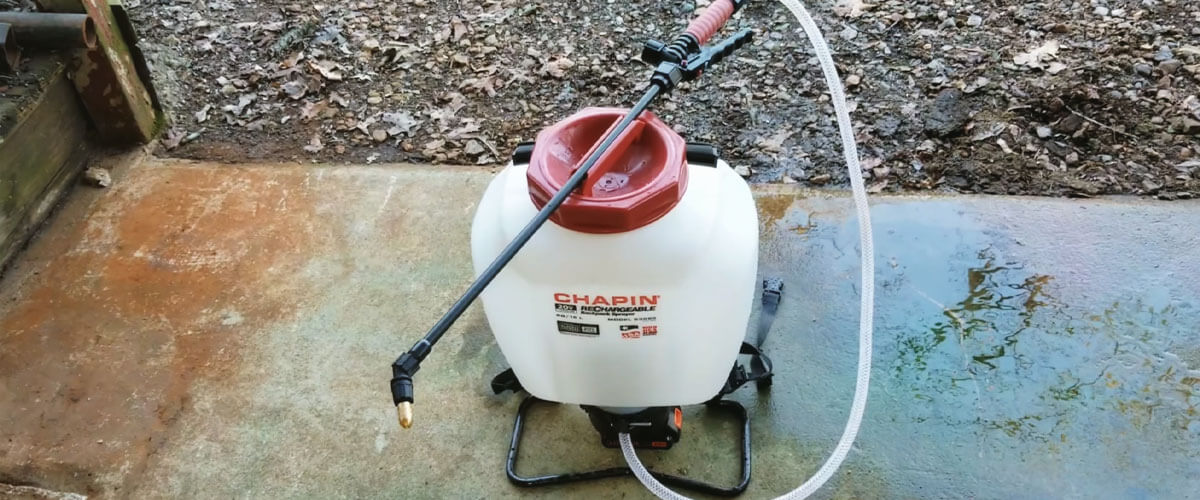 I like the wide opening for easier filling and cleaning. With the metal base rails, you can keep the sprayer upright on its own. As you put this product on your back, your shoulders won't hurt because of the padded straps. However, I wish the hose could be a bit longer. An extra 1-2 feet would make a great difference.
Without a hint of hesitation, I add Chapin 63924 to the list of the best battery backpack sprayers that provide good productivity for the money. It conveniently sits on your back, doesn't leak, and produces a consistent, strong mist without costing you a fortune.
Key specs
Material: Polypropylene, Plastic.
Tank capacity, gallon: 4.
Pressure, psi: 35-40.
Spray time, hours: 2.
Spray distance, feet: 25-30.
Pros
Allows you to spray 58 gallons (220 liters) within two hours.
A 4-gallon tank prevents frequent refilling.
With 35-40 PSI, you can expect good and even pressure.
Easy to fill and recharge.
Cons
The hose could be a little bit longer.
FlowZone Typhoon 2.5 – premium pick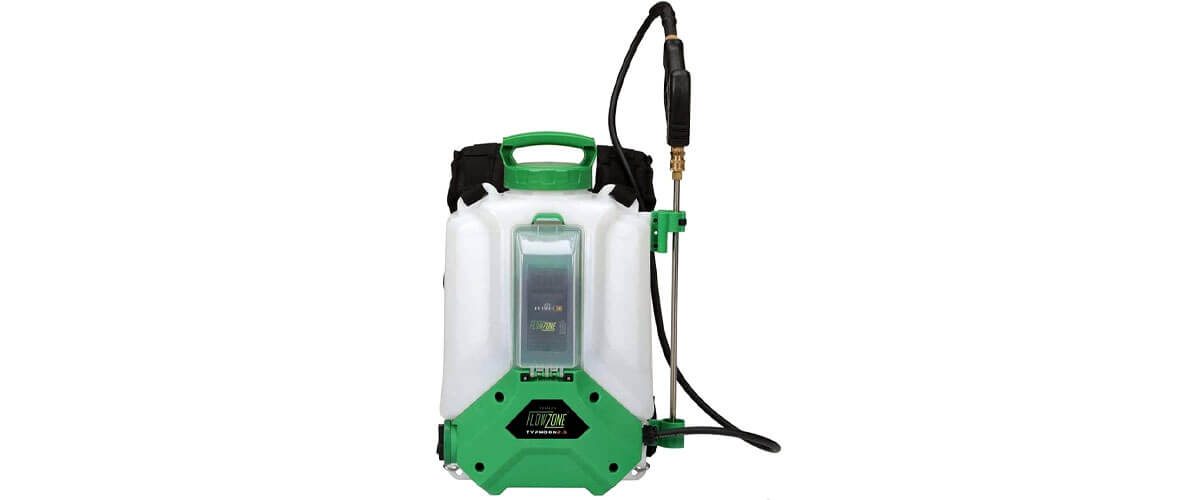 The FlowZone Typhoon 2.5 backpack sprayer has become a favorite tool among professionals for a good reason. It has a variety of features that help gardeners or pest control specialists do their job easier.
The greatest advantage of FlowZone Typhoon 2.5 over Field King 190515 is the 5-position pressure dial that lets you pick the right pressure level. By the way, this sprayer can extract up to 115 PSI, which is almost three times more than an ordinary device delivers. Because of the 4-gallon tank capacity, you can work for extended periods without frequent refilling.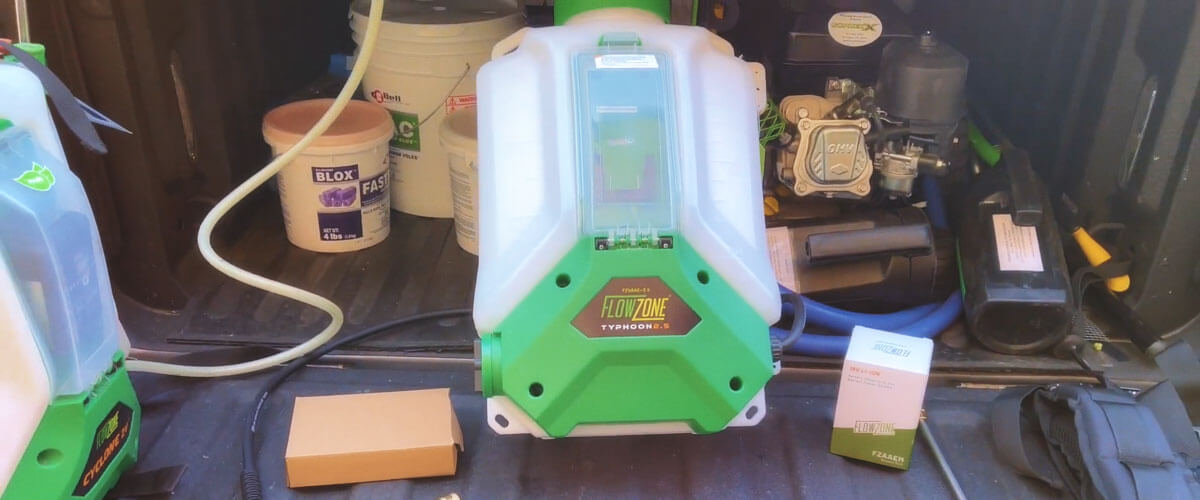 Using FlowZone Typhoon 2.5, you can spray for around three hours on a single charge to a distance of over 30 feet. I was disappointed to receive a broken charger. Luckily, I could bring the battery back to life with another compatible charger.
My shoulders were grateful for the ComfortStraps backpack system as I didn't feel any fatigue. All in all, FlowZone Typhoon 2.5 is a great commercial backpack sprayer that will meet the needs of the most demandable professionals.
Key specs
Polypropylene, Plastic.
Tank capacity, gallon: 4.
Pressure, psi: 8-115.
Spray time, hours: 3.
Spray distance, feet: 30.
Pros
A five-setting pressure control dial lets you adjust the pressure based on your needs.
Operates for around 3 hours on a single charge.
The pressure range goes up to 115 PSI.
Covers a distance of around 30 feet.
Cons
My battery charger was defective.
Field King 190515 – also a great choice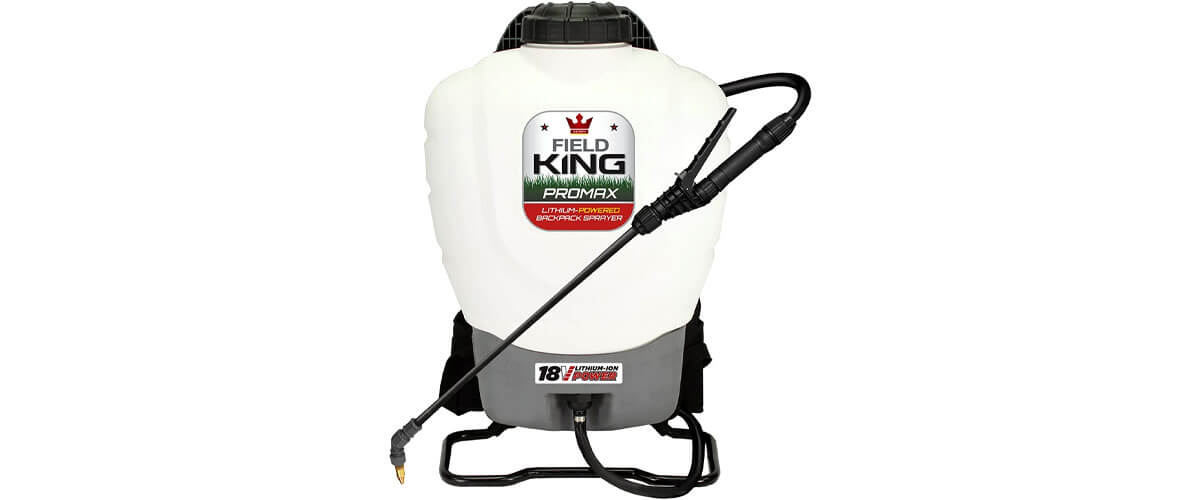 Would you like to buy a backpack sprayer with a generous amount of padding? Then, the Field King 190515 will provide you with the comfort you crave for.
Thanks to the heavily coated straps and back, you will feel no fatigue or shoulder pain at all, even when the sprayer is full. With an in-built handle and wand storage mechanism, you can easily carry Field King 190515 around. The poly wand and the powder-coated steel frame look durable, but I am not sure whether they are resistant to aggressive chemicals. I used a weed killer, and the sprayer started leaking out of the back where the pump is.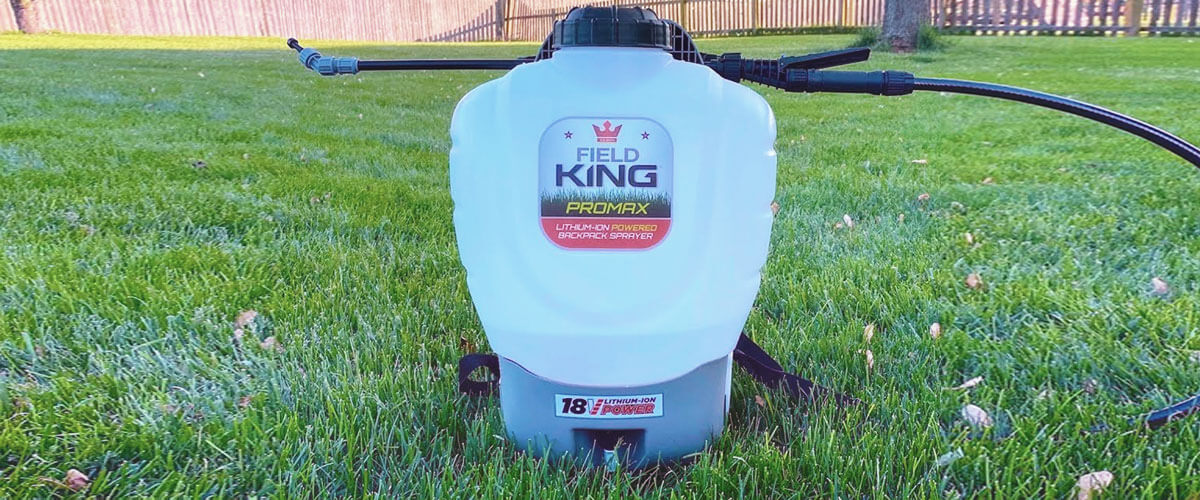 Four included nozzles let you set different spraying patterns. The 18-volt lithium-ion 2.1 amp battery delivers an extra hour of operation compared to FlowZone Typhoon 2.5. So, you can spray 50 gallons of liquid within 4 hours, all on a single charge. This product's pressure has been pre-set at 40 PSI, but you can lower the pressure if you work in smaller areas. The sprayer can reach a distance of 24 feet on the highest pressure setting. However, note that it works only when the tank is more than half full. The pressure is inconsistent when the contents go to less than half.
Field King 190515 is a great battery-power sprayer that will let you do the job in the garden or yard with comfort. It operates for around 4 hours and lets you fill 4 gallons of fertilizers, weed killers, or other chemical substances.
Key specs
Material: Steel, Plastic.
Tank capacity, gallon: 4.
Pressure, psi: 35-40.
Spray time, hours: 4.
Spray distance, feet: 24.
Pros
The padded harness allows using the sprayer comfortably.
Works for around 4 hours on a single charge.
A convenient handle and wand storage mechanism to carry it around.
Includes four nozzles for different spraying modes.
Cons
Started leaking after using a weed killer.
The pressure is inconsistent when the tank is less than half full.
Sprayers Plus 105Ex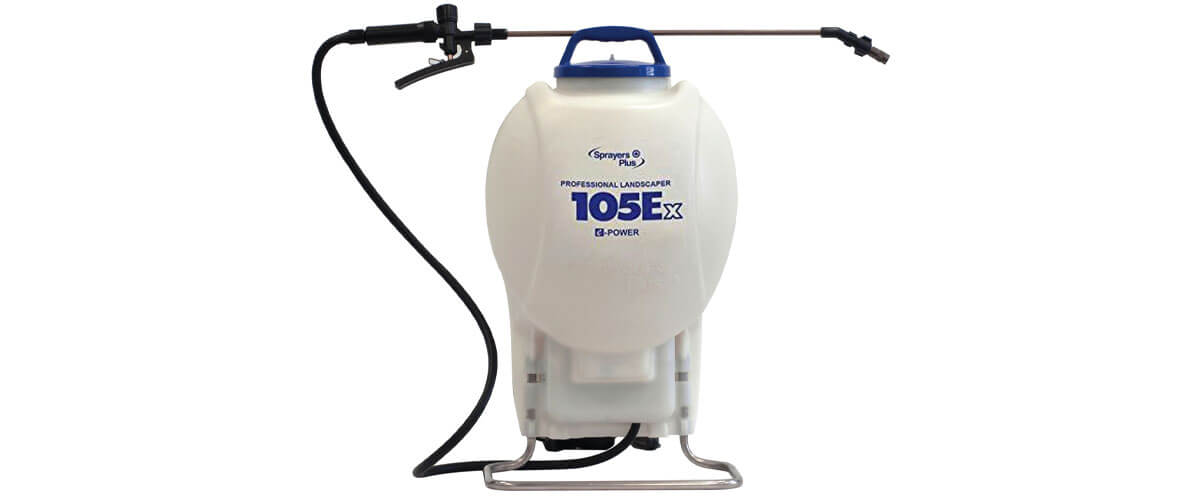 The Sprayers Plus 105Ex is an improved version of the well-known 105E to make spraying your garden or yard easier and more comfortable.
The commercial-grade 20-volt lithium-ion battery has a battery level indicator, which allows you to monitor the battery life. The sprayer's pump maintains a consistent 40 PSI to cover your household needs. It is smaller than Field King 190515 but still provides a stream spraying of up to 33 ft. horizontally and 23 ft. vertically.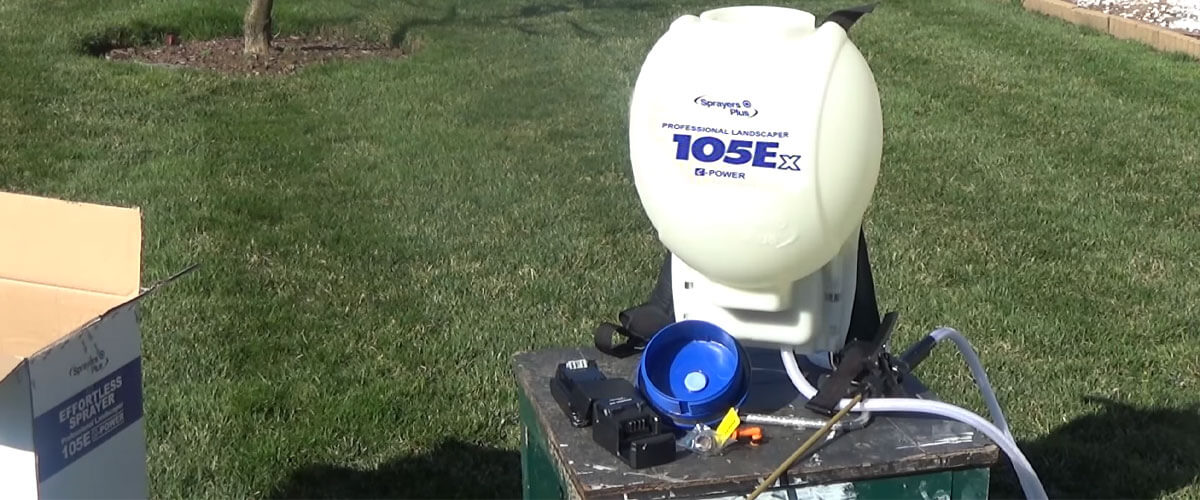 This product works great, but I have a few suggestions for improvement. First, the straps are nearly unusable for plus-size people. You can't extend them to make them fit your chest right. Then, I would appreciate seeing a clip or any other sort of mechanism for holding the wand when not in use. Without it, the hose and wand are just dangling all over.
This electric backpack sprayer eliminates the need to pump up the pressure manually, so you can do the spraying job more easily. It is moderately powerful to cover your needs if you are looking for a basic sprayer for your household.
Key specs
Material: Brass, Plastic.
Tank capacity, gallon: 4.
Pressure, psi: 40.
Spray time, hours: 3.
Spray distance, feet: 33.
Pros
The battery proves to work well.
The 40 PSI pressure is consistent.
Covers up to 33 feet to let you reach even hard-to-get places.
Cons
The straps may not be adjustable enough to fit plus-size people.
The sprayer lacks the storage clip for the wand.
FAQ
What fertilizers can I use with a backpack sprayer?
You can use liquid, granular, or organic fertilizer when working with the backpack sprayer.
Are battery-powered backpack sprayers safe?
Battery-powered backpack sprayers are considered to be safe to use, provided that you follow the manufacturer's instructions and recommendations when operating such equipment.
How much area can a 4-gallon backpack sprayer cover?
The 4-gallon backpack sprayer can cover up to 400 sq ft.
How far will a backpack sprayer spray?
The average distance is 15 to 30 feet, but the exact figure depends on the specific backpack sprayer model.