The walls in your room painted in deep blue, red, or perhaps even black looked fascinating a few years ago. As they fade away or your tastes change, you may want to add fresh colors to your place. But, as it turns out, dark paint is not easy to eliminate. Therefore, you are now looking for the best primers to cover dark paint to redecorate your room or other objects. A good primer will cover up old dark paint and prepare your wall for a new layer of dye.
Our pick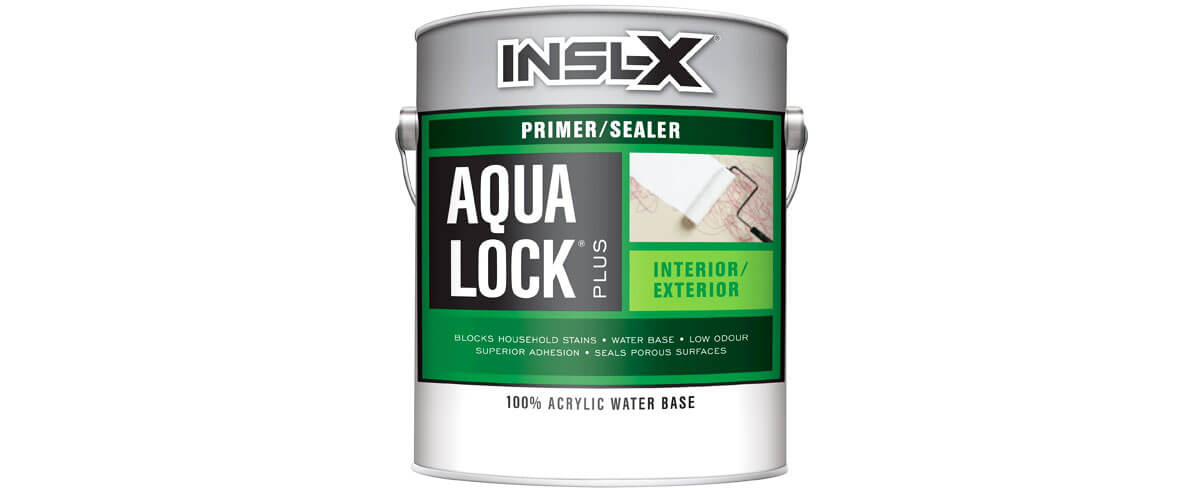 INSL-X Aqua Lock Plus
Best primer for dark walls
Multipurpose, 100% acrylic primer sealer that provides excellent adhesion to a variety of interior & exterior surfaces.
Read the full review.
In this review, I am going to look at several primers that will be perfect for the job. I will also spare a few minutes to explain how to make the most of the reviewed products. Finally, you will learn what to consider when picking a primer for your painting project.
Primer For Dark Walls Comparison Table
Name
Size, fl oz
Paint type
Usage
Finish Type
Review
INSL-X Aqua Lock Plus

best overall

32.0
Acrylic
Interior/Exterior
Gloss
Review
Zinsser 260925

budget pick

32.0
Watercolor
Interior
Matte
Review
KILZ Adhesion Primer
32.0
Oil
Interior/Exterior
Gloss
Review
INSL-X Stix
128
Acrylic
Interior/Exterior
Gloss
Review
KILZ Original
128
Spray
Interior
Gloss
Review
What to look for when choosing a primer for dark paint?
When you want to hide dark paint with a primer, there are a few things to consider to ensure dark spots do not show through light paint. So, here are a few factors that will help you make the right choice when navigating through a vast selection of primers.
First, pay attention to the fact that there are different shades of primers. In our case, I recommend picking a white primer, not a grayish or transparent one, which is used for light walls. The white color will ensure the highest level of coverage and prevent dark spots from coming out.
Second, consider the type of primer. Use oil-based primers if you will paint wooden or steel objects or are going to use oil paint. However, latex primers will do better for prepping unfinished drywall for painting. They are a healthier alternative to oil-based primers because they come in low- or no-VOC formulas. At the same time, latex primers are thick, so they will ensure even coverage. However, they are not as effective at covering stains as oil-based primers.
Finally, consider the location. For example, if you want to dye the walls in the bathroom, it is better to pick a primer with mold-resistant properties.
How I tested primers for dark paint
I put a coat of every primer presented in this review on my walls, which were dark green and had some repairs. I used two coats of primer on every wall to ensure it seals the dark paint but to avoid layering down.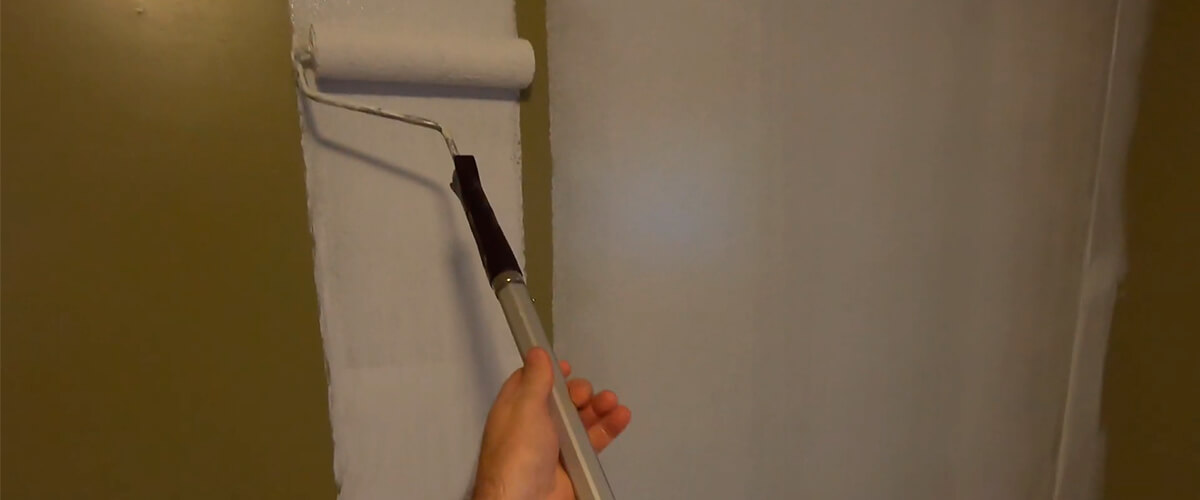 Best primer for dark walls reviews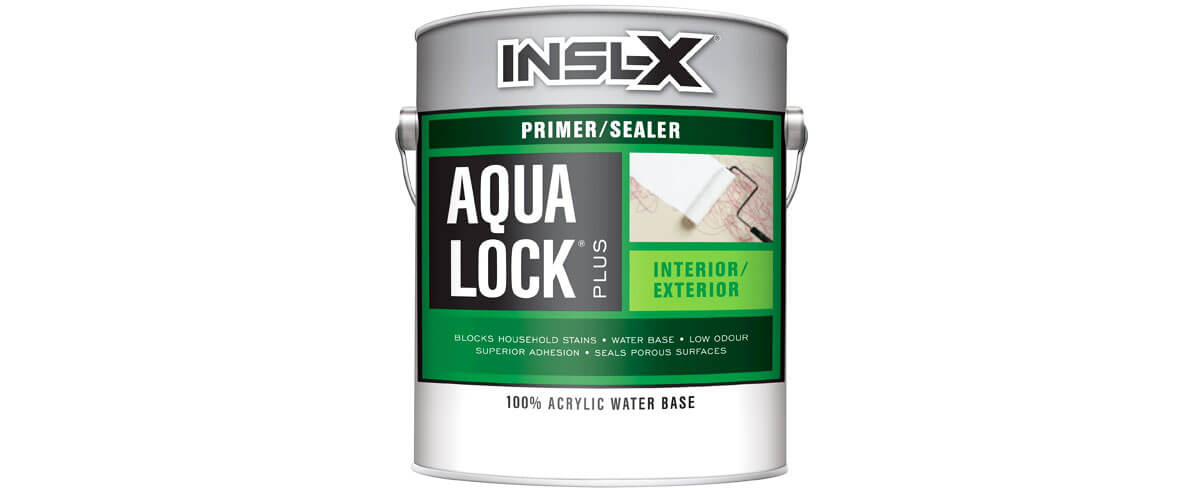 Coat over a dark paint with the INSL-X Aqua Lock Plus primer. This acrylic paint is thick and adheres to the surface well, making it a perfect choice for indoor and outdoor projects. You will especially love using it on exterior surfaces exposed to moisture, abrasions, UV light, and dirt. As it provides a mold-resistant coating, you can rest assured that the primer will work even in high-humidity areas. Also, you can use this primer with latex or oil-based coatings.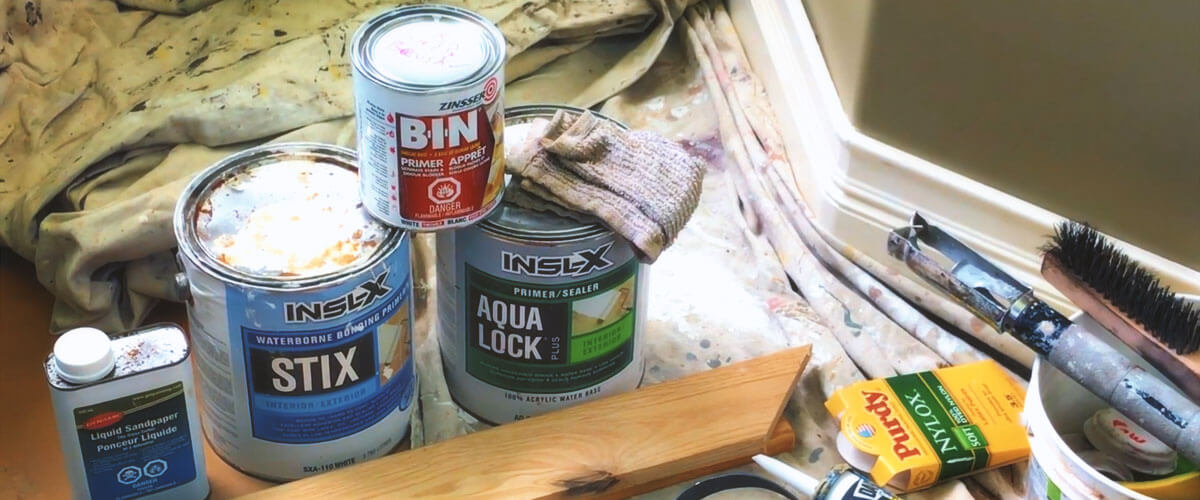 While Zinsser 260925, another entry from my list, comes only in a white color option, you can choose between white, black, and deep base variations when you get INSL-X Aqua Lock Plus. In addition, you are free to pick among two sizes: 1 gallon and 32 fl oz. Note that because of its thickness, you may need more product to cover the walls.
For the product itself, it's the best primer to cover dark paint. It bonds well, doesn't sand, and dries quickly. What I especially like about Aqua Lock Plus is that it doesn't have a terrible odor. Overall, this stuff is good for its intended purpose.
Key specs
Size, fl oz: 32.0.
Paint type: Acrylic.
Color: White.
Surface: Wood, Metal.
Usage: Interior/Exterior.
Finish Type: Gloss.
Pros
Delivers smooth coverage for a wide range of surfaces, even in high-humidity areas.
You can top-coat it with latex or oil-based paints.
Three color options available to suit your other projects.
Dries quickly and has no odors.
Cons
As it's thick, you may use more product than usually.
Zinsser 260925 – budget pick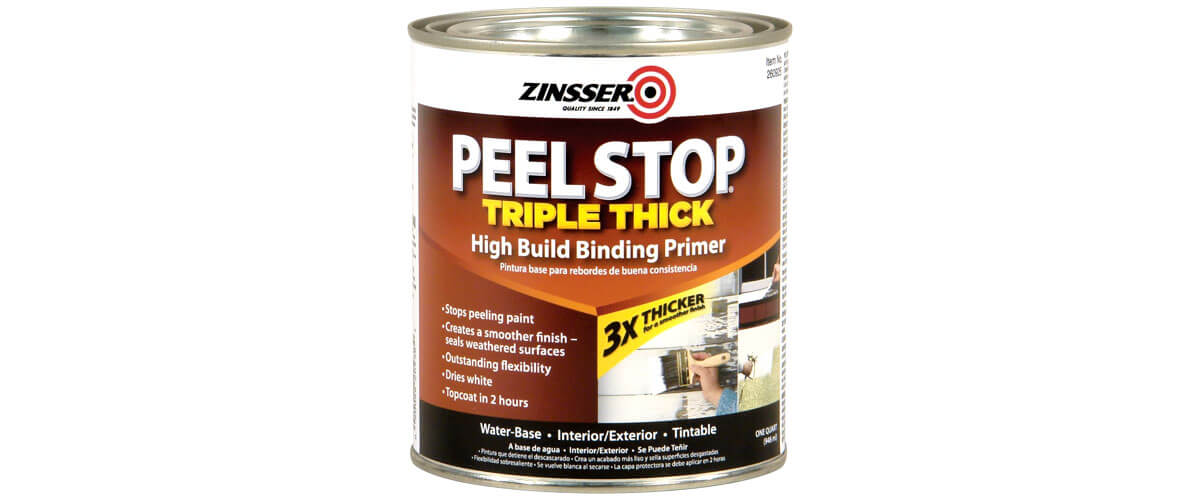 With a Zinsser 260925 primer, you can cover up dark paint and seal worn surfaces for a smooth finish. This low-VOC, water-based product locks down peeling and weathered surfaces so you can apply a layer of any latex or alkyd paint to get an even finish.
This primer by Zinsser is available in white color only, which perfectly works for covering dark paint. To meet your needs, you can go with quarts, 1-gallon, and 5-gallon sizes.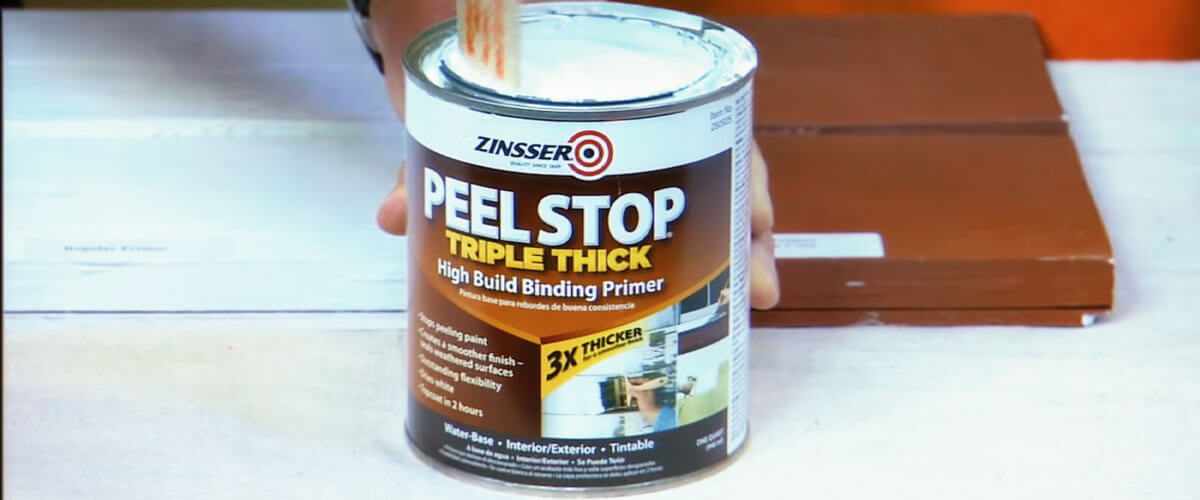 This product dries a bit slower than INSL-X Aqua Lock Plus. It will take 2 hours for the primer to be ready for recoating. It is easy to use and spread. However, you may need to coat the surface more than once to get better coverage and seal darker shades.
When you want to get the best primer for dark walls for reasonable money, you will like Zinsser 260925. It seals the paint well and lets you work even on worn surfaces.
Key specs
Size, fl oz: 32.0.
Paint type: Watercolor.
Color: White.
Surface: Wood, Metal.
Usage: Interior.
Finish Type: Matte.
Pros
Works great even on weathered and peeling surfaces.
You can top-coat it with latex or alkyd paint.
Comes in three sizes options to meet your needs.
Cons
Dries a little longer than you may want.
Require more than one coating to fully cover dark paint.
KILZ Adhesion Primer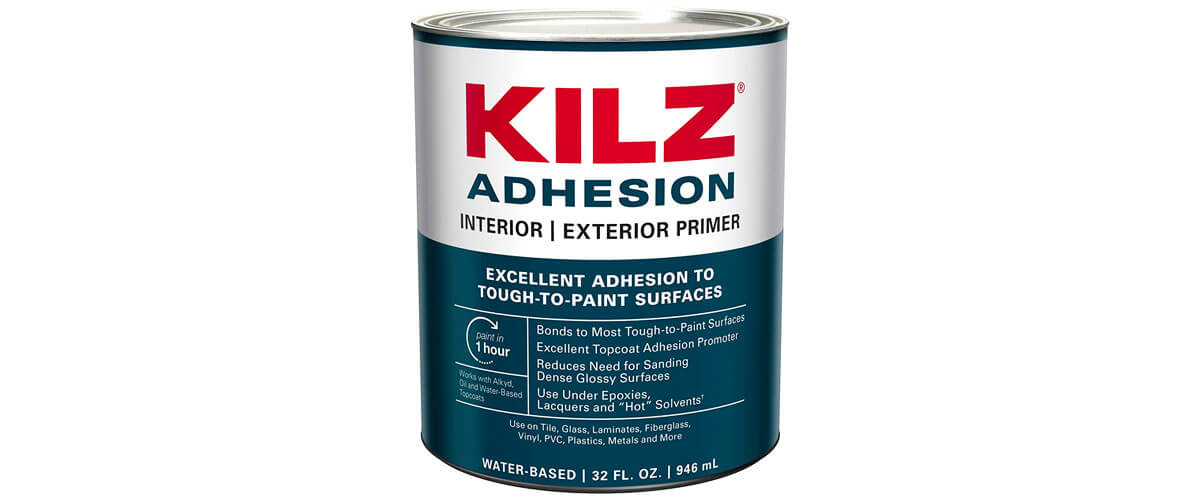 When you want to repaint a dark-colored object with a lighter shade of paint, you will love the KILZ Adhesion Primer. Just like INSL-X Stix, this product is designed to bond to a variety of hard-to-paint surfaces like PVC, vinyl, glass, tile, glazed brick, chalky paint, glossy finish, and more. Also, I will recommend the Adhesion primer by KILZ if you need to seal porous areas.
This water-based, modified-acrylic primer is thick, so it reduces the need for sanding in most cases. However, it takes roughly an hour to dry before you can apply another layer of primer or paint, which is the average time required for a primer to do its job.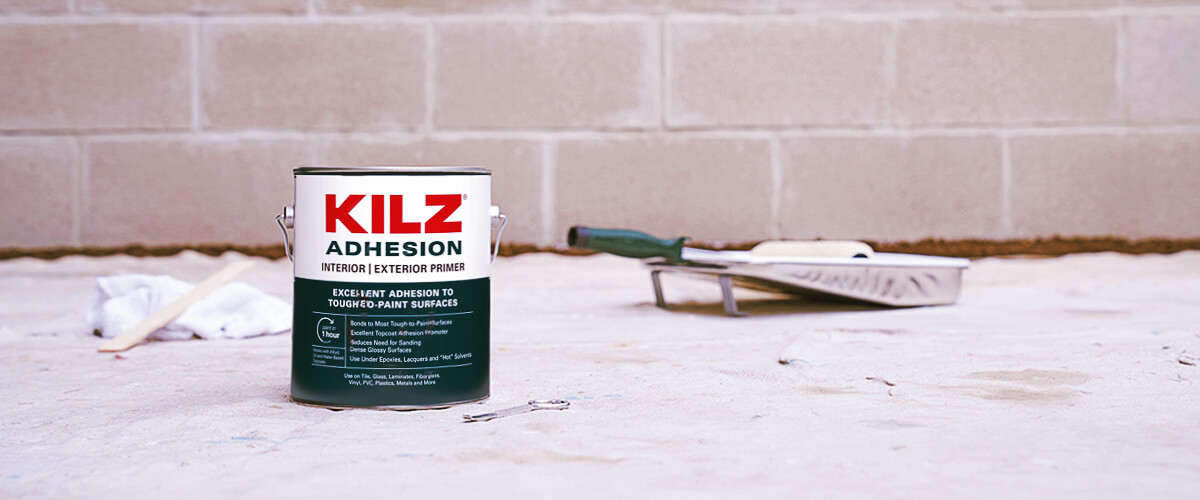 You can find this product in quarts and gallons. Only one color is available – white, and that's just what you need to hide dark paint. However, this may not be a suitable option if you are looking for a primer for your kitchen or bathroom as it doesn't have mold and moisture resistance.
KILZ Adhesion primer for covering dark paint has done a superior job of sealing my wall. It also provides a smooth surface for paint application, even on hard-to-paint or porous surfaces.
Key specs
Size, fl oz: 32.0.
Paint type: Oil.
Color: White.
Surface: Vinyl, Glass.
Usage: Interior/Exterior.
Finish Type: Gloss.
Pros
Specially designed to be applied on hard-to-paint surfaces.
Available in quarts and gallons.
Delivers a smooth surface.
Cons
It may not work for bathrooms and kitchens .
INSL-X Stix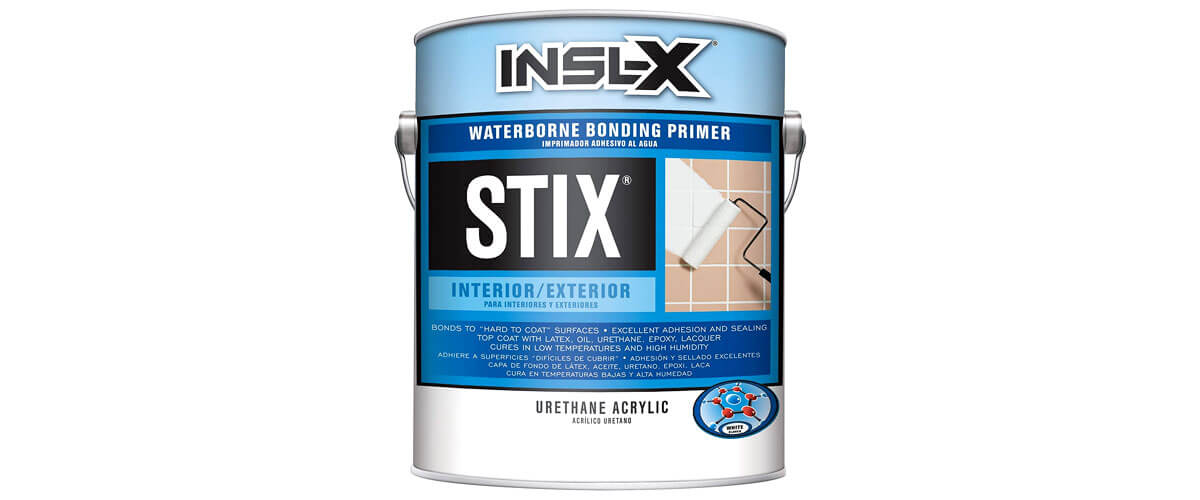 When you have to work on previously painted or challenging surfaces, pay attention to INSL-X Stix. It is similar to KILZ Adhesion Primer as they both are formulated to be applied on tile, PVC, glass, vinyl, chalky paint, galvanized metals, or other objects.
This acrylic urethane primer creates a hard film that covers even dark paint. By the way, it is available in white color, an optimal choice for projects that involve switching from darker to lighter shades. You can get this primer in quarts and gallons, so you can get the amount of product that is right for your needs.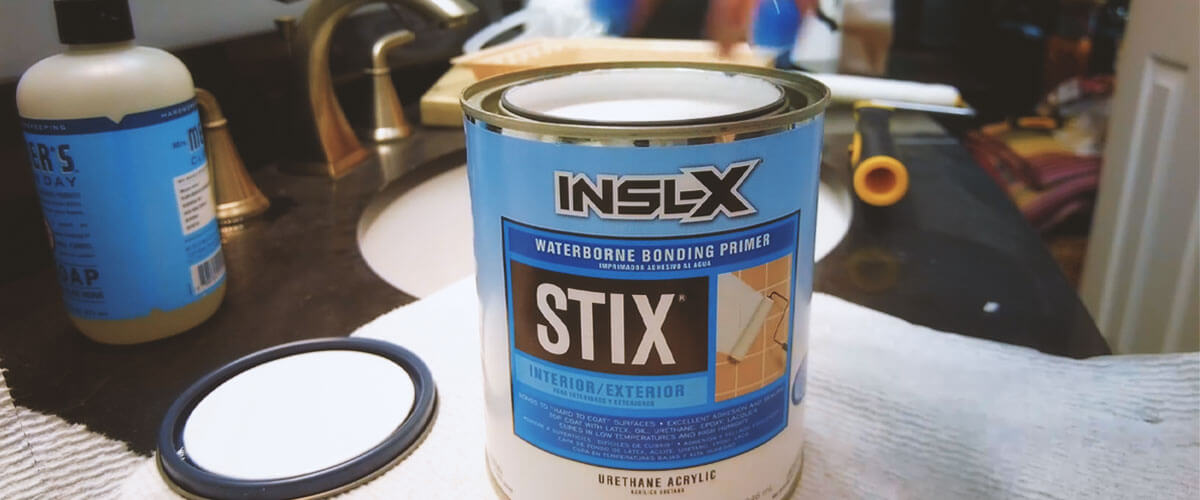 The adhesion of the INSL-X Stix primer is nice. I applied two coats of it before painting to seal the dark green paint on the wall. The primer has a smooth matte finish, which makes an excellent base for the paint.
INSL-X Stix is a good primer to cover dark paint on interior surfaces that are not subject to prolonged contact with water or moisture.
Key specs
Size, fl oz: 128.
Paint type: Acrylic.
Color: White.
Surface: Wood, Metal, Aluminum, Ceramic, Vinyl, Glass, Plastic.
Usage: Interior/Exterior.
Finish Type: Gloss.
Pros
Formulated with challenging surfaces in mind.
Comes in quarts and gallons.
Makes a thick matte foundation that hides dark paint.
Cons
Is not suitable for surfaces that are in contact with water.
KILZ Original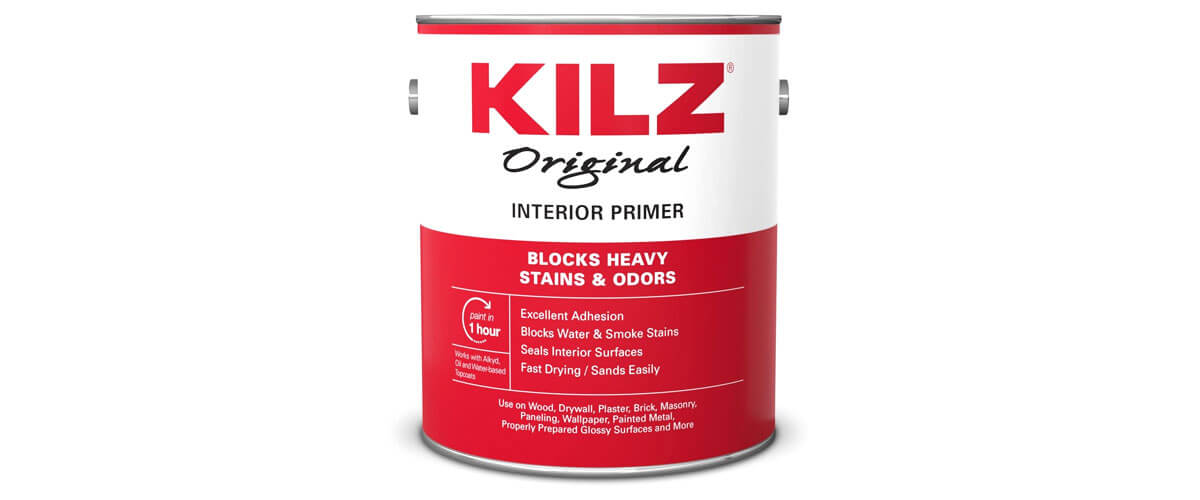 If you've been looking for a primer that will let you cover up heavy stains and odors, KILZ Original is your go-to solution. Its stain-blocking formula seals ink, grease, and other stains as well as pet or smoke odors. Unlike a water-based KILZ Adhesion primer, the Original product is oil-based, so it delivers a tighter seal.
This product works on various surfaces, including drywall, wood, paneling, masonry, wallpaper, brick, and more. However, it's better to avoid using the Original primer by KILZ on moldy or mildew-prone surfaces or floors.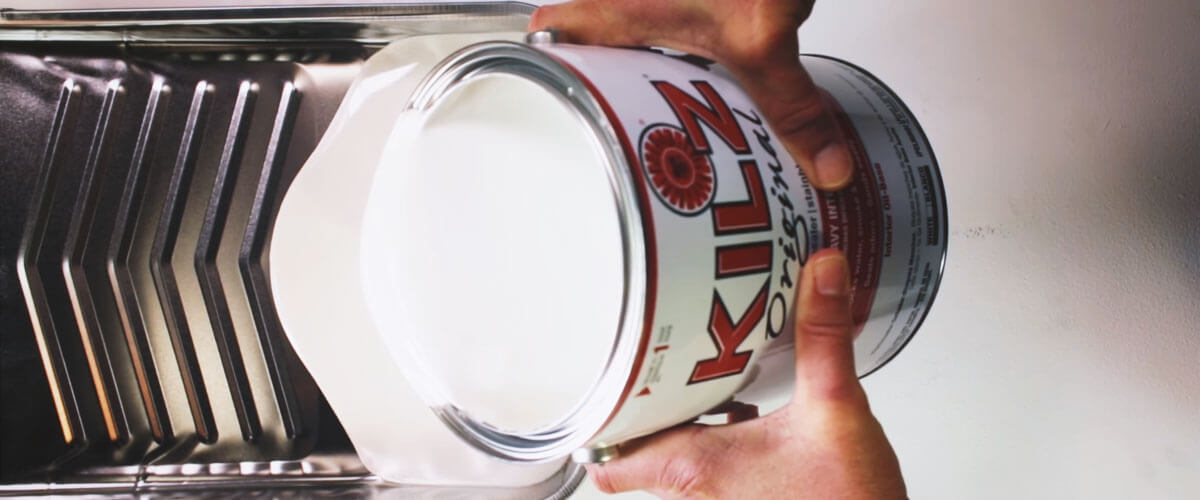 You can buy KILZ Original in quarts, gallons, and fives. The color palette of this primer is very simple – you can go with the white color, which does a fantastic job of covering up darker paint.
I applied two coats of this primer to get complete coverage, but the first one looked fine. The only complaint is the odor that lasts for a couple of days.
When you require a tight seal and want to mask odors, KILZ Original is a solution to go with. It produces a smooth, thick finish that will cover dark paint and will let you repaint your surface into lighter shades.
Key specs
Size, fl oz: 128.
Paint type: Spray.
Color: White.
Surface: Wood, Metal.
Usage: Interior.
Finish Type: Gloss.
Pros
Oil-based for thicker coverage.
Seals hard stains and odors.
Three size options to choose from.
Cons
The odor is too intense and lasts for a couple of days.
How to prime dark walls?
To make a smooth shift from dark to light walls, I recommend following these steps.
First, clean the walls of dust. Pay special attention to the kitchen and bathroom as they tend to collect more contaminants. After this, I will suggest you sand the walls with dark paint. Usually, they are glossy, and new paint may not stick smoothly. The most convenient way to do this is to use an extension pole and a pole sander head with a sheet of drywall sandpaper.
Your next step will be to repair the drywall and patch nail holes before priming the walls. This will ensure you seal the patches so that they do not flash through the paint.
When the repairs are done, cover the floor and tape the baseboard. Primers are messy, so some protective measures will do no harm and let you easily prime the walls without being afraid of spoiling the flooring.
Use a roller to prime the wall. Roll it from top to bottom, avoiding taking too much of the product. If the paint is too dark, use a second coat of primer to maximize paint coverage.
FAQ
Is primer needed to cover dark paint?
Yes, primer is often recommended when painting over dark surfaces to provide an even base and achieve the desired color.
Should primer completely cover color?
If you are using dark paint, I suggest using a primer to cover the color completely. Otherwise, you can leave a small amount of color that may be visible.
How many coats of primer to cover dark paint?
It depends on the type of primer and the color of the paint. Generally, two coats of primer are required for light paints and three coats for dark paints. However, it is better to check the primer instructions to be sure of your decision.
Does paint with primer cover dark colors?
Yes, paint with primer will cover dark colors. The primer is specifically designed to provide a base for bonding with other paints. This makes it the optimal choice for covering dark colors, as it provides a flatter surface for applying the top coat of paint.